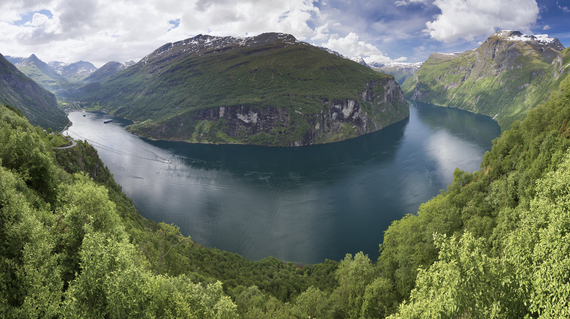 Sitting in the back of a coach bus with a bevy of overstuffed backpacks, I won't even blink as I ogle southern Norway's lush landscape through the huge dusty window. Wildflowers coat the hilly countryside and everything is rich with life's vibrant colors. Little farms perch neatly on green mountainsides and a crisp, teal river runs swiftly beside us as if to say, "Come along! Hurry! This way!" Every so often the lights go out as we head through one of the 39 dark stone tunnels you have to pass through to get to Norway's adventure capital, Voss, from the coastal town of Bergen where our journey began. We're on Adventures by Disney's newly introduced Frozen-inspired trip, and so far it's been nothing short of magical.
Yes, it's true, the freakishly successful movie Frozen was largely influenced by someplace a little less mainstream: Norway, population 5 million -- and this trip was created to connect real life adventurers with the cultural elements that were woven into the film, from music and dance to folklore and architecture.
The trip opens much like the movie with sweeping views of the sea and sky in Bergen, a port city nestled into a mountain and surrounded by deep blue fjords. It was here, the directors say, that the animators came to create the model for Anna and Elsa's hometown kingdom of Arendelle.
For the next seven days we're whisked around Norway's southern knob by coach bus, stopping for overnight stays in Flåm, Geiranger, and the capital city of Oslo. Along the way we go river rafting in Voss, take a fjord safari in Flåm (culminating with a stop for lunch in the tiny village of Undredal where we learn about cheesemaking, trolls and folklore), go trout fishing in the neon blue lake Leon and explore a circa 1180 wooden stave church rumored to have been built by vikings. "Some of the oldest wooden structures exist in Norway," says Frozen producer Peter Del Vecho. "If you visit the stave church and then watch the movie, you'll see some of those design elements echoed in our castle design." We end the trip with an evening in the metropolitan city of Olso, where, after a teary-eyed farewell dinner, we learn a traditional Norwegian folk dance.
It's the authenticity of the people and the breathtaking scenery that ultimately steals the show, and in this case, Disney is happy to let them have it. (In fact, the only real indicator that this is a Disney-hosted trip at all is the hassle free travel -- "Tinkerbell" picks up and delivers our luggage for us when we change hotels -- the inhumanely cheerful tour guides, and the commemorative pins we receive after each adventure.) "There's something so special about Norway," says director Jennifer Lee. "The beauty of the architecture nestled in this vast landscape and then the deep fjords -- the waters that leads up to the beautiful wooden homes, I mean, there was no greater inspiration."