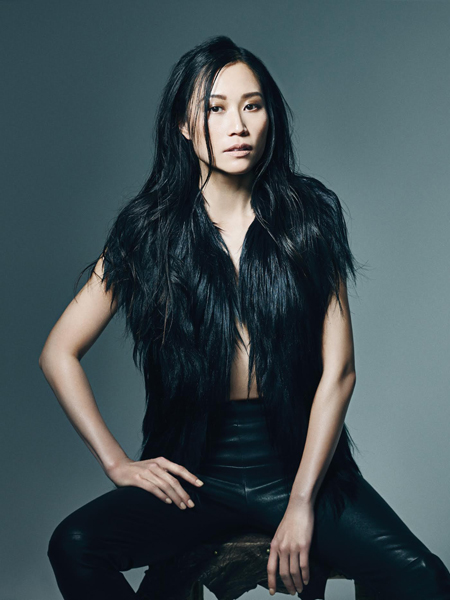 Photo by Wenjun Liang.
Chief Creative Officer of Design Army brings global sensitivity to her work, such as the recent Design Army-Washington Ballet Sleepy Hollow videos
Whether designing a fashion magazine/prospectus for the Smithsonian Institution Traveling Exhibition Service for its newest exhibit, Rebel, Jedi, Princess, Queen: Star Wars and the Power of the Costume with Lucasfilm, or designing a new swimwear collection, Swim At Your Own Risk, with Karla Colletto, Pum Lefebure, Chief Creative Officer at Design Army brings a global sensibility to her passion -- her work.
With a firm belief in combining work and life for that perfect balance, Lefebure's latest project includes two stunning videos for The Washington Ballet's Sleepy Hollow that debuted last month. Lefebure and creative team brought the classic ghost tale to life by presenting complex, flawed main characters in a mysterious setting at the US National Arboretum in the Redwood Forest using drone footage, dazzling costumes, fog machines, and more, precisely executed after six intense months of planning and collaboration.
Lefebure's goal - to tell a scary story in a magical way - was achieved in part through masterful use of typography, a signature Design Army technique. In a recent HOW feature, Lefebure said, "We decided to use a bold, modern sans serif font to enhance the juxtaposition between the 18th-century visuals and the more modern, fashion-oriented costumes and makeup."
From Thailand, the Chief Creative Officer at Design Army, which was founded in 2003, also used typography in a new applique technique when designing the Karla Colletto X Design Army Swim At Your Own Risk swimwear line. "It has an ageless quality, but also makes a statement," Lefebure said. "The idea of 'Swim At Your Own Risk' has an attitude and humor to it. I wore the suit in Cannes and people reacted to the humor of it."
When in Cannes last year, Lefebure was one of two US judges in the design category representing creative industry leaders from around the world reviewing more than 35,000 entries at the Cannes Lions International Festival of Creativity. She travels the world to judge design competitions, such as Spike Asia in Fall 2014, as well as speaks nationally and internationally about the latest developments in design, including recently in Copenhagen, Oslo, Beijing, and Mexico.
As a global tastemaker and board member of The One Show, Lefebure said, "It's never been a more exciting time to be a designer. Design is the visual heart and soul of every brand - it's the essential element. Design stirs sensibilities, sways opinions and touches hearts."
Creative by Design Army
Sleepy Hollow Video:
Sleepy Hollow Behind the Scenes Video: