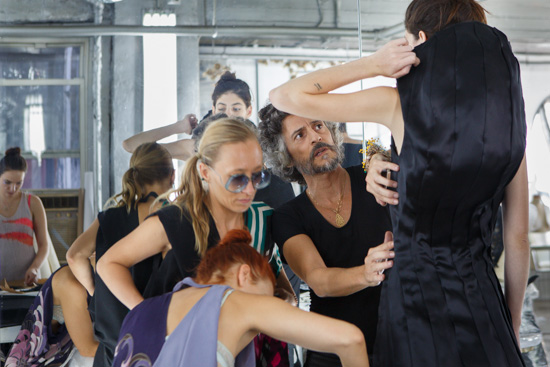 threeASFOUR designers fit a dress to a model in their Chinatown studio.
All images copyright Ruthie Abel 2013
While much of New York Fashion Week coverage focuses on cocktail parties and Victoria Beckham's stolen bicycle, there's an untold story about a part of the fashion world engaged in real innovation.
As Fashion Week devotees began the biannual trek to events this weekend, threeASFOUR, an avant garde design collective, was preparing their 2014 spring collection for both the runway and a museum multimedia installation.
Gabi Asfour, Angela Donhauser and Adi Gil are the design trio behind the threeASFOUR label. Born in Lebanon, Israel and Tajikistan, respectively, their work reflects a diverse heritage and a non-conformist philosophy. Devoted fans include Bjork, Yoko Ono, Charlotte Kemp, Glenn O'Brian and Chuck Close. Some years ago, mutual friends introduced me to the three, and like their many disciples, I became enamored with their collaborative nature and determined, innovative spirit.
The following images and snippets of conversation were captured while the designers busied about, instructing interns on laser-cut shoe fabrication, attaching origami to dress sleeves and juggling phone calls with their runway sound composer and museum event staff.
RA: How many people are in the studio today?
Ange: I haven't dared to count. Like 30? Today is busy because John Morgan and Marie-Theres Franke, the producers, are here and we're doing hair and make up tests.

Gabi Asfour and Avishai Berger review laser printing details
RA: How is this show different from prior shows?
Adi: A fashion show is always exciting but this time we have more... The fact that we're dealing with new territories, like 3D printing, and it's a museum show. We decided to bring on collaborators, like Christian Wassmann, the architect, Bradley Rothenberg to do 3D work, and Brian Close and Alex Czetwertynski to do animation and video projections. It's also exhausting. But it's exciting, more than anything. I'm happy.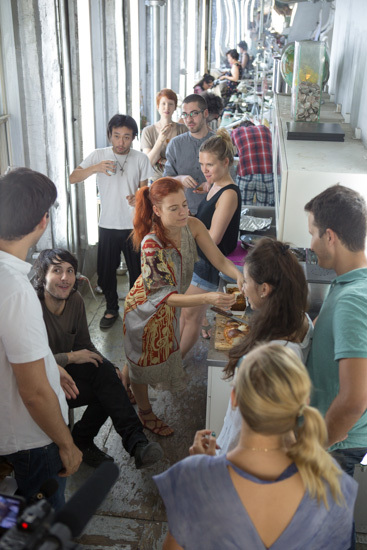 /> The studio took a quick break to celebrate the Jewish New Year with apples and honey, provided by Israeli interns
RA: How did you establish a relationship with the Jewish Museum?
Ange: Claudia Gould, the new museum director, and Doreen Remen from Art Production Fund connected us after the InSalaam-InShalom collection show in Israel, almost a year ago. She has awakened the museum from the dead. We met with them a year ago, almost exactly.
What's at the top of your to do list?
Adi: What is not to do? The main thing this week was to get the laser cuts out, because of the (Jewish) holiday closings. We have three laser cutting places and two are Jewish and they have the biggest machines. It's been a laser-cutting marathon. But we made it. I just hope it fits and hope nothing will rip because we cannot redo it. Now we're waiting for 3D shoe covers.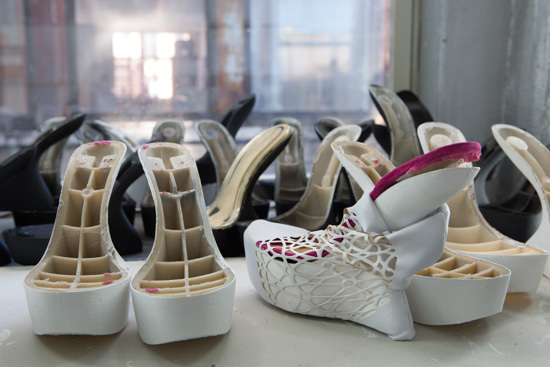 Adi: They will go on top of the laser cuttings, like socks. We're only going to have a few, not for every girl, because it's too crazy-expensive, but you'll get the idea. We were sponsored by this amazing company, Materialise. We're very lucky. They made two 3D dresses in Belgium.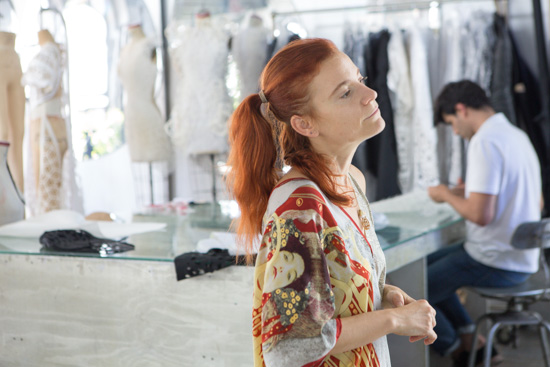 RA: How does 3D construction differ?
Adi: They are all done in a computer program. We had a (computerized) model, called Vicki, and everything was done on her. It goes in a machine and comes out like, ta dum! But you still have to put together the pieces. This is the future, 3D printing. Someday everyone will have a 3D printer at home. You'll print your own clothes. Plates. You'll print your hat. Think 50 years back, nobody had a copy machine and now everyone has a copy machine at home. Coming soon...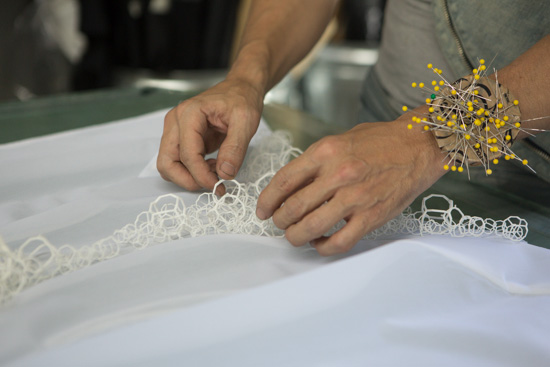 Detail of 3D printed dress assembly
Gabi: Bradley can explain 3D better than anyone. He helped us make it happen. You need to do it in Rhino (software). I've been spending nights with Bradley. He's my new girlfriend.
Bradley: We started eight or nine months ago and have been working together every night since mid-May.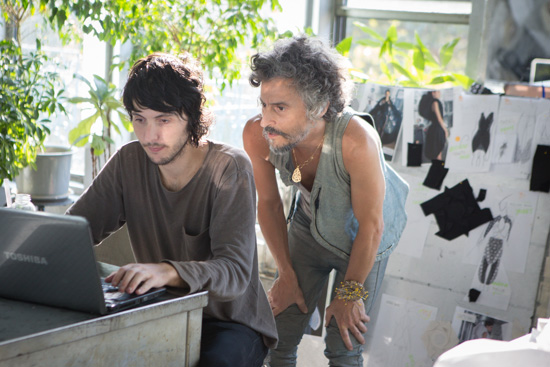 Gabi Asfour and Bradley Rothenberg make final 3D preparations
RA: What are you focused on now?
Gabi: Everything. We have to finish the two 3D printed dresses; one has a zipper, one will have hooks.
RA: Are they as delicate as they look?
Bradley: They're strong actually. Touch them.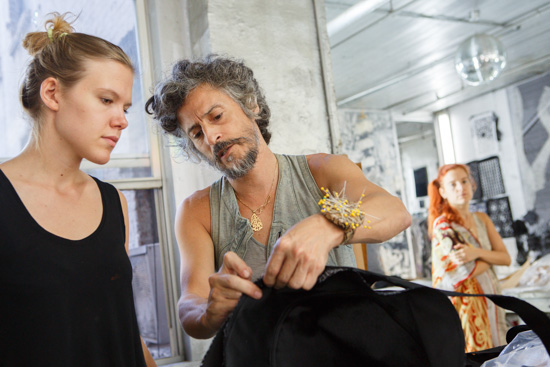 RA: Will you tell me a bit about the patterns and ideas board?
Gabi: The motifs, you mean? We got ceramic tiles and stained glass, used for floor and walls, from synagogues, mosques and cathedrals or churches and overlapped them together (in the clothing).
Adi: Sometimes they're separate and sometimes they're layered over each other. We discovered that they're very similar so they work together.
Gabi: This is a Judaic pattern over an Islamic pattern. See, this is Christian and inside is Islamic. Here we have Islamic, Judaic and Christian. The sleeves are also Islamic/Judaic or Islamic/Christian. This is one dress all together, but we mix and overlap them. The geometry is perfect.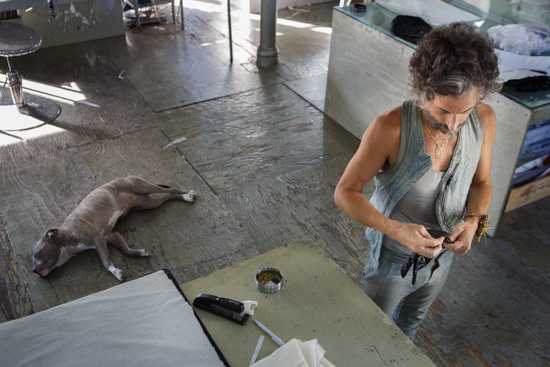 RA: Ange, what's on Pandora?
Ange: Motown. Teddy Pendergrast, Marvin Gaye, Melvin and the Blue Notes, Nina Simone, even Burt Bacharach.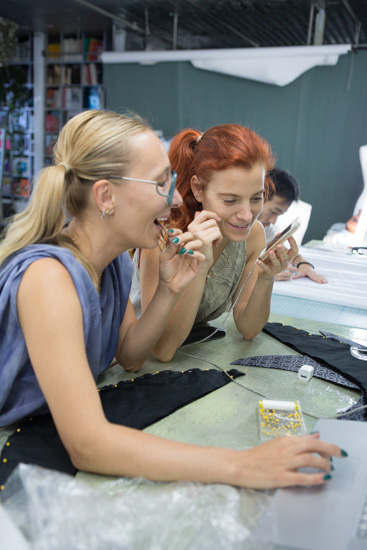 Ange Donhauser (left) and Adi Gil field one of many conference calls
RA: What's in the thermos?
Ange: Iced coffee, with almond milk. All day.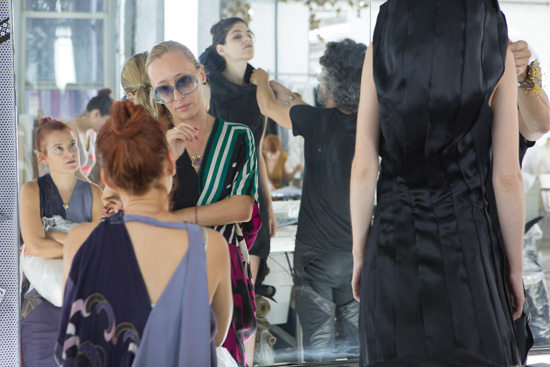 RA: Do you have a work mantra?
Ange: Staying cool. Remembering not to freak out, to take deep breaths and to remember that we have a great team and so many people around working for the same goals.