It's not every day Radio City Music Hall temporarily closes down its men's bathroom. But that's exactly what happened when Oprah Winfrey decided to film two episodes of her Lifeclass series at the famous theater in New York City. My adventure started when I got the email from the OWN team inviting me to attend the tapings of Oprah's Lifeclass: The Tour featuring two charismatic guest teachers -- spiritual wise man Deepak Chopra, who taught the afternoon show about tapping into your spiritual side (which will air on OWN on April 23) and charismatic life coach Tony Robbins, who taught the evening live show about living fearlessly.
When I first got to the theater, I was escorted backstage, downstairs to the brightly lit Rockettes dressing room, to convene with about ten other journalists, and then taken into a small room next door for an intimate meet-and-greet with Tony Robbins. We were all personally introduced to him, and he lasered each of us with his full wattage attention and smile. He then sat down on a couch and thoughtfully and insightfully answered a few questions. At the end of the conversation, we took a picture (which you can see on this page) in which I look like my own mini-me next to the 6'7" Robbins. He is quite literally larger than life.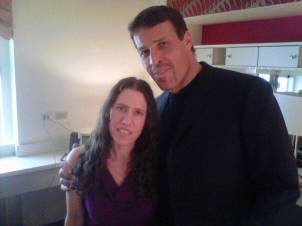 I was then escorted back to the main hall to be seated for the Deepak Chopra taping. As press we were given seats that actually had plugs on a railing in front of our seat so that we could charge our computers and phones while we watched. That is one of many things that is so groundbreaking about Oprah's Lifeclass -- her unique, pioneering, interactive incorporation of social media -- in addition to a corresponding online curriculum and live webcast, Oprah encourages people to fire up their phones (on vibrate of course) during the show so that everyone in the audience, and online, can participate in polls, comment on Facebook and live tweet during the show (she also has people Skyping into the show from around the world). I sent out quite a few tweets during both tapings -- in fact, I found myself taking copious notes throughout the shows because I wanted to remember some of the profound droplets of wisdom that were said (a few memorable sound bites I jotted down follow this article).
Being at an Oprah show can at times feel like being at a Beatles concert -- when Oprah first comes out on stage the reception is exuberant and deafening, with everyone standing on their feet clapping wildly. Some of my favorite moments happened behind the scenes during the commercial breaks when Oprah speaks off-the-cuff, sometimes seriously, sometimes funny, to the audience. For example, during one of the breaks on the evening show, she complained about her uncomfortable high-heeled Louboutins, finally lamenting "I can't take it anymore" and handing them off to a lucky fan in the audience, remaining barefoot until a stage hand offered her a more comfortable pair. During the Deepak Chopra show about spirituality, she admitted during a break that her own practice was put to the test when that previous week she and her OWN network were scrutinized in the press when news was released that OWN had cut 30 jobs and cancelled The Rosie Show. Oprah confided that she found it helpful to keep repeating her prayer, "In God I move and breathe and have my being "and to keep reminding herself that this "isn't who you are and don't get that confused".
Adding to the excitement was a surprise pre-show for the Tony Robbins evening taping, when Tony suddenly appeared on stage about a half an hour before the show to pump up the crowd. He managed to get over five thousand of us at Radio City hugging total strangers and dancing, jumping, and screaming (his trademark "yes, yes, yes!" accompanied by fist pumping) -- a truly definitive and memorable Oprah Lifeclass moment for me and everyone else. Normally I get embarrassed doing this type of thing but the moment was contagious. Tony's potent point was about how our state -- and the motions of our body -- affects us and others around us, and there was a tangible surge in energy, of feeling awake and alive -- that I noticed in myself and the audience as a result.
Both Lifeclass shows -- and this is true of the whole series -- contain thought-provoking, life-changing sparks of inspiration. As Oprah pointed out during Deepak's show, to her, spirituality is not about traditional faith or religion but about "living your life with an open heart through love". You can watch the Deepak Chopra Lifeclass episode on OWN on April 23 (if you are not sure where to find OWN, use the channel finder ) and the Tony Robbins Lifeclass show which has already aired on OWN live can be viewed online. It is certainly refreshing and hopeful to see meaningful television that is aimed at uplifting and inspiring people to, quoting Oprah, "live your best life". I, like many others, wholeheartedly support, appreciate and thank Oprah for launching and nurturing OWN, creating visionary television like Lifeclass, being a role model, and for all the humanitarian work she does in the world. If I had had a chance to meet her in person that day, I would have given her a big hug.
Here are some of my notes I took during the Lifeclass tapings:

Oprah Winfrey:
"Don't get confused between what people say you are and who you know you are."

"The stories you tell yourself can make or break you -- no matter who you are."

"You can step out of your history and the past and write a new story for yourself."

"Courage is feeling the fear and doing it anyway."

"You don't become what you wish for, you become what you believe."

"There is no life without a spiritual life."

"We are all spiritual beings having a human experience."
"We are all telling ourselves stories. The question is "does your story empower you or hold you back"?

"You can't have real courage unless there is something you are really afraid of."

"The only solution to fear is massive action."

"You can't wait for the perfect situation. You've got to get out there and discover your passion."

"When you focus on serving, there is no fear in you."

"To break through you need: 1) A strategy, a "how to" 2) The right story 3) A different state of mind. Your state determines your story."

"Love is the oxygen of the soul."
"Spirituality is a journey into self awareness."

"Everybody does the best they can from the state of spiritual awareness they are in."

"Our great option is to choose love rather than to choose fear and shut down."

"Your personal transformation is the future of the transformation of the world."

"The worst thing you can say about another contains some truth about yourself."

"Whatever you are struggling with is a reminder for you to find true purpose in your lifetime."

"You are a spark of divine consciousness."
Watch "Oprah's Lifeclass: the Tour" on Monday nights at 8pm EST/7pm CST on OWN. Follow the show online at Oprah.com and see the coursework that corresponds to each episode's theme. Join the "Lifeclass" conversation online on Twitter @OprahsLifeclass and using #lifeclass.


Marianne Schnall is a widely published writer and interviewer whose writings and interviews have appeared in a variety of media outlets. She is also the co-founder and executive director of the women's website and non-profit organization Feminist.com, as well as the co-founder of the environmental site EcoMall.com. Her new book, based on her interviews with a variety of well-known women, is titled Daring to Be Ourselves: Influential Women Share Insights on Courage, Happiness and Finding Your Own Voice.
Related