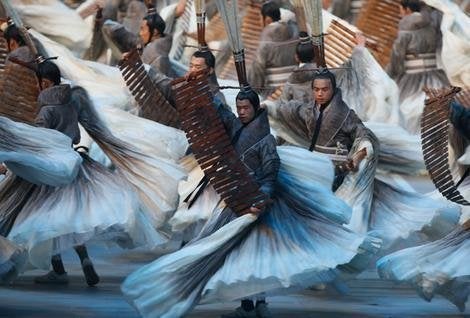 An ecstatic China, an ancient nation so determined to be a modern power, finally got its Olympic moment on Friday night.

With world leaders watching from inside the latticed shell of the National Stadium, the 2008 Beijing Olympics began with an opening ceremony of soaring fireworks, lavish spectacle and a celebration of Chinese culture and international good will.

At 8 p.m. on the eighth day of the eighth month in the year 2008 -- eight being a lucky number in China -- the world looked toward Beijing and the 91,000 people inside the National Stadium, known as the Bird's Nest.
An eight became a perfect 10 in Beijing tonight.

The opening ceremony of the 29th Olympics Games began at precisely 8pm on the eighth day of the eighth month, 2008.

A Chinese opera performance, surrounded by 3000 disciples of Confucius, was a parochial and fitting moment during the first half of the performance.

The demonstration of Taijiquan, the most representative shadow boxing in Chinese martial arts, brought the crowd to its feet in warm applause one hour into the ceremony.
It's a very subdued US team, particularly compared with past years when they've jumped around excitedly, taken photos and videos of each other, etc. They seemed very respectful and low-key (or maybe still jet-lagged), a tone amplified by their respectful and traditional blue blazers and white pants (and even white caps, circa 1920s). The USOC scrapped its opening ceremony designer of past years, one who had designed a very casual, hip outfit. The USOC opted for a more classic and more formal Ralph Lauren. USOC officials are very much aware and sensitive to the poor U.S. image abroad at the moment, and are being very careful and thorough in this regard.
As is tradition, the ceremony began with an abstract ode to assorted elements the host nation's culture: Chinese scrollmaking, movable-type printing, opera, silkmaking and, of course, fireworks.

A high-tech counterpart to the ancient arts played out atop the stadium's façade, which featured movie scenes of the ocean and other landscapes choreographed by film director Zhang Yimou, the ceremony's creative director.

Early arrivals were greeted by a series of performances by Chinese dance troupes and the proclamation that the Olympics have "come across a thousand mountains and a thousand rivers" to China.

"The world has given its love and trust to China, and today China will give the world a big, warm hug," said one announcer.

Popular in the Community