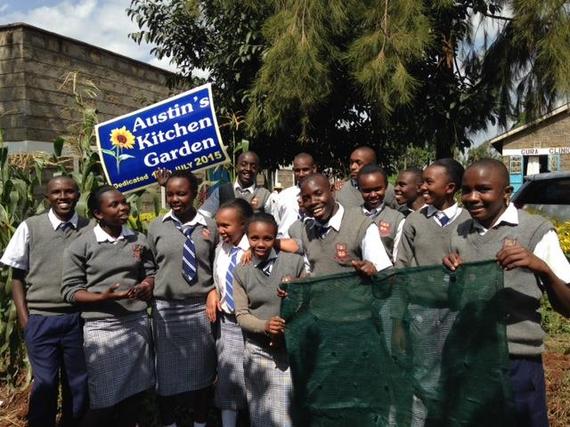 My body carried five babies I never had the privilege to bring to term. I also gave birth to two. One who died at age 14, and one who's chosen to live her life without my side of the family or me. So while I am biologically a mother, I'm functionally a "childless mother" on Mother's Day.
However, my spirit knows what labels cannot express and that is: My spirit carries enough love for hundreds -- no, make thousands or maybe even millions of children.
So what to do as a functionally childless mother this Mother's Day?
Remember. Remember that ours is a country of bounty. So much so, that sometimes we have the gift of not worrying where our water, sanitation or food will come from, which means that maybe we can linger a bit longer than our global sisterhood of mothers can -- on what we don't have or on our own pain.
Without these seven, who each bore within me an imprint on my soul, I would not know the amount of love I am capable of carrying, as it replenishes -- exponentially... in this chalice I call my heart.

So I ask again, "What to do this Mother's Day?"
I will practice gratitude for my "seven," then try to stare bravely, yet kindly, into the faces of the 7, 70 or 700 motherless children I may cross paths with throughout the rest of the year.
Surely, my heart-cracked-open and yours, too, can find something to do with its well of boundless love which has created within each of us a special type of energy that knows no limits, especially when it is beckoned into action by the sound of giggly child-voices which emanate a frequency that innately links us to our past.
Oddly, too, it is also the sound of silence that links childless mothers with motherless children. The abandoned, the orphaned or the motherless survivor-children of the ravages of cancer, silently call out to each of us "childless mothers," especially on Mother's Day.
"Your joy is your sorrow unmasked," wrote Kahlil Gibran in his epic book, The Prophet. "Some of you say, "Joy is greater than sorrow," and others say, "Nay, sorrow is the greater." But I say unto you, they are inseparable. Verily you are suspended like scales between your sorrow and your joy. Only when you are empty are you at standstill and balanced," Gibran wrote.

This summarizes the profound balance between childless mothers and motherless children. We are perfectly suited and perfectly balanced for each other, even if our only meeting is through acts of kindness that touch the lives of each of us a world away.

If you're aching because your childless heart is so filled with love that it feels it is about to burst, I ask you to look into the eyes of the children in your local, national or global community. If you don't know how to reach these motherless children, here are a few places to start:
Early Childhood Development Centre, Nepal: 50 kids adopted and saved from growing up in
prison in Nepal.
Cura Orphanage: 50 kids who each lost their parents to AIDS.
Call your local cancer organization and ask them who they recommend.
Ask your area church for the names of families your can send a card to. Mother's Day is tough on them.
I promise the love you share will be extraordinarily replenished and your label of "childless mother" will be banished to where it belongs... in a pile with other labels, including that of "motherless children." We are all united by the love in our hearts. Always have been...always will be. Happy Mother's Day.