Chanel Chase is a take charge business woman, author, and inspirational speaker who expertly balances career, ministry, and family. She is a voice to the millennials and the Kingdom of God and recent author or "Pain, Process, and Purpose: The 3 P's to Finding Your Spiritual Identity". We had the pleasure of sitting down with Chanel Chase to discuss being a Kingdom-Preneur in today's world.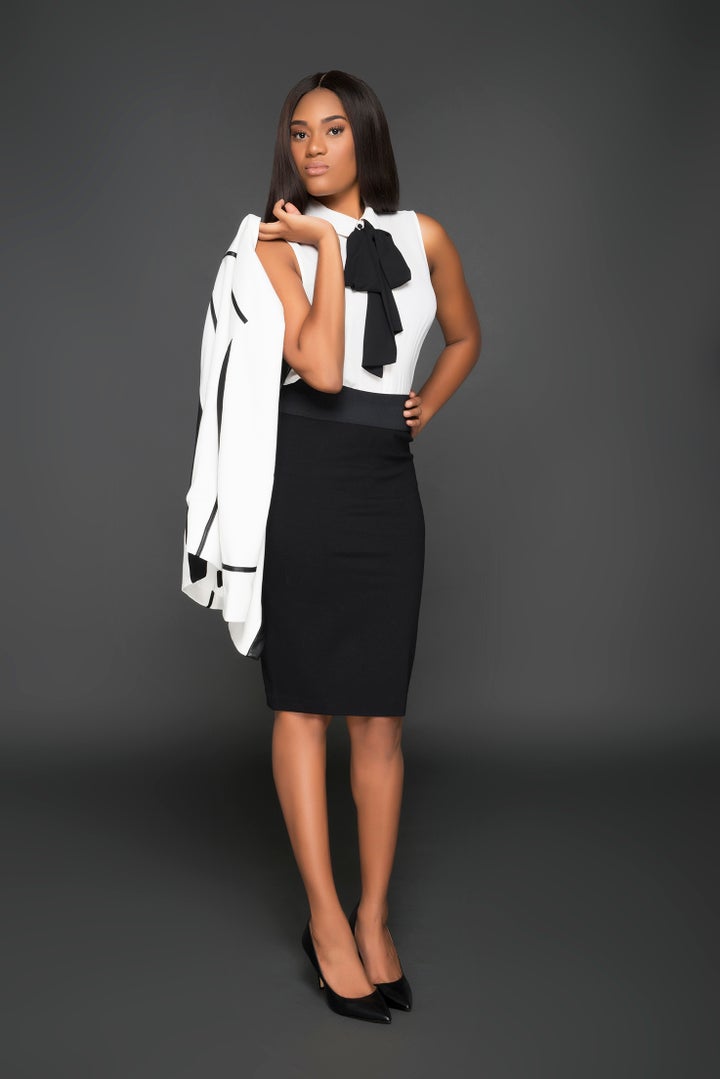 Q: In your words, what is a Kingdom- Preneur?
A: A Kingdom-preneur is an entrepreneur that is doing the work that God has assigned to them to advance the agenda of the Kingdom. Every person on this earth has been gifts, talents, and skills by God, and it is important we utilize what He has given us. It is easy to take credit for success when we are the ones in the spotlight; however, as a Kingdom-Preneur, it is important that people see the God in our purpose first before they see us in the spotlight. It is the entrepreneur that puts God at the forefront always.
Q: How were you able to marry your purpose and your business together?
A: My purpose is my business. I believe that they are one in the same. I have always been an entrepreneur part time, while working in corporate America. Most people I come across always ask me how I have been able to manage everything that I am doing. My answer has always been, "God has equipped me for the plans He has for me, just like He does for you." I have run many businesses, and currently, I'm teaching people how to trade the foreign exchange market. None of these businesses were started without God in the forefront. I have always asked God to help guide me in my business ventures. The ones that I neglect to seek his advice on; unfortunately, never worked out. However, with those business, I had predecessors to help me. My parents were network marketers, so I had guidance. I had people who found success in that industry and helped teach me the ropes. Of course, I had to do the work, but I had guidance.
When I decided to step out and become an author and write, "Pain Process Purpose: The 3Ps to Finding Your Spiritual Identity," I truly didn't know anything about the industry. I only knew the message that God had placed in my heart. This was one time where I felt my business was going to have to be birthed truly between myself and God. When I was writing my book, God gave me the words to write, and He formed the connections I needed to succeed. It pushed my faith further. As Kingdom-Preneurs, we have to operate in faith. If my business cannot be aligned with my purpose, then most likely, that business isn't for me.
That's how I have learned to marry my purpose and business together. I have learned that they have to be in alignment with each other. There's not one business decision I can make without seeking God first because I can only see a glimpse of the plan He has for me, but He can see the big picture. He knows the end from the beginning. When we are focused on God for the business to grow, then He will guide us in our ventures.
Now, I want it to be very clear that I am not saying trust God and do nothing lol. Because we all know that "Faith without works is dead." In order to be successful in life, we all have to do something. God will do His part, but we have to do our part. However, I am saying that as we are applying our faith to our works or "our part", we need to clarify that the decisions that we are making are truly in alignment with God. If we are doing what God intended for us to do, walking in the purpose He created for us, then no man can stand between that. If we walk by that principle and stay true to ourselves and who God called us to be, then the people in our target markets will adhere to the calling God has placed on our businesses. Your purpose will become marinated in your business. They will become one in the same. My purpose is to impact people in order to bring them closer to Christ. My businesses circulate around that. My book explains that journey from pain to purpose with God, but it still is a business and it will be profitable. My forex business explains the importance of financial education and multiple streams of income, and in the Bible, the people were rich and abundant. That is the type of life God wants us to live, and my goal is make that impact on people that they can live abundantly.
Regardless of what I am doing, it all centers around my purpose. When God is in it, it can't go outside of His Plan for my life. So, when I chose to marry the Kingdom of God and walk in my purpose, that included my businesses becoming a part of that. Let's just say that the business represents the "ring" to the marriage. The business is the piece that exemplifies that I am married to God and my purpose, and it's up to us, as Kingdom-Preneurs, to use that ring wisely in the way it was intended by God. Needless to say, since I married the two, God has been working in my life and because of my obedience, He provided the right connections to help me obtain the BEST SELLERS LIST!
Q: As an entrepreneur and best-selling author, what are some common areas you see entrepreneurs/ministry founders drop the ball?
A: Some entrepreneurs/ministry founders drop the ball in being transparent about the journey. Sometimes, we can get "too spiritual" that we miss the point that God is trying to use us for. I believe the blessing in the gift that God gives us is that we can be blessed in our mess. Let's be honest, no person is perfect, but my raw transparency in my book has allowed my ministry to take off. What if I decided to hide that? Where would I be? I think sometimes in ministry we get stuck in the "churchy" phase, and in that phase, we lose the people that were like us before we got "saved."
Another area I see we miss the ball in, is trusting God with no actions behind it. I believe that sometimes entrepreneurs in ministry will get so caught up in Trusting God that we forget the part where God actually told us to do something. We lack patience and obedience. We want God to do it all versus doing what God has told us to do.
Lastly, I would say adapting to the environment. As entrepreneurs in ministry, it is important that we understand that everyone that comes in contact with our business will not be saved and not necessarily believe in God. However, it is our responsibility to be a reflection of Christ 24/7 by the way we conduct our everyday lives, which ultimately impacts the success of our business. Meaning, the customer of your business should be able to see the God in us when we speak, when we walk, when we checkout, or even when something goes wrong. Our customer should always be able to see the Kingdom through us, but not feel like they are judged because they don't look or talk like us. One of the great things about ministry is being able to touch the souls outside of God, and sometimes entrepreneurs in business miss the mark of reaching those people because of the preconceived notion of what a person or customer should look like based on their beliefs.
Q: What makes it hard to be a Kindgom-Preneur in today's society?
A: Of course, the society in general can make it hard. There are all sorts of peer pressures, relationships, friendships, and let's not forget social media that can push you to a point where you want to give up on your calling. The everyday activity of a person in our society is not always going to align with the "Kingdom-preneur" mindset. And let's take it a little deeper, the business decisions we make are not always going to align with society. I have heard of "Kingdom-Preneurs" turning down million dollar deals because it wasn't what God told them to do, and I have also heard of "Kingdom-Preneurs" accepting million dollar deals because God told them to. The scrutiny from society about decisions one makes alone can make it hard. You know, even with my book, there will be people that are in the church and outside of the church that will like or dislike my transparency. There's always judgment, and when you are walking in a walk that is different from most of society, it can be challenging. However, I have been taught to live outside of the bondage of people.
That is why we have to be grounded in the Kingdom before we walk into society. Not only that, but we have to be grounded in who we are as a person. My authenticity and transparency help my gift flourish. I know who I am now in God and myself, because there was definitely a time when I didn't, and truthfully, I wouldn't have lasted in today's society. So, the pressures of the society itself are overwhelming; being too perfect, saying the right or the wrong thing, being judged for talking about God, all those things make it difficult. However, we must stay rooted and grounded because there will always be judgment for ANY person, but for God to be a platform puts us in the spotlight for a little more scrutiny. Nevertheless, it's nothing God can't handle, and there's not a situation that God hasn't given us the insight to be equipped for victory. That is why prayer in the "Kingdom-Preneur's life" is very important.
Q:. Does proclaiming your faith as the forefront of your business ventures ever help or hurt your business?
A: It truly depends on who is looking through the glass. I'm sure that there are people that love my transparency, but may dislike that I talk about God, and I miss the opportunity to appear in their organization and speak. However, I am true believer that what is meant for me is for me. I'm not a super "churchy" person or over spiritual. My goal is to relate to the "un-relatable" through my transparency and journey. Truthfully, God is the only reason I came out of my mess of being lower than low, and if it doesn't align with who God is to me, then that venture is not for me. I don't feel that it could ever hurt my business. I may have setbacks in my business until it is time for my platform to be elevated, but I believe more than anything God helps my business. My faith represents my authenticity and who I am, it represents my raw and transparent honesty, it represents the good and bad times with God, and I feel that can only help me because I will be put in the places I'm meant to be. I like to look at missed opportunities as small distractions that had an end goal of getting me further away from my purpose. Therefore, I believe it does help me to be honest with people about who and whose I am.
Q: Who are other Kingdom-Preneurs you admire and why?
A: #1 MY MOTHER, Nadine Chase. I have watched my mother be the strength of our family and she has always put God at the forefront of everything she has done. She has been an entrepreneur for the last 20 years of my life. My parents together launched their own medical business years ago, Agape Healthcare, and were able to turn it into a profitable business, while still maintaining a church. My mother has had a prayer line, the Wisdom Inspiration Celebration Prayer Call, and I have watched that ministry birth into a very influential movement. While doing that, I have seen her launch her own forex business, as well as working on a medical consulting business. My mother has instilled how important God is from the beginning, and watching her live out the example of keeping God at the forefront has always been a constant in my life.
#2 Hands Down is Sarah Jakes Roberts. Wow, I can just say her journey is so inspiring. To watch her life at 13 and get pregnant as "Bishop T.D. Jakes daughter" had to definitely be overwhelming. But I watched her go through her journey. A journey where she lost herself, and for me that speaks volumes. She is a mentor to me because I went through a period of losing myself. Although our journeys were different, I can relate to her. She has then become a business mogul. She has 3 books that are published, and she has an immaculate YouTube channel, as well as an amazing speaking career. Nonetheless, she is also a mother of four and a wife, talk about a superstar. She instantly has become someone that truly inspires me because she is not afraid to be authentic. She is who she is, and people have learned to love her or hate her for it, but she's remained constant in her message of who and whose she is!
#3- Heather Lindsey. She took something like celibacy, and made it cool. So cool, that she created a business and pact with girls around the world called "Pinky Promise" in order to start a movement. So, in my walk with God, about four years ago, God told me to be celibate. Maybe about 3 or 4 months later, I came across Heather Lindsey's blog. It spoke volumes to me, and I remember later reading her book, "Pink Lips & Empty Hearts." Since then I have been following her and her husband, and I have been inspired. She walks with so much grace and is transparent about her "lost times" as well, while still putting God at the forefront of her life.
#4 Jewel Tankard – She is a financial advocate. Of course, she inspires me because I was honored that she chose to write the foreword to my book. However, I have been a part of her Millionairess Club for about six months, and she has also been a personal mentor for me. I have watched her use her financial guru gift to make sound investments, and she has helped me make a few of my own. Nevertheless, one thing that I can say is that she has never wavered from her love for God. He stands at the forefront of her conversation regardless of if she is speaking at a church or negotiating a million-dollar deal.
These women have helped develop my foundation of examples to look at when it comes to being a #KingdomPreneurGirlBoss. I'm consistently pushing myself, and having tangible and non-tangible mentors have been very influential in my growth and development as a Kingdom-Preneur.
Q: What made you decide to write your book?
A: So, my life was in shambles, and the crazy thing is that no one around me knew. 5 years ago, I didn't even know myself, and the person that people were getting to know wasn't really me. I had worn the mask of conforming to the perception of what people thought about me instead of being who God really called me to be. I was very much lost, and I didn't know a way out. I had experienced a lot of pain in my past relationship, and I allowed that situation to define me. I began to accept everything that he said about me regardless of if it aligned with God. I began to conform to who he needed me to be, which essentially led me to my lowest place in life. I lost a lot of friends. I went through a lot of hard situations and I got to a place in my life where I had to truly ask God for help. But before I knew I needed God's help, I went through that stage of anger with God. I blamed Him for my circumstances and situations, but He took me through a process of teaching me my role in some of the things I went through and I had to learn how to take responsibility for my part. During that very low time in my life, I was journaling a lot. I mean, A LOT. I began the journal angry telling Him about my pain, and how I felt that He left me. I talked about my relationship and many things that were going on in my life at that time, including suicidal thoughts. I stayed in that dark place for a very long time. Eventually over time, God took me through a process that helped lead me to a lighter place in my life. Then, my dad got very ill. The whole year leading up to my dad's death, I experienced so much pain, but when I lost my father October 7th of 2016, I experienced the worst pain I had ever faced in my life. I tried everything not to go back to the dark place that God had recently brought me out of. Therefore, I went back to journaling. Thank God, I still had my old journals because I was able to go back and read them, and through that process, God kept me sane. I thought about everything that He had brought me out of and I was still standing. God really took me through some tough times, but He showed me that He would never leave me. I didn't know that the journal would help me create this book until God told me that my testimony needed to be shared. This book was formulated because I saw my pain first hand, and I lived through the process and now, I'm seeing the purpose God created for me. God placed this book in my heart and the key to it was transparency. I wanted to let people see the real me and understand that life will take you through situations, but God will never leave you. I wanted to encourage people that are in the pain stages or the process stages that God still has a purpose for them, and that we do not have to let our past situations or circumstances define who We are because God has a plan for us regardless.
Q: What makes this book different?
A: This book is different because I thought that my transparency and rawness was great. Allowing people into the mind of an average woman who looked great on the outside, but was very lost on the inside, is truly what most people need. Most people need to see the person that trusts God and shows their vulnerability. That's what my book is about. However, what makes it different is that I didn't stop there. The book is a transparent story that I allow people to relate my story to theirs. Within the book, it is broken down into three sections, Pain, Process, and Purpose, and after each section there is free writing space and a little paragraph from me so I can let the reader know I'm there. Also, I still didn't want to stop there. Transformation is what I was after. I created a workbook as a companion to the book because I truly wanted people to change. I wanted to help them through their journey. I didn't want them to end the book and then say, "Oh that was a great book, but how do I apply it to my life?" Believe it or not, I've done that many times with self-help books. So, the workbook takes them through each section with exercises that make the reader dig into their own life, as well as many thought-provoking questions in each section. In addition to that, there is free writing space after every part of questions and exercises, and at the back of the workbook is one of my personal favorites, it is a "Thank You Journal." The Thank You Journal method is something I used to help pull me out of my dump. It was creating a journal where I literally didn't ask God for anything, but I just thanked Him for everything, even the small things such as I woke up this morning. It sounds crazy, but it helped. So, not only did I write a book, I gave you a tool to help you fix your life, and align your life in purpose. That is the difference. That is my ministry.
A:My book is written to that person that looked like me. The one that was afraid of their pain. Afraid of showing their pain. Afraid of walking away from an unhealthy situation. Afraid to show who they really were. It's the person that hides because they do not feel that they would be respected as themselves. It's the person that has a story in them that needs to be told. I needed them to see my strength through my transparency and understand that it's okay. It's okay that pain exists, but I wrote my book to the person that needed to know that they didn't have to get stuck there. In my relationship, I hid behind a fake smile, fancy clothes, a good job, and every other materialistic thing I could. I went to church, but needed help. I was afraid to say it because I didn't want to be judged. I needed the person that read this book to understand that there's only one life that God gives us, but He gives us multiple chances in it. We can make mistakes. I wrote this book for the person that needs to get over the hump. The person that needs hope and to understand that God is still there. God has more in store for them just like He did for me. We don't have to be forever stuck. I wanted to help that person get past the pain, into their process with God, so that God could reveal to them their purpose.
Q: What advice would you like to give other kingdom-preneurs?
A: I would give the advice to stay focused on what God called you to do. Don't get distracted or fall into the web of "what other people want for you," but to keep your eyes set on what God wants for you. The correct strategic business relationships will be formed if you follow God's voice, and obey the work He tells you to do. Continue to grind, but grind with purpose. Grind with intention. Allow your purpose to be revealed through God, and remain authentic to who you are. Keep God in the forefront of your life in your own way. There is no wrong way. You may be creating the shift your market needs. Remain relevant to your calling, relatable, and focused. Keep dreaming and casting vision, and allow God to put that vision into play. Don't forget to take action and listen to God for your instructions. Society will try to corrupt who you are, but don't allow that to happen. Remain humble, hungry, patient, persistent, and in provision, and God will continue to elevate your platform and business to where it needs to be! Remember we only see a glimpse of the picture, and God sees the whole picture, so TRUST GOD ALWAYS, and PRAY, PRAY, PRAY, for discernment in your relationships, business deals, and friendships. `
Popular in the Community