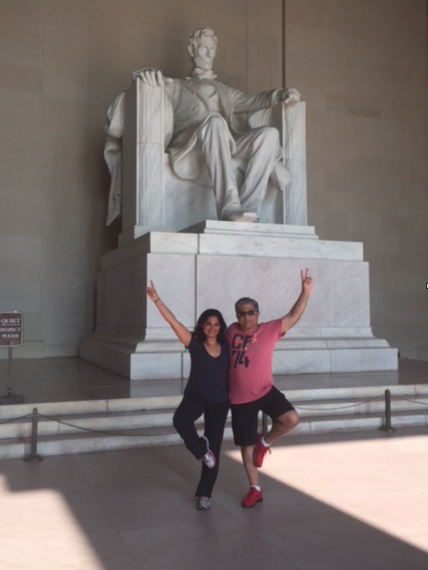 24 Hours in Washington D.C. with my father, Deepak Chopra
Loss has also reminded me to have gratitude and be present with those we love if we have the opportunity to do so. In my 40s, many people I love have transitioned, and I have seen family and friends lose their parents, spouses, even children, to disease or senseless tragedy. My intent to spend time with loved ones is a priority for me.
So, when somehow the logistics worked out for me to join my father, Deepak Chopra, on a trip to Washington D.C., I jumped on the opportunity. While I see my father often, it has actually been many years (perhaps decades) since I've taken a one on one trip with him. Also, having just wrapped up a few months of speaking about my book, I've been feeling a need to dig deeper on the knowledge. This was the perfect opportunity to shadow him to the Capitol to talk about The Soul of Leadership to members of Congress.
I often downplay my answer to the question, what is like being Deepak Chopra's daughter? It's all I know after all. But I was reminded, as my father and I waited for our Amtrak train, how fortunate I am. Several people approached him to express their gratitude for his books, his appearances on television, his blogs and the 21 Day Meditation Challenges with Oprah which have changed their lives. More importantly, we had fun, planning what to eat when we arrived and my dad showing me his tricks for getting a good seat on the train.
And, during that first dinner in D.C., I reveled at how truly blessed I am to have the kind of exposure that comes with being around Deepak Chopra. Our dinner included some of the most prominent journalists and activists of our time who were mesmerized by my father's stories and explanations of consciousness. When they asked if this was our normal dinner conversation, I had to admit that indeed it was.
The presentation to Congress was a huge success. My father spoke about what it means to be a leader to those that are influencing the direction of our country. It was thrilling to meditate in the Capitol with members of Congress! Representatives Steve Israel, Tony Cardenas and Tim Ryan, author of Mindful Nation, joined us both for the session and dinner in the evening to discuss opportunities to improve the lives of veterans and citizens through research and mindfulness programs. These men and their teams (including their wives!) gave me hope that we are living in a country that has good people championing for the greater good.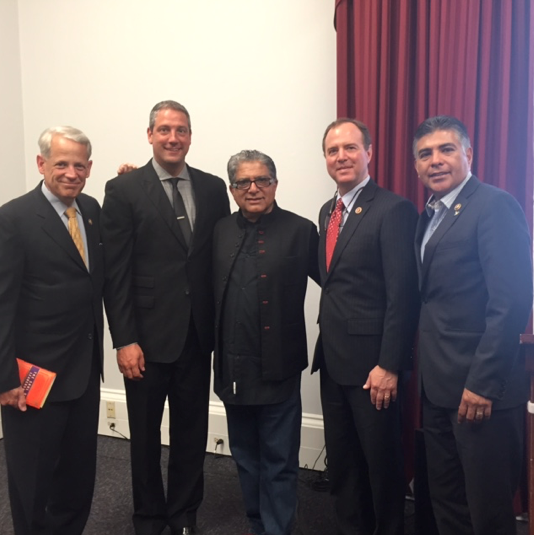 I have spent years thinking about mindful parenting, but my day with my father made me realize that being a mindful child is just as important. Taking the time to and be present with your parents (or anyone else you love), to let them know they are important to you, and to make time to be together is invaluable.
The most treasured moments for me last week with my father was when we took a morning walk to the Lincoln Memorial where he made me do a tree pose for a photo for social media. (And yes at 43, I was still embarrassed by my dad!) And then, on the train back to NYC, we spent 2 hours discussing the nature of the ego and consciousness, developing a new lecture that both he and I will present in the future. Truly, I am incredibly and forever grateful.
My hope for those reading this blog is that you set the intent this week to spend time with someone you love. I truly believe you will not regret it.