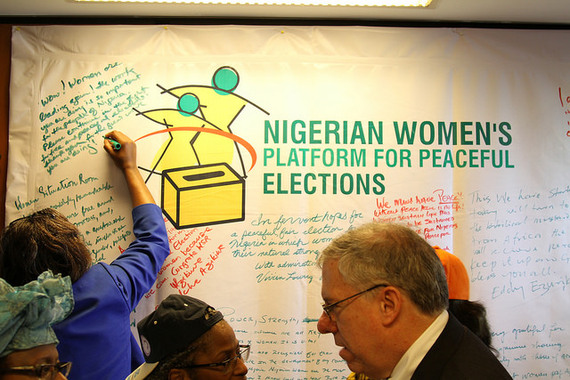 Assistant Secretary of State for African Affairs Linda Thomas-Greenfield signs a banner for the Nigerian Women's Platform for Peaceful Elections during her visit to Abuja on March 28, 2015. [State Department photo by Idika Onyukwu/ Public Domain]
One year ago, hundreds of girls gathered in their village's sole secondary school. It was supposed to be closed, but a special exception -- the national exam to enter college -- opened the doors to hundreds of girls in their final year of school.
For them, taking the test was risky -- it wasn't safe to be at school -- but it was an opportunity the young women couldn't miss. The test promised to put them on track to go to college and to give them the opportunity for a career.
They never got their chance. As the world knows all too well, the terrorist group Boko Haram swept into the school in Chibok, Nigeria, and abducted more than 200 girls. A year later, this horrific event continues to haunt us. These girls should have become college students.
In far too many places, being a school girl is dangerous business. Girls face the threat of violence on the bus ride to school, the afternoon walk home, or even during a bathroom break -- and that's if they can attend school at all. Soldiers may close classroom doors to children so schools can be used as hospitals or military bases, or community leaders may permit only boys to attend class.
The barriers that prevent girls from going to school vary. But what's clear in any community is that education can change everything for a student. It offers ideas, experiences, and discoveries. And for many girls, education does more than open minds. It dramatically improves their earning power and leaves them far less vulnerable to HIV/AIDs, early and forced marriage, and other forms of violence. In other words, an education places girls on a path to a better life and improves the health, wellbeing, and economic security of their families, communities, and countries.
These outcomes are the inspiration for our efforts to help adolescent girls stay in school, which now include an initiative announced by President Obama and the First Lady called Let Girls Learn. From supporting community-based solutions to local problems to leveraging diplomacy and USG-funded education programs that address the needs of girls, this effort aims to knock down barriers that keep far too many adolescent girls from completing their education.
Let Girls Learn is not just an initiative. It's a signal to the world that the United States is committed to adolescent girls and their education, and to seeing their lives and opportunities change for the better.
Today that commitment feels heavy. We're reminded that there are those intent on breaking the bonds of human dignity in order to close doors for girls and women--in Chibok, in Tikrit, in the Swat Valley, and in Raqqa.
But we're also reminded of the dozens of girls who were able to escape the clutches of Boko Haram last year. They have bravely continued their education, enrolling in preparatory school despite threats to their safety. And last month the world watched as Nigerian women came together to be a part of their country's historic, largely peaceful elections. A group of 300 women underwent training to become election observers and then spread out across Nigeria to monitor polls, while others set up a hotline for voters to report violence. Their work-- like the work that goes on every day in forums like the UN Security Council, national parliaments, and local councils--affirms the importance of women's participation in all efforts to promote stability, peace and security.
This is the kind of courage and action Nigerian women and girls bring to the table. And it's the story we must hold on to as we resolve to stand up to those who choose to brutalize, terrorize, and torment. In the face of groups like Boko Haram, we will remain strong and committed to the rights of men and women, boys and girls.
Related