Last week, some friends came to visit my hometown. My husband Paul and I live in Santa Fe, "The City Different," the home of ice-skating rabbis, rocker accountants, people named Empathy and Setter, Chinese burritos, and the annual Hysterical Historical Parade.
"We know it's a drag to have to be a tour guide in your hometown, but what if you became a tourist with us?" one of them suggested.
I couldn't find a reason not to, and there's always something new to discover in this high-altitude, arty, foodie, culture-drenched desert town, so I agreed.
This is the unexpurgated version of what happened over the last three days.
1. We got tickets to opening night at the Santa Fe Opera. The champagne-caviar-tailgate parties in the parking lot were a lot sparser than I remember, but some highlights were a dude in a cowboy hat and Chinese jacket, and a duo dressed, appropriately, as Carmen and a bullfighter, since the opera was Carmen.
And how was Carmen? It was the most pelvic opera I have attended in many years, and perhaps ever. The brilliantly directed Carmen, set at and near the US-Mexican border in the mid 1900's, was a splashy, bold, dramatic, highly theatrical story about sex, drugs, and rock 'n roll, except the latter was replaced by very familiar, unforgettable arias. There was a lot of thrusting, Elvis-like pelvis gyrations, and the toreador himself was a hunky drunk, who made his first appearance splayed over the approximation of a mechanical bull. In the last scene, when Don Jose kills the femme fatale who destroyed his life, she is dressed in a blonde wig and a white ermine coat, like Marilyn Monroe or Jean Harlow. The scarlet blood oozes through the white fur, and Carmen is no more.
If your opera tastes are conservative, this may not be your glass of champagne. But if you like imagination, art for art's sake, a generous dollop of decadence, and production values with a whiff of social commentary, go go go.
I invited a friend to join us in the parking lot--Desiree Mays. She gives nightly talks over a buffet dinner at the opera (which we didn't attend, but we had the joy of Desiree talking off-the-cuff about everything operatic, the tours she leads to great opera companies, and her encyclopedic knowledge of the fascinating world of libretti, scores, tenors, lyric sopranos, and dish about composers).
2. The night before the opera, we went to a Carmen-themed class at the Santa Fe School of Cooking, meaning all the ingredients were redolent of Spain, with the influence of Moors who lived in Spain. The chef, Michelle Roetzer, is a cross between a chef, a professor, a standup, and a drill sergeant. I loathe cooking. My husband loved the kitchen tips ("feel your ear lobe, and then feel the dough. They should feel the same") and waltzed right in to the preparation of cold gazpacho, salt cod fritters, clams in sherry sauce, chicken in pepitoria sauce, and marcona almond tart.
When I entered the class, chef said to me, "I remember you. You love to eat and hate to cook."
"And nothing has changed," I said.
So I watched the others cook, like a culinary voyeuse, and took photos because everyone was happily elbow-deep in food prep and couldn't take selfies.
3. We went for a Friday night freebie at La Posada Resort and Spa. Sara Eyestone, an artist and art curator at the hotel is, hands down, the best art seller I have ever seen. First, people on the tour are treated to cheese, wine, and appetizers. Second, Sara tells them the history of art in the Southwest, and spins some fabulous yarns about the Staab family, whose late l9th century mansion was expanded to become the current hotel. Some of the tantalizing details included a family member's encounter with Billy the Kid, and a special chair the family built for President Taft; because of his extraordinary girth, they made the chair the size of a buggy seat.
Then Sara walks visitors through part of the collection, and she tells compelling stories about the artists that make you want to haul out your credit card and buy, buy, buy. But no. That is not Sara's way. She encourages you to go home, think about it, fill out a questionnaire, and she will help you find the right painting for that space above the sofa.
4. I almost dropped out of this one, but I am glad I didn't. Arlene Ory was the very knowledgeable guide from Historic Walks of Santa Fe. I thought I knew a thing or fifty, but Arlene added another fifty. She told us about the original building where G2, the military secret service, was located; that the original adobe church in Santa Fe was only a block away from the raucous behavior on the Plaza, and when Bishop Lamy arrived from France to bring some decorum back, he refused to have a mud church and brought stone artisans from Europe. She informed us that the relics in the Cathedral today include the tooth of St. Justin, and that 109 East Palace was the checkpoint for all the scientists who worked secretly at Los Alamos to bring the world the atomic bomb. It was such a clandestine community that all the children born at Los Alamos between 1942 and 1945 had the same address on their birth certificate: 109 E. Palace.
5. Lunch splurge at The Compound. The chanterelles were plump and impeccably seasoned. And the polenta with wild mushrooms and arugula was...and I hate to use the word....perfect.
6. We drove to Abiquiu to visit the home of Georgia O'Keeffe. I had been there before, many years ago, and was startled to see that the views from her windows and her courtyard matched many of her paintings. But this visit was different from the first time. We were not allowed to bring handbags into the house. Okay, I can accept that. Itchy fingers could stash one of Georgia's beloved rocks in a handbag compartment. And we weren't allowed to bring in cameras. Well, that's their right. But we were told by a security guard, who accompanied the tour, that we weren't allowed to take notes. "What?" I protested. "I am a travel writer. I always take notes. Even in my own house. I take notes when I pick up the mail. I take notes when I speak to my mother on the phone."
The humorless guard could not be moved. He informed me that if I wrote anything during the tour, I would be asked to leave. I think you can imagine what a downer that was, and how it cast a dark shadow over the tour.
7. We fared much better at nearby Ghost Ranch, with a delightful, informative, and good-humored Georgia O'Keeffe tour led by Karen Butts. She led us, in a van, to sites that Georgia painted, and held up copies of the relevant paintings so we could ooh and ahh and gasp at the persistence of nature that leaves the subjects of many of Georgia's paintings unchanged.
8. For our willingness to visit our hometown like tourists, our friends treated us to a chef's tasting menu at Fuego restaurant. On the way, we bumped into our friend Bobby Mogill, who plays in a mariachi band, and he accompanied us, in full mariachi garb, to Fuego, and played a tune for the surprised and delighted guests.
Since I was allowed to take notes at Fuego, I recorded what we ate: chicken flautas, cold gazpacho soup, smoked chicken enchiladas, sorbet palate cleansers, salmon in a husk, pork with red quinoa and braised leeks, crab cake, sea bass, and bread pudding in caramel sauce.
So maybe you'll want to be a tourist in your hometown. If so, I love to hear what surprised, delighted, informed, disappointed, and thrilled you.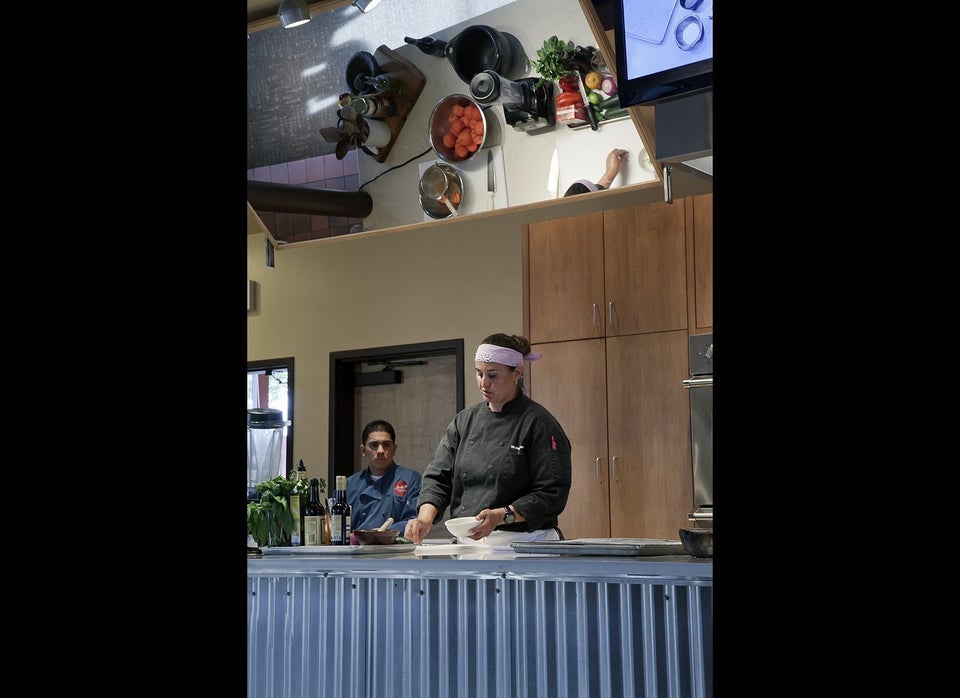 Judith Fein is an award-winning travel writer who has contributed to more than 100 publications, and is the author of "The Spoon from Minkowitz," and "Life is a Trip: The Transformative Magic of Travel.""Carmen," She is a frequent keynote speaker, workshop leader, and an Emotional Genealogist.
Related