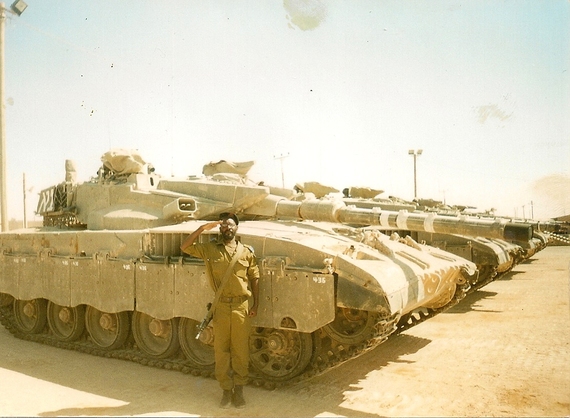 Mark Charles Hardie salutes at the Israel Defense Forces Armored Division Academy. Mr. Hardie dedicated his military service in honor of Dr. Martin Luther King Jr.
A cloud of soul searching hovers over Israel after an African man from Eritrea was lynched and killed by an angry Israeli mob. The lynched man's name is Haftom Zarhum. Apparently the attackers mistakenly believed Zarhum was a terror attacker.
As a brown skinned Jewish person, my heart goes out to the family of the victim, and I am deeply concerned about the thousands of African migrants currently living in Israel. Will these black people be treated with dignity and respect or will they be labeled schvartze which is Yiddish for "darkie"?
Having practiced Judaism for nearly thirty years, I have performed the intricate tap dance of being a black person in the majority Jewish country, and I am reminded of my experiences as a black soldier in the Israel Defense Forces (IDF).
My memories take me back to the day I enlisted in the IDF: On an early summer morning in front of the the Soldier's House near Sacher Park in Jerusalem, I am picked up by a military transport. I, an African American Jew, am about to enlist in the Israel Defense Forces (IDF). I hold in my right hand an enlistment order.
As a soldier for peace, I am an ambassador for people of color everywhere. I am a representative of the nameless, faceless black American slaves who died on plantations. In addition, I am a symbol of those black American children who were unfairly denied the right to an equal education.
As a soldier in Israel, I am a spokesperson for civil rights, fundamental decency, and social justice. By enlisting in the Israeli military, I am figuratively the proud son of civil rights activists such as Harriet Tubman, Rosa Parks, Coretta Scott King, Maya Angelou, Toni Morrison, Oprah Winfrey, and First Lady Michelle Obama. As a member of the Jewish faith, I was taught by my personal teachers, Rabbi Menachem Mendel Schneerson of Chabad and Rabbi Moshe Hager of Vizhnitz, that the Jewish people are in a life-or-death struggle against injustice, anti-Semitism, and bigotry.
My personal role models are Anne Frank, Barbra Streisand, Steven Spielberg, Bob Iger-CEO of Disney, and the more than six million Jews who died during the Holocaust. As an African American Jew, I encourage others to declare "never again" to hatred. As a newly enlisting Israeli soldier I am taken to an IDF base near Tel Aviv which is the enlistment, assignment, and absorption base for new trainees. On this base, I am weighed, measured and provided with several uniforms.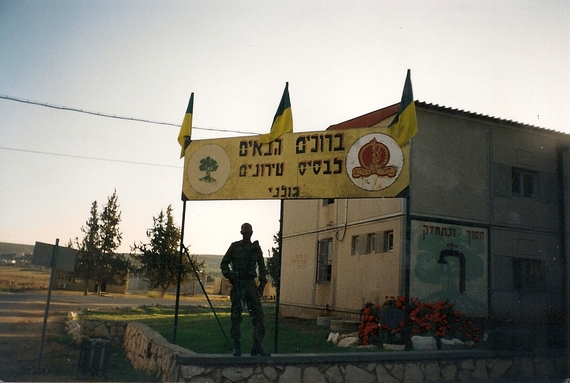 Mark Charles Hardie on an Israel Defense Forces base near the Palestinian Arab town known as Jenin.
My first assignment is a combat training and Hebrew language learning course in Northern Israel.
On this particular military base, most of the soldiers are Russian Jews and Jews from the former Soviet Union who have immigrated to Israel. During training, I am known for my focus, organization, and leadership ability. My fellow soldiers give me the nom de guerre "Yonatan Netanyahu" who was an Israeli commando and late brother of Prime Minister Benjamin Netanyahu. Soon thereafter, I am accepted into the secret commando force known as "Sayeret Golani."
There are numerous terror attacks while I am on active duty in Israel. For example, on August 9, 2001, I was one of the first on the scene at the suicide bombing at Sbarro Pizza in Jerusalem.
Immediately after the terrorist bombing, I provided first aid to a victim, a white woman named Shoshana Yehudit Greenbaum who was five months pregnant. Unfortunately, she and her unborn child died of their injuries. Just as her blood wiped onto my uniform, her memory is forever engraved in my heart. For the rest of my life, I will fight to make certain that innocent people like Shoshana are protected from political violence. Being a black soldier in Israel has deep spiritual meaning steeped in religious tradition. Each time I put on my IDF uniform, I am reminded of the priests in the ancient Jewish Temple who put on their priestly garments. My army uniform is similar to holy vestments that remind me to strive for fairness and human rights. For me, acting to bring peace between Israelis and Palestinians is an important part of my faith.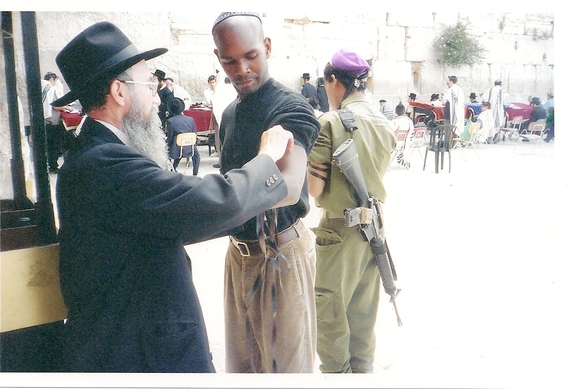 Mark Charles Hardie, who is a black Jew, puts on prayer phylacteries (known as Tefillin) with a rabbi at the Western Wall in Jerusalem The current tense situation in Israel represents a unique challenge for Prime Minister Benjamin Netanyahu. On the one hand, he must protect and secure the security of Israel. However, one the other hand, Netanyahu must ensure that Arabs and African migrants living in Israel are treated with fairness and dignity.
As Israelis and Palestinians struggle for peace, neither side should become intolerant, hateful, and violent. The unfortunate death of Eritrean migrant, Haftom Zarhum, is a wake up call that a new approach is necessary.
Perhaps Dr. Martin Luther King's dream of a colorblind society is an appropriate aspiration for both Palestinians and Israelis. Instead of becoming a strictly Jewish state, perhaps Israel should become an equality-based democracy without any ethnic, religious, or racial definitions.
Peace in the Middle East will only be achieved when all sides accept the words of former President Bill Clinton who once said, "a head without a heart is not humanity".
Calling all HuffPost superfans!
Sign up for membership to become a founding member and help shape HuffPost's next chapter