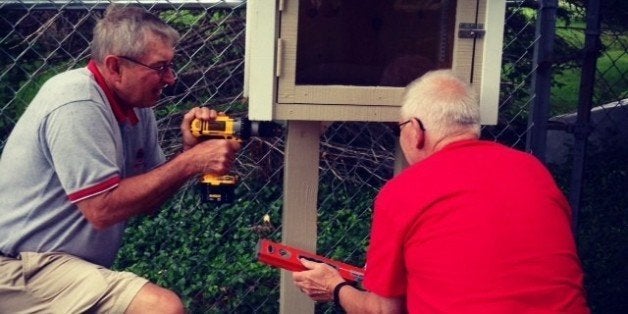 Earlier this spring, I learned about these wonderful boxes called "Little Free Library" popping up around the country. These boxes can be found in neighborhoods and communities and are filled with books for people to take and share. Encouraging people to "take a book and give a book", this movement was started by a Wisconsin man as a tribute to his mother, a teacher with a love of books.
I loved the idea of community and sharing a love of reading and immediately thought that our summer cottage neighborhood would be the perfect place for a Little Free Library so friends could swap beach books. I emailed the website to my father along with blue prints that I found online and asked if he'd make one. In his retirement, my dad fancies himself a woodworker. He responded that he'd get right on it!
Over the last few months he's been working away on the library, figuring out how to make it waterproof and mountable. It has become a bit of a family affair as my mom helped find the right hinges and my brother helped figure out the roof angle. My husband worked with the neighborhood association to get approval. Our kids picked out some starter books, and I registered the library with the organization. My dad recruited a friend, his college buddy, to help install it.
Today was installation day and as I helped these two, not only was I amused with their banter, but I was reminded of all that my dad has taught me. Beyond how to use a level and the difference between a washer and a nut, in today's project, I recognized five key values that because of my dad, I know to foster, nurture and grow. I hope that I'm teaching my own children the importance of these same things.
1. Family
My dad took the time to build this library because I, his daughter, asked. And because he knows that his grandkids will enjoy it and learn from it. My dad takes the time to give of himself to his family, his kids, his parents, siblings and extended family.
2. Friends
My dad has been friends with the man who helped him today for almost 50 years. They were college fraternity brothers and while they live hundreds of miles apart, they remain close friends. As a kid, I remember family road trips to visit these friends. Growing up in Ohio, their Virginia house seemed exotic and they had a cat! I desperately wanted a cat. As they put in the library today, I reminded them about how badly I wanted a cat and they told stories of helping each other build patios in their first houses or swing sets for their kids. Both wore shirts with their alma mater's logo, these Buckeyes worked together to guide the drill or level posts, teasing each other with the familiarity of decades of friendship.
My dad is great at being a friend to others and has many. There's a group of guys who take golfing trips together, couples who my mom and he go out to dinner with, friends who mow the church lawn with him and college buddies who, 50 years later, help install a beachside Little Free Library.
3. Community
The Little Free Library is right down my dad's alley because it promotes community. My dad taught me to embrace neighbors helping neighbors and to lend a hand. He's involved in many volunteer organizations and he is the friendliest person I know, hands down. He'll strike up a conversation with anyone, anytime.
4. Health
During the installation today my dad and his pal swapped numbers from their pedometers, comparing how many steps each had walked so far today. Not only is my dad's physical health good, so is his mental health. He's always had many hobbies and interests, including a woodworking hobby which sure came in handy to build the library. In 30 years when I'm flirting with my 70th year, I hope to be as active and interested as he is.
5. Curiosity
The quality that I am most appreciative to have been taught by my dad is a sense of curiosity. Curiosity is at the core of my every decision every day and what I most hope to grow in my own children.
Curiosity is what drove me to learn more about the Little Free Library organization. And it's why my dad enjoyed the challenge of building the library. Curiosity is why we enjoy books, travels and stories from people we meet.
Curiosity is an interest in things around you, people around you and places around you. It's learning something new everyday and actively engaging in the life that you are fortunate enough to be here living.
Curiosity is a gift to yourself and to others, and it's one of the many things that I'm thankful that my dad gives to me.