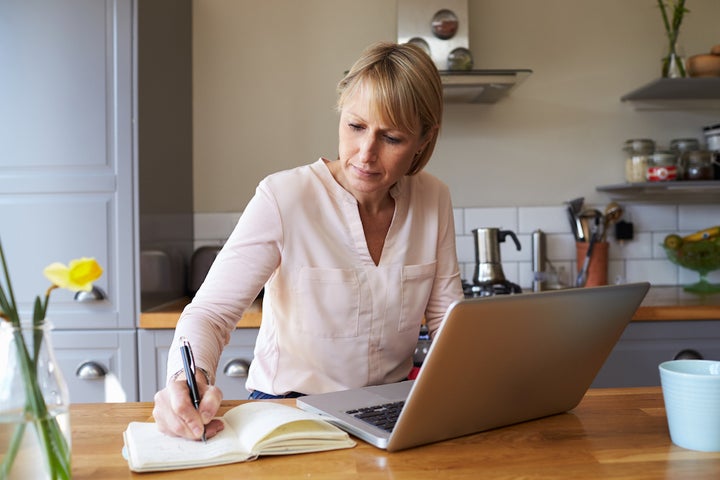 As if it isn't bad enough to lose your life partner, coming to terms with a depleted income in the wake of a bereavement can be quite a blow; especially if you've been living up to, and possibly, beyond your means. However, as they say, 'when the going gets tough, the tough get going'!
With my husband's unexpected death in 1994, I was heartbroken and thought very little in the immediate aftermath about the fact that we were now going to be without his income. His life insurance had covered our most urgent needs and I was able to pay off the mortgage and some outstanding bills. However, although I had a reasonable job in a school, and a modest widow's pension, I was soon to realize that it was going to be difficult to maintain the standard of living we had become accustomed to.
It was inevitable, therefore, that I should think about augmenting my income with something self-generated. I had run my own business before and was not shy about striking out on my own. As long as it fitted in with my day job, I was keen to get going and thus began a series of part time business ventures, with some proving to be more successful than others.
The first was as a home, body waxing service. Having taken a one-day course and invested in wax and the necessary melting pot and various other paraphernalia, I set myself up to serve the local community. I had experimented on a few brave friends and was full of bravado and ready to go.
Fitting appointments in around my working day was not always easy, but somehow I managed. Under-cutting local salons worked well and I built up a steady returning clientele that were pleased to pay less for their treatments. Unfortunately, this did not match my own enthusiasm, as the all-pervasive smell of melting wax that hung around the house was beginning to get the better of me. After six months I off-loaded the equipment and moved on.
Another venture came about when a friend and I began producing hand painted, wooden wall plaques in the form of animal shapes, on which to hang keys. The task of cutting these out, with meticulous care, on a seriously challenging jigsaw, fell to me. They were then beautifully hand-painted by my artistically talented friend.
Several hours went into the production of each one and the finished results were brilliant. We were very proud of what we had achieved and I was extremely confident about our potential success. However, when it came to selling them on to home-wear stores and markets, we were in for quite a shock.
In order to justify the materials and the time spent making them we could not compete with some of the beautiful crafts being imported from overseas at a unit cost of next to nothing. A bit of research would have revealed that this particular business was a non-starter. A lesson learned!
A couple of years passed and I eventually came up with the idea of starting widowsorwidowers.com, which was something of a revelation. Although it took a while to become fully established, I can look back now at the various obstacles I had to overcome and feel great satisfaction at what I have achieved.
If you do consider setting up your own business, there are many avenues to pursue. Providing a service for people in their own homes, such as chiropody or hairdressing is definitely viable; on the other hand, gardening or decorating could be your calling. Dog walking is also greatly in demand, especially for the elderly or infirm.
You might want to visit your local bars and cafes to see whether you could provide better sandwiches or cakes, etc. at competitive prices. Make up some samples and leave them with your price list and see what happens.
If you do decide to go ahead and start your own business, it is hoped, in time, you will experience elements of achievement and satisfaction. Without realizing, your confidence will have grown, and even if you're finding that your business needs a few tweaks here and there, it is something of your own making and over which you have control.
Bereavement does not mean that your life is over. As a widow or widower, coming up with a viable idea for starting your own business can be very rewarding, both financially and from a personal perspective.
Failure is always a possibility, but if your business doesn't go according to plan, pick yourself up, learn from your mistakes and try something else. Focusing on your idea and potential success could help you to come to terms with your loss and will do wonders for your self-esteem.
Popular in the Community