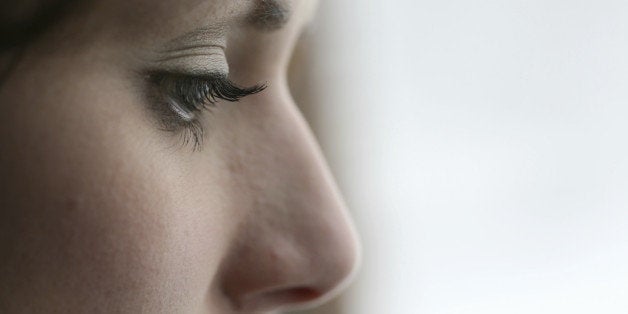 As young women we're told that one day we will grow up to get married and have babies with our husbands. It is what we know as "the birds and the bees" talk that many young women receive from their mothers. I received mine from my stepmother, who never wanted to have children of her own. She never told me that I would grow up and do those things, but she never told me that I wouldn't. During my teenage years I rehearsed the words, "I'll never get married and I'll never have children" over and over again. Little did I know then that when I met the man I love today, those rehearsed words would become a thing of the past.
Nearing 24 years of age, I was in a dead-end relationship with a man who had no aspirations, goals, or true desires to be someone. I let two years of my life go with him and without a moment's notice found myself madly in love with someone who I had been dreaming of running into for years. Now, more than a year later, I am waking up to some of the best days of my life and spending them with this dream.
In my young adulthood years, I heard how "a lot can happen within a year" from older, more experienced people. I was told to make the best out of every day and never take anything for granted. As a young adult, it was in one ear and out of the other before I could muffle a word of thanks for their advice. Today, their advice runs through every nook and cranny of my entire body once it comes in one ear, never finding its way out of the other due to its massive absorption. I guess I can thank a terrible life tragedy for this change of attitude, and the gratitude that I have withheld since.
One morning in October 2014, I decided to take a pregnancy test after experiencing many different symptoms that related to some of the things my pregnant friends whined about. There it was, two pink lines on one and "pregnant" on another. Pure shock and excitement threw me through a whirlwind of emotions. But before I knew it, I was seeing doctors and making ultrasound appointments. November came and my boyfriend and I walked into the OB/GYN office and heard the heartbeat of this sweet little human being inside of me. I couldn't believe what I was seeing and hearing; it became real right then and there that I was a mother.
On December 1st, I woke up excited for our third appointment to see the baby and couldn't wait! It was the first day of gun hunting season, so I told him to go ahead and go hunting because this wasn't more than a routine check-up on the baby. I went to work for a couple of hours and then headed over to the doctor's office. We were far enough along that the doctor was able to detect and hear the baby's heartbeat through a Doppler machine, so she pulled it out and moved it across my lower stomach. I heard nothing, she heard nothing. It was that day that I found out my child had passed away. My doctor called it a missed miscarriage, something I had never even heard of before. That day was the longest day of my entire life and always will be.
The next day felt like a complete blur, but unfortunately I remember every second of it. I had a Dilation and Evacuation (D&E) surgery at the hospital where I planned on giving birth to my child, which also happened to be the hospital where I was born. I went home that night and felt like I failed at life, everything was ruined, and that I had let the man I love down. We stayed home for a few days; he cared for me and encouraged me that we would be okay and reminded me that we will have another chance when the time was right. I couldn't be more thankful for him before, then, and now.
Miscarriage is an extremely traumatizing experience for both the mother and the father of the beloved angel baby. Through my experience, I wrote an online diary that was public and shared my story to complete strangers. This diary led me to understand that there was more to be grateful for than my partner when it came to my miscarriage. I learned that my gratitude can be for me, my partner, fate, love, and the world around me. Losing a child during pregnancy or after birth at any time can change your life. I chose to allow it to strengthen me and teach me what to appreciate and be thankful for.
Today, I am into my 25th year of my life and reminding myself daily to be thankful for who and what I have. Despite the loss of my child, I remember that there is a future ahead of me to look forward to, and if I dwell on the past I will never get to fully embrace my future and its opportunities to the fullest. I meet new mothers of miscarried children every day and I enjoy embracing them with the same attitude that I have. It brings me joy to encourage them to be thankful for what they still have in their lives and remember that we still have tomorrow to be hopeful for, whether it comes or not.