When I met Jonny Porkpie, a.k.a. the Burlesque Mayor of NYC, for this interview, he was full of double entendres, rattling them off as smoothly as an adept playa runs game. But none of his hedonic witticisms were lewd - on the contrary, they were humorous and stirring. "There's a fine line between lust and laughter," he says. "It's fun to straddle it, isn't it?"
Playwright, author, burlesque emcee, performer, and producer, Porkpie indeed straddles many worlds, and he's doing so Being John Malkovich style where the walls between reality, fiction, and performance are fuzzy at best.
Porkpie's debut pulp fiction novel The Corpse Wore Pasties (Hard Case Crime, 2009) was critically acclaimed, not only for its deft prose, engaging plot, but also for its turn away from the hard-boiled pulp and noir standard. "I was leaning more towards the comic ... I turned down the violence and turned up the sensuality," he says. As a burlesque performer and show writer/producer himself, Porkpie used backstage insight into the glam and glitz of the New York City burlesque scene to bring his novel to life, even inserting himself as the series' protagonist. "I can't do anything without mocking myself in it," he says. Of the other players, he insists tongue-in-cheek, "No one in the book series is based on anyone in particular."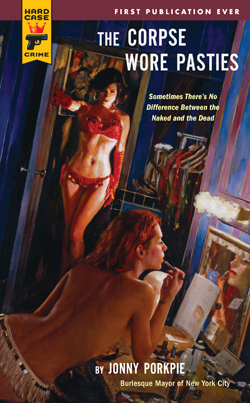 In The Corpse Wore Pasties, you will also find handy burlesque performance tips, so girls (and guys), pay attention: if you heat the tape, pasties will stick better. As for tassel twirling, Porkpie insists that anyone can twirl. "I can twirl three at once, which no one else in my show can do. But if you really want to know a trick, take it slower than you think you should, and don't bounce as much."
Currently, Porkpie is working on a follow-up novel, The Big Strip - with the Superstars of Striptease Showcase in Las Vegas as a backdrop for murder and mayhem. Once again, Porkpie finds himself embroiled in the murder case of a dashing burlesque diva. Helena Hurricane, attending the showcase to receive a lifetime achievement award, has died of mysterious circumstances, and Porkpie gets tangled up in a web of lascivious showstoppers, murderer among them.
When he's not writing the Porkpie pulp novels, he runs the Pinchbottom Burlesque performance series, which he founded with his co-creator and producer, Nasty Canasta, a leading lady in the burlesque scene. They both star in the Pinchbottom shows, which include other acts. Of Pinchbottom, Porkpie says, it's "where burlesque meets theatre, buys it a drink, and takes it to bed." Educated at Saint Ann's, an elite/artsy private school in Brooklyn Heights, and then at Brown University, where he studied creative writing with Paula Vogel, Porkpie writes and produces shows that deliver a theatrical experience. "I'm not talking Steinbeck, but there's an arc - enough plot to give the audience something to hold on to and bring them to the next act. All acts are part of the narrative in some way. Part of the fun and challenge of writing the acts is putting all the puzzle pieces together so everything fits."
As a male burlesque performer, Porkpie admits he's working in a woman-dominated world. Not a fan of the term "boylesque," Porkpie just thinks of himself as a theatrical performer, and, like other male burlesque players, he does striptease acts similar to his female counterparts. "Whether or not that adds to the humor," he imparts, "is not for me to say." He's a big proponent of men wearing pasties because without them, "You're missing out on the fun. Plus, me in pasties gives another opportunity for a punch line - for theatre." So while he might twirl with the best of them, he believes it's important that burlesque remain a woman's art form where women are in control, "Coming up with and performing and producing acts themselves." The crowd at Pinchbottom shows is mixed: half men, half women. Some are straight, some gay; some are groups of friends, some are couples, and occasionally you'll get the lone wolf spectator.
From indie acts to Lady Gaga, burlesque has piqued the interest of those looking for entertainment that's sexy, witty, and won't leave you feeling cheap and sleazy the next morning. "Burlesque is more than teasing, titillation, and raunch," Porkpie explains. "There's a romance that exists between the performer and the audience." Though there's clearly a method to his madness, playful Porkpie sums it up best when he says that sometimes we just need to "shut up and take off our clothes!"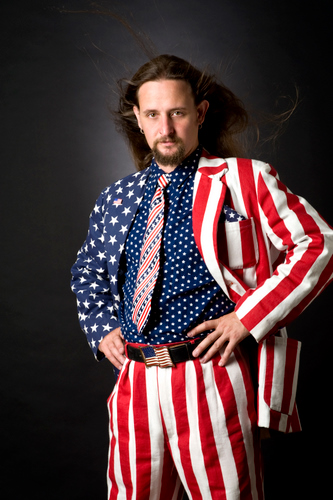 Catch Jonny Porkpie, Nasty Canasta, as well as Bambi the Mermaid, Bunny Love, Donny Vomit, Gal Friday and a slew of top burlesque performers in a Pinchbottom summer spectacle on Coney Island, Friday, August 13, 2010 at 10 PM. The show, part of Coney Island's Burlesque At the Beach Series, is called A Day On the Boardwalk, A Night At the Sideshow and it promises to arouse both body and mind.


Popular in the Community