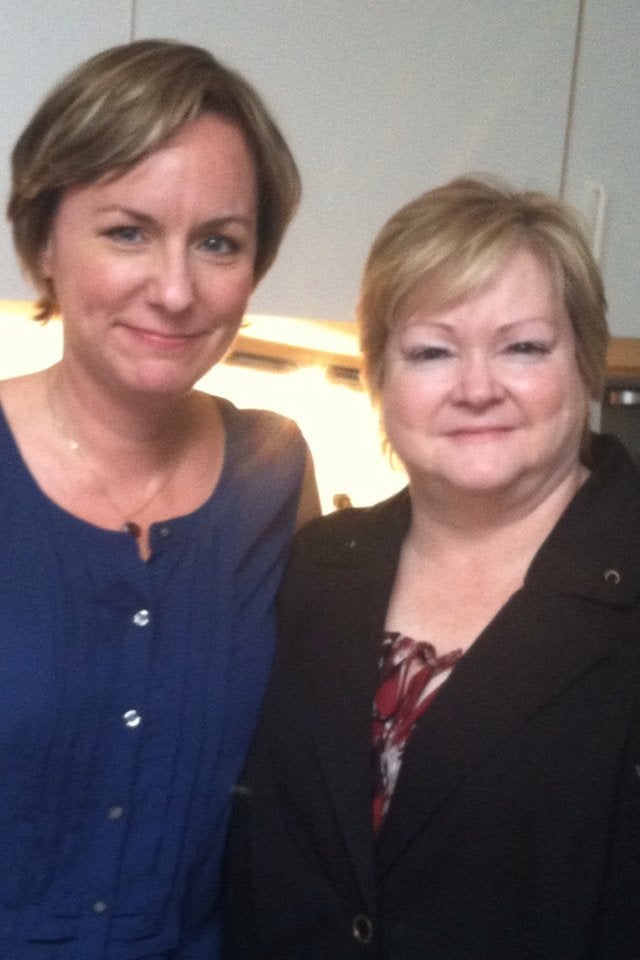 As Tectonic Theater Project workshopped and constructed the play The Laramie Project, I was assigned about 10 female interview subjects who never made it into the play or got cut as its focus tightened. The cassette tapes of the interviews lined my shelf like a little character mausoleum. And though we did not interview her, one of the characters I surrendered was that of Judy Shepard, Matthew's mother. We had a transcript of her remarks from the first perpetrator's plea bargain hearing, but try as we might, any words uttered by the play's Judy made the next character's thoughts or point of view hard to consider. Then, as now, Judy Shepard is a tough act to follow. So my challenge of portraying her private pain and public stoicism was shelved along with many other brilliant voices of Laramie that I have never forgotten.
In 1999 and early 2000, as the company members continued interviewing folks and attending hearings, trials, homecomings and anniversary vigils, we had not met the Shepards. We debated whether we had the right to pursue such a project without their official approval. With that question unresolved, we moved forward, keeping a respectful distance at public events. During one trip to Laramie, we attended a vigil that preceded a well-intentioned Peter, Paul and Mary benefit concert (reflecting the musical tastes of the president of the University of Wyoming, I'm guessing, not Matthew's). At the vigil, Romaine Patterson pointed us out to Judy and told her that we were "cool," though we felt anything but as we were funneled into the concert right behind the Shepards. It seemed more awkward not to introduce ourselves, so we said a quick "hello" and then argued amongst ourselves about whether it had been appropriate to do so.
I was present for the first three days of Aaron McKinney's trial. The victim advocate would escort Judy into the courtroom when everyone was settled. There she was, facing her son's murderer. Sitting a few rows behind Judy, staring at the back of her then-longish, bobbed titian hair, I wondered how she could be so still as the murder weapon, a long-barreled gun that Matthew was beaten with, was introduced into evidence, encased in plexiglass like some kind of museum artifact. There were enlarged pictures of Matthew's injuries and endless testimony by expert witnesses. How on Earth could she bear it? Thankfully, it was already clear that we would not be using her words in the play, so my empathy was undiluted by any actor impulse to watch her mannerisms, etc. I would not have to bring this woman's grief to life.
Just before we premiered the play at the Denver Theater Center in 2000, Det. Sgt. Rob DeBree of the Laramie Police Department had asked company members Greg Pierotti and Leigh Fondakowski if there was anything he could do to help. They asked if he would speak to Judy about our play. Judy gave us her blessing on his recommendation. It was the beginning of a long, parallel relationship between two budding entities for social change: The Laramie Project and the Matthew Shepard Foundation. Over the years I have followed Judy's "character arc." I've read her book, and I've marveled at her leadership and tireless advocacy. I don't mean to "condemn her to perfection," as Father Roger would say, but it's kind of hard not to! I so admire the choices she has made in response to such inconsolable loss. But I never forget the image of her walking into that courtroom, eyes downcast. I still see the back of her head in my line of vision as we both see the murderer, the murder weapon, the photos of Matt's injuries, the bloody clothes. For me, the private Judy of that time merges with the public Judy of today.
For our epilogue play The Laramie Project: Ten Years Later, Judy did sit for a formal interview with Moisés Kaufman, our head writer and director. And I was asked to portray her. I went to YouTube, where I watched her one-on-one with Ellen DeGeneres. I marveled at the warmth she exudes. She seems fragile and as tough as nails, all at once.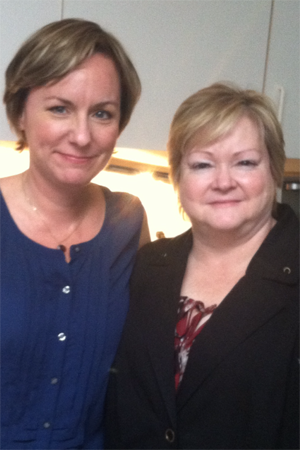 She doesn't often cry in public, and when she does, she doesn't allow herself to fall apart. I'm a person who cries easily, so I know my biggest challenge is sharing what she has to say about Matt, and communicating her process of grieving and fighting and grieving and living -- and doing her justice in the process. I must be fragile and as tough as nails, all at once.
It was reported that Judy Shepard would attend our current production of The Laramie Project and The Laramie Project: Ten Years Later at the Brooklyn Academy of Music (BAM). I was nervous, of course, but she came backstage to meet us all, and we had a hug and talked about how it was for her to sit through the play. (It was her first time.) She thanked us for sharing "some of the funny bits" about Matt, and she summed up the experience of seeing the two plays by saying, "The Laramie Project brings up a lot of feelings, leaves you with a lot of emotion, but The Laramie Project: Ten Years Later makes you think, 'Damn it, we can change the world! Let's get out there and do it!'"
Judy Shepard: She's a tough act to follow.
A new production of The Laramie Project and its sequel, The Laramie Project: Ten Years Later, is running at Brooklyn Academy of Music through Feb. 24. For more information, see BAM's website here.
Popular in the Community