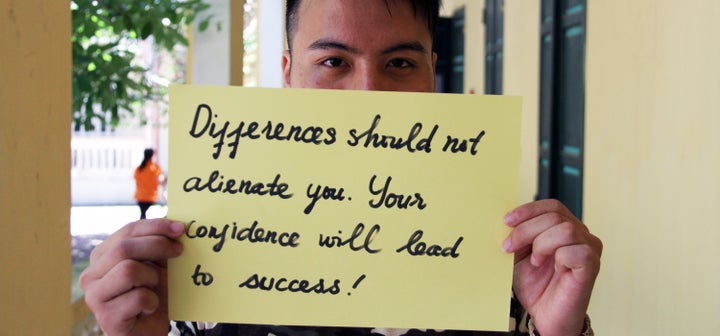 It is thought that gender-based violence in Vietnam results from gender norms that support the dominance of men and the subordination of women. As a consequence, the prevalence of these acts can be very high and, in schools, cases often go unreported. The result is a culture of impunity.
As a member of the Youth Leaders Club, Viet and his peers organise events in Hanoi's school to raise awareness about bullying, harassment, discrimination and gender-based violence in schools. Through the clubs, young people are holding debates and theatre performances, organising school-wide awareness events, educating teachers and parents, and reporting cases of violence taking place in their school.
The clubs are part of a school pilot project, which has reached 31,000 students in Hanoi. There are now hopes that the Government of Vietnam will replicate the project across the city, reaching more than 529,000 students.
As a victim of bullying, Viet is using his personal story to set an example and advocate for the rights of LGBT youth in Vietnam.
Viet's story (in his own words)
When I was young, I did not want to play soccer, I wanted to play with dolls. If one of my classmates had a dress on, I felt envious. I did not understand what this meant. It wasn't until I was older that I understood. More friends began to accept me, and I felt that I should be more open.
If I can live my dream, I have dreams of becoming a girl. But I do not have plans to have surgery, to openly dress like a girl, or to 'come out' until I have a stable job and income. I know I would be kicked out of my home if my parents knew I wanted to be a girl.
Some people accept me, but others want to change who I am. My darkest time was when I would sit in my classroom and no one would want to speak to me.
I wanted the time to fly by. My teachers did not speak to me or pay me any attention. It wasn't harassment necessarily. I just do not think they liked me.
At the beginning of grade 10, students began to tease me. They would gossip about me, touch me, tear my shirt. Other classmates would just stand there and not really do anything.
The biggest change happened when I joined the Youth Team Leaders Club.
Initially, I was very shy and timid, but I received such a warm welcome from the other members of the club. They treated me like family. My peers respected me for who I was.
I have been a part of the Youth Leaders Club for three years now and things have changed a lot since then. Teachers have joined the project and are better able to understand issues of violence and gender. They can also offer support.
I played a girl in a show...I had the freedom on stage and could finally be who I wanted to be
When I first joined the club, I played a girl in a show, which was part of a larger school-wide event where we raised awareness about gender issues and gender-based violence. I had freedom on stage and could finally be who I wanted to be. That was my proudest moment.
The Club members have empowered me and helped me to feel bold, confident and beautiful.
The Youth Leaders Club has helped me realise that I can and want to be myself.
With my family, it feels different: I don't feel right to come out, but I will do so when I have a stable job. I want to tell them that I am no different to normal people, I just want to be a girl.
My parents are suspicious, but they don't know about me yet. One time, I brought my boyfriend home and my parents said: 'he is gay, you cannot be friends with him.' It then became very difficult for us to be together.
I want to contribute to the LGBT community and make people more comfortable. The older generation in Vietnam does not accept us. They believe that you are the way you are born and you are that way until you're dead. If you want to change, then you are sick or dangerous. If I got any plastic surgery, I would be considered a freak. We want to tell society that we are normal.
In school, there are students like me, but they do not dare to break stereotypes.
I dream of attending the Academy of Journalism and Communications in Hanoi, so I can be a journalist and write about LGBT-related issues.
In University, some people may or may not support me, but I want people to understand me. I want to be more active and raise my voice. I can apply my experience from the youth club to my future.
10 years from now, I see myself as a television producer and the creator of a global transgender beauty competition. If TV shows can get attention, I want my show to go viral. I also want to join the transgender Miss Saigon beauty pageant. I would play my part and have more of a voice to raise my issues.
University will cost me about $90 USD per semester, as well as $150 per month for food and accommodation. My father cannot afford the costs. Though he works, my mother is in Malaysia and has been away for three years now. Together, my father and I look after my younger brother.
Because of budget and other obstacles, I know it is very hard, but this is my dream.
Miss Vietnam shared a quote that I really like: 'Life always offers you a second chance. It's called tomorrow.' The quote has always inspired me, because I believe that tomorrow will be a success.
*Name has been changed to protect the identity of the individual
The Youth Team Leaders Clubs are part of Plan International Vietnam and the UN Trust Fund's Gender-Responsive School pilot project, which works to ensure that all schools are safe, inclusive and free from discrimination. Learn more about Plan International's work in Vietnam.
Calling all HuffPost superfans!
Sign up for membership to become a founding member and help shape HuffPost's next chapter