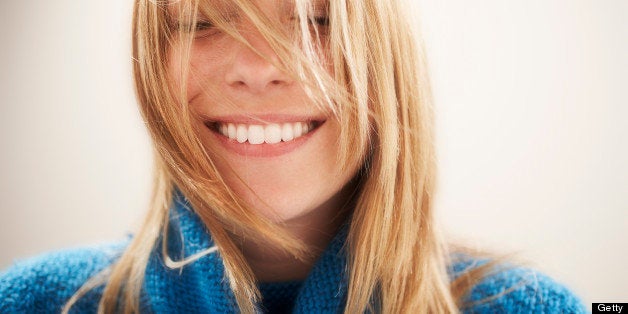 When I was invited to speak about leadership at a local high school recently, I found myself looking out into an audience of expectant faces -- typical American parents concerned about their kids' future at a time when jobs are scarce, college costs are high and people are debating the value of a liberal arts education.

I have two children, one who recently graduated with a degree in Spanish and English, and another who is studying business... so I know the competition is intense, compounded by the fact that some 78 million members of the Millennial Generation are entering the workforce at a time when some 76 million Baby Boomers don't really want to retire.

The audience was looking for answers. I'm an established businesswoman and a parent. What could I tell them?

"What do you want your kids to be?" I asked. "Doctors? Lawyers? Investment bankers?" And I could see heads nodding in agreement around the room, at least until I threw them a curve ball and asked, "How many of you said in your minds, 'I want my kids to be NICE?'" You could see their eyes open wide.

You see, in my mind, it's of incredible importance, even though, I will admit, "niceness" isn't on any curriculum at any liberal arts college I've visited. Furthermore, "niceness" isn't part of any professional performance evaluation in Corporate America, probably because we sometimes operate under the misguided notion that nice guys, and girls, finish last.
I'm here to dispel that notion. I look for "nice." I need to see "nice," not only in my kids, but also in my employees -- all of them.
Yes. I want my kids to be "nice" people, and I don't really care if it's one of the least-discussed values in modern America. But in my opinion, we need to talk about this virtue much more often. These words need to part of our daily lexicon.

A "good" education should make sure it's teaching young people about values, and let's be honest, young people need to focus on these virtues because in many ways, our society has taken kindness, niceness and compassion (things that our parents and grandparents in the Greatest Generation practiced so naturally), for granted.
My list of what I want my kids to be is actually much longer than merely "nice." In no particular order, I want them also to be:
• Caring
• Hard-working
• Balanced
• Fair
• Resilient
I also have a list of what I don't want them to be. I don't want them to feel "entitled" or be disrespectful. And I certainly don't want them to have an "attitude."
And how do I impart this important information to my kids? By "messaging" to them continually (maybe similar to how a company tries to advertise its products). This kind of steady repetition of values is essential in raising our children. "Say please and thank you." "Hold the door." "Be kind to your brother." "Be friendly to the kid who doesn't have any friends." "Tell the truth even when it hurts." "Learn how to say 'I'm sorry.'"
And the good news is it works. I've seen the results.
This is how values were traditionally passed on from generation to generation, back in the era when we talked with our children at the dinner table and didn't spend the time texting.
The crazy thing is that research on the Millennial Generation shows they are looking for values, they crave them, and many are concerned with the direction our country is taking.
There have been many studies of the Millennial Generation, particularly by marketers and retailers who recognize their buying power, not to mention politicians, who recognize their voting power.
Here are some of the relevant characteristics of a generation that is typically defined by its love of technology:
Some 63 percent of Millennials, as opposed to 55 percent of Baby Boomers, consider it their duty to care for their parents who are aging, according to a study by Focus on the Family. To me, that's great news.
Equally important, 52 percent of people in the Focus on the Family study say that "being a good parent" is their most important goal in life. How can you argue with that personal goal?
At the same time, this is the generation that might just change the face of Corporate America. A poll by the Marist Institute of Public Opinion found that almost two-thirds of Millennials think the nation's moral compass is pointed in the wrong direction.
In addition, they have a problem with "compartmentalization," and 88 percent of them think people "have a different set of ethical standards in business than in their personal lives," and 66 percent believe there should not be two sets of values governing people at home and in the office.
When it comes to the traditional juggling act of balancing work and family life, 75 percent of those polled said they believe they can balance the challenges of their careers -- but not at the expense of their families.
What I find so inspiring is that the younger generation is already wired for success and committed to traditional values like kindness and compassion and integrity. We just have to keep reinforcing that message and not let our society's love of professional and material success overshadow the importance of being a good and decent person.
When I finished the presentation I asked the group of parents one more time, "What do you want your kids to be when they grow up?" All of them raised their hands and said "Nice" at the same time. Made my heart warm and put a huge smile on my face!

Cindi Bigelow is President of Bigelow Tea