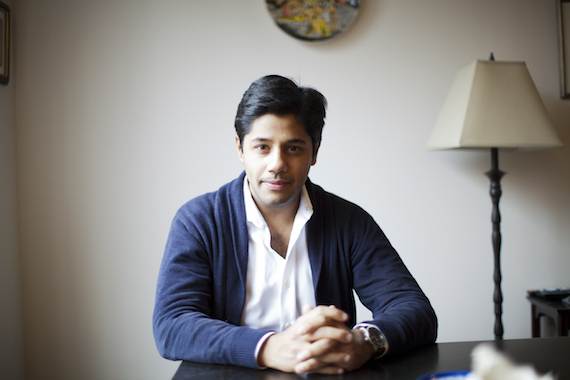 Mustafa Riffat, photo courtesy of Julie Hassett-Sutton/Frantic Studio via Global Kids
I lived in Turkey and Egypt as a child and then came back to the States for high school.

My father is a member of the Council on Foreign Relations and I'm a huge foreign policy nerd. Global Kids has monthly round tables at the Council and he mentioned, "There's this group of teenagers who go to the Council to learn about the world and I think you should attend." So I went. George Stephanopoulos was moderating. The kids were all about my age, 16. Some of them were from challenging situations, but everyone was so inquisitive and thoughtful. I signed up immediately.
The best education I've received has been through living in different places and experiencing different cultures and meeting people of all walks of life. Coming back to the States, despite going to "good" schools, the ignorance I encountered really got to me. I came from Egypt and the first question I was asked was, "Did you live in a pyramid?"
At Global Kids, the kids didn't judge where you grew up and didn't judge where you were from. They saw a bright future ahead of them, and all of them, in their own way, felt that they could shape it. Global Kids instills a belief in yourself and the belief that, despite the cynics out there, despite all the horrible stuff you see day in and day out across the globe, you have the power to change it.
To have an impact in a meaningful way, it's imperative to understand how politics, economics, civil discourse and basic humanitarian principles intersect and shape the world we live in. I took this notion with me to Columbia University where I got my B.A. and M.B.A. degrees.
One often hears about separate issues happening in different parts of the world. Global Kids provides you with a toolkit to understand how these seemingly disparate pieces fit together. You then have the skills to go off and form your own opinion about it. No one at Global Kids pushes you to have a certain opinion. They don't care what side of the debate you fall on. They just want to make sure your opinion is informed.
The contours of the globe are changing. It's a world where increasingly different spheres of the globe shape policy, business, government. If you're not informed, then you're missing out. You're losing the game. Global Kids makes you a part of that discussion.
Popular in the Community