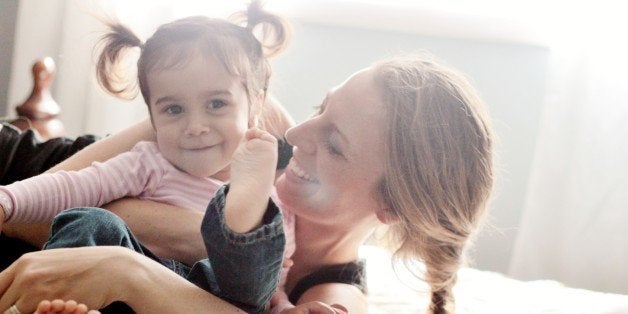 Let's think about being present and enjoying the moment. Being present is very simple, conceptually, and very difficult in practice. Yet it is invaluable when it comes to getting out of overwhelm and managing stress.
The concept of being present is one often shared by virtually any spiritual teacher. Beloved teachers like the Dalai Lama and Thich Nhat Hanh talk about how being present and mindful in each moment in our lives is really all we have. Wise teachers through the ages have recognized that it's true: All we have is this moment. Right now.
Getting carried away with thoughts of the past or the future only serves to stir up our emotions. Regardless of the nature of the emotion, thoughts like this remove us from the present moment and what is truly going on for us. And, when a negative emotion is triggered by them, these thoughts take us out of what is emotionally true for us in that moment, too. So much of the time, especially when we are feeling stressed and overwhelmed, we are wracked with worry or thinking ahead, which can create emotions that feed the stress. If we would only pause, take a breath, and look out the window, we'd see we were actually feeling fine before those thoughts rolled in.
A friend said to me once, "It seems like there's a challenge every day!" It's true! We are all faced with challenges, sometimes one a day, sometimes several. But we don't need to react, worry, or let our thinking spin out of control. In the challenge is the best time to slow down, and really get present to what is happening.

There are challenges all the time, and there always will be. We have the ability to be present and deal with whatever challenge is right in front of our nose at the moment, and we don't really have to deal with challenges that are fifteen, ten or five years away. Now, one year away? Sure. We might want to do some planning, keeping in mind that life happens in the meantime.
There will always be pros and cons in life. We'll always be striving for more, indeed, that is part of what it looks like to always be expanding. It is part of the beauty of being a human being, to always be striving for more.
I want to encourage you, as a means of stress management, to use the technique of slowing down. When things get very intense for me, my brain narrows in, and I focus and try to slow things way, way down. Like as slow as a movie shooting frame by frame. When things become stressful, I focus on the baby steps, what needs to be done next, and then expand out from there.
Let's keep the conversation going in the comments below. Let me know what you love to see around you, what makes you feel joyful and what was the moment today when you felt like you were the most present.
If this blog resonates for you, please feel free to reach out. I would love to learn more about how I may support you and your business. Sending you tons of love and light!
HuffPost's GPS for the Soul app is based on two truths about human beings. First: We all have a centered place of wisdom, harmony and balance within us. Second: We're all going to veer away from that place, again and again and again. What we need is a great course-correcting mechanism -- a GPS for the Soul -- to help us find our way back to that centered place, from which everything is possible.
Because no one knows better than you what helps you de-stress and tap into that place of peace inside yourself, it's important for you to create your very own GPS guide -- a personalized collection of whatever helps you course-correct. Email us at GPS@huffingtonpost.com and we'll set you up with your very own HuffPost blogger account to share your guide on the site. If you're already a blogger, we encourage you to upload your personal guide today. We can't wait to see what you have to share.
Related