Over the past ten years my wife Laurie and I have been advocating for LGBT equality. We have heard people say so many times "why do gay people need to celebrate Pride?" or "why do you need to wear a rainbow t-shirt, we don't celebrate straight people?" To these and many more questions there are many answers.
From a very young age I knew I was different, as my girlfriends at school were eyeing up the hot new male teacher I felt nothing and as I hit my teens I absolutely knew, without any doubt, that I was gay. Growing up in the 70's and 80's was such a different time and acceptance felt so very far out of reach. So then came the realization for me that if I came out I would be rejected by my family and my friends, I felt completely alone, I had no one I could talk to, so I made the decision to live a lie.
The catalyst for me came after the death of my older sister; I had slipped into a big black hole which felt impossible to get out of, then I was given some advice, I HAD TO MAKE A CHOICE to get out of it. Losing my sister made me realize that I only had one life to live and the only way out of the darkness was I had to be my true self. It was a very long process but finally I felt I was strong enough and I can't even begin to explain just what an emotional relief it is to own yourself. Rather than feeling ashamed, being PROUD, is huge.
How thankful I am that I was able to find the strength because I was lucky enough to meet Laurie and my whole life changed, to feel real love is incredible, the sort of love that you hold onto and never, ever let go. But our path to love came with huge difficulties because I was from England and Laurie was from America we were forced to fight for marriage equality or face enforced separation. We had to tell our story and gained incredible support on social media and this led us to connect with so many wonderful people around the world, both straight and gay. Having spent 42 years hiding I was now using my voice to help others, receiving messages from other LGBT people who were grateful to both me and my wife has made us continue our fight for acceptance.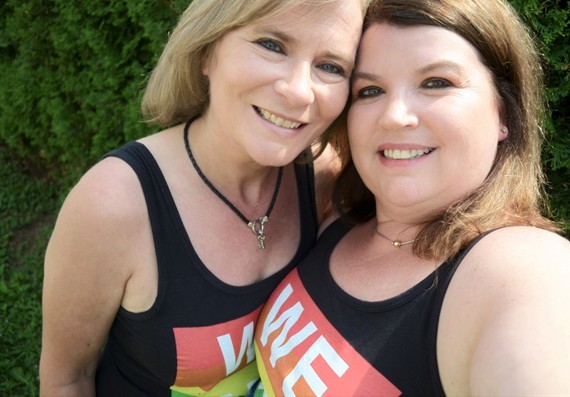 Why is Pride so important and why should you show your support? Because of the youth who is being told by their family they will be disowned if they are gay, for the transgender teen that is on the brink of suicide because they are being bullied at school or for a gay couple who don't know if their parents will even show up for their wedding day. But not only that you are showing the people who choose to say hateful and damaging things that you support LGBT and you are not afraid to show it!
We are still far away from full LGBT equality and acceptance which is why Laurie and I keep advocating. We have written a short film "status unknown," about our true story, produced by Hart2Hart Productions in association with Sensorium Pictures; you can watch the teaser by visiting the status unknown Facebook page. Like our page and help us change hearts and minds as we need to keep up the momentum before more ridiculous discriminatory LGBT bills are passed into law across the USA and more LGBT are made to feel isolated.
During the month of June embrace not only the one's near and dear to you who are LGBT but also those you don't know, whether you're straight or gay spread the love and wear your rainbow with PRIDE and if you want to wear it all year that would be FANTASTIC! Please, we would love to see you showing your Pride, send a photo of via messenger on our status unknown Facebook page and we will feature you. #LoveWins #PrideMatters
REAL LIFE. REAL NEWS. REAL VOICES.
Help us tell more of the stories that matter from voices that too often remain unheard.