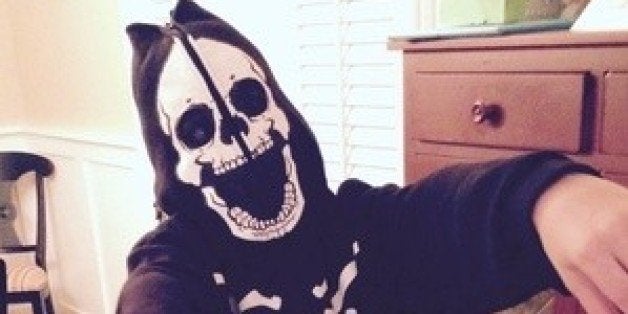 It hadn't dawned on me that my 10-year-old son is at the age to go to a haunted house until he was invited by a friend. It just wasn't on my radar. With a 10, 6 and young 4-year-old in the house, I'm still adjusting to the fact that our household doesn't quiet down every afternoon for naps and that we no longer travel with diapers.
My habit is to parent to the youngest common denominator. While the youngest of their ages is an age that was once foreign to me, it is now where my experience lies, three times over. It is my comfort zone. Realizing this, I try to make a conscious effort to get myself unstuck from preschool mentality every now and then and process the needs and interests of my oldest child, a tween.
Remembering my own days at this age, long ago and before it was named "tween," I recalled going to haunted houses with friends. This experience of being terrified together is sort of a rite of passage, isn't it?
So, when my son was invited to a haunted house last week, I asked him if he'd like to attend and he eagerly answered yes! We adjusted our Columbus Day weekend plans so he could go with the group of friends and a parent chaperone. Of course, I thought, this is fun stuff for these boys! Worried that our family dynamics inadvertently hold him back, I was so glad that another family thought of a haunted house! Geez, I would have had him cuddled up, watching It's The Great Pumpkin, Charlie Brown with his younger sisters and missing out on all of this older kid Halloween fun.
He seems to sail through the spooky stuff pretty easily, so it didn't cross my mind to prepare him in any way for the adventure. He's always putting on scary masks and terrorizing his younger sisters. He begs me to decorate our house for Halloween with tombstones and skulls, stuff that is more scary than the fuzzy spiders and pumpkins in our yard. He navigated his way through his first sleep-away camp this summer just fine. He loved the campfire stories and his only complaint was that we didn't sign him up for two weeks instead of one.
In the days leading up to the haunted house trip, he asked me a bit about what to expect. Busy and hurried, I gave a casual answer that things jump out at you. A few days later, he asked if I ever went to a haunted house as a kid and again I breezily said, "Oh yeah! That's what you do at this age." I thought about how pleased I was that he was going and proud of myself for engaging in this older kid Halloween tradition.
On the day of the big outing, he put on a skeleton sweatshirt and ran around the house acting possessed and surprising his sisters. When his friend's mom picked him up, he excitedly ran out of the house before I could even say goodbye and hopped into the minivan. Watching the car pull away into the dark, damp October night, I thought about how cute it was that he was headed out for a fun weekend night with friends while at the same time, his little sisters were taking their baths and getting their bedtime stories. Good for him, he was off on a rite of passage! And then I reflected for a brief moment that our young family was growing up and embarking upon our own sort of parenting rite of passage... good for us!
An hour later, the phone rang. It was the chaperoning mom telling me how brave these boys were before she went on to say that my son got nervous during the haunted house. Apparently, he said very clearly that he wanted to get out of there right away! His friends were great and agreed that the mom and one of the boys would step out of the haunted house with him while the other two continued. They found a masked character, asked to exit and were shown a fast way out. She put him on the phone and it was obvious that he was not just a little nervous, but had come completely undone!
Now that my mind was properly positioned in the tween stage, my first reaction was to laugh. But I caught myself, swallowed my giggle, downshifted my mind and gingerly reassured him that it was all just pretend and that I'd see him soon.
I saw him very soon. They didn't even stay for the haunted hayride and instead came right home. When he got home, he ran directly to his room without making eye contact or saying hello. I resisted the urge to run after him and instead gave him some space. I could hear him crying upstairs while the mom and I stood on the porch comparing notes. She unnecessarily apologized profusely and I did too. I told her what I truly felt, that I regretted not better preparing him and I was sorry that we caused a logistical challenge for her. I laughed that he kind of deserved to have the tables turned and the bejeebers scared out of him because he is always frightening his younger sisters. Lastly, I added that I couldn't think of a better parent or group for him to be with. This was a socially safe bunch of friends for him to experience this with. We all need to figure out our own boundaries and he is lucky that he figured out his boundaries with three supportive and kind friends. He might not have made it through the haunted house, but more importantly my son learned that he has friends that he can be himself around. Having that comfort and knowledge is more powerful than any other badge of courage!
Looking back, I should have recognized his questions in the days leading up to the haunted house for what they were: his need for reassurance and comfort. I could have admitted that I actually don't like haunted houses at all and I'm not sure that my husband does, either. They scared me as a kid, and they scare me as an adult. I could have told him how I still can't watch certain movies without getting overcome and that the reason we decorate our yard with pumpkins is because the tombstones and bloody bones spook me a little too much. I should have coached him a bit about how to handle himself if things got too scary, or given him some tactics on how to remind himself that this is all pretend. Instead, I was so proud to have my mind firmly planted in a place where I was actually parenting to the oldest common denominator for once that I didn't think to stop and see him for what he is.
He is a 10-year-old boy. Stuck somewhere between boyhood and adulthood, this kid is on the edge of being a tween and has a convincing mope and slouch to prove it. With his lanky limbs, he giggles, pesters and talks a good game when he tells me what shirts look cool. But hanging out in that between stage, he's still a 10-year-old boy who will steal a glance at a Disney cartoon when it is on, or who stops and (perhaps) plays a bit under the guise of introducing his sisters to his old Fisher Price GeoTrax trains in an attempt to save the toys as they are on their way out the door to be donated.
He's a 10-year-old boy who gave me permission to share this post about going to his first haunted house, but requested that I don't use his name. He's a 10-year-old boy who I was so busy worrying about holding back, that I pushed him forward without giving him any tools for his journey.
It is absolutely so important for us all to go through some necessary rites of passage as we grow up. But it is just as important for us to know that we don't have to go through them alone.
When his rite of passage didn't go exactly accordingly to plan, this 10-year-old boy gave his mom some extra hugs and got his emotions back in check. Then he snuggled up to watch Charlie Brown and his great pumpkin before admitting that what he calls his "haunted house freak out" was actually pretty funny. The next day, this 10-year-old boy decided that he'd like to go back and conquer that haunted house... with his dad or I by his side.
And even though we don't like haunted houses ourselves, we will happily go with him. Because it is both our responsibility and our privilege as parents to let him know that whether it is in person or in emotional support only, we are always right beside him, for all of his rites of passage.