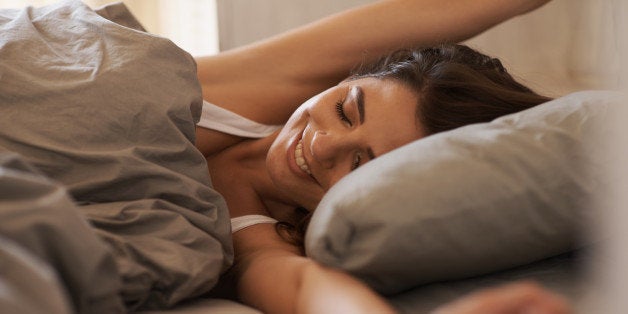 "I have brought you a mirror, look at yourself and remember me." -Rumi
At a recent luncheon with a group of entrepreneurs, I was asked, "But why are you single? You're so great, why hasn't someone snapped you up yet?" At first I was a little annoyed; then I quickly realized that the person asking this question had been married four times and was going on her fifth round, searching desperately for the right candidate. She obviously could not handle being single until the right person came along.
She insisted, not satisfied with my simple answer that I was not ready: "Don't you want to be in a relationship? I need to set you up." To me the question implied that ANY relationship was better than none. While I agree it would be wonderful to be in a relationship, it would need to be mutually nurturing and fulfilling. I wouldn't settle for less, or find any benefit in just having another person around if it is meaningless. I'd rather wait for Mr. Right than Mr. Right Now. No matter how long it takes.
I've often wondered about the stigma around a woman's "single" status, even in this day and age. Do we really need to be in a relationship to be happy? I firmly believe that most of us have no clue as to what makes us truly happy, and so we drift from one relationship to another looking for someone to fill the void because we're so afraid of being lonely. How about first building a healthy relationship with oneself? I am convinced that when we feel better about ourselves we're able to have a more profound and meaningful relationship with another.
With global divorce rates skyrocketing, more and more of us have found ourselves partnerless at some stage or another of our lives. Whether we decide to wallow in loneliness or solitude is totally up to us. It is a personal decision, and can be one that tricks us into settling into a comfort zone from which there may seem to be no relief. Loneliness is destructive, while solitude is productive.
We can make ourselves miserable when we are lonely. On the contrary, immersing ourselves in solitary activities such as getting back into nature, exercising, exploring our surroundings, meeting different people and being creative will help us know ourselves and realize our sense of purpose.
We can never be fully aware of our thoughts, feelings and wants unless we are alone and allow ourselves to think and feel. Being single can be a blessing for those who have struggled to stay in a relationship, or been in one that was not nurturing. It gives us the opportunity to be in a state in which we can immerse ourselves deeply enough that we come out the other side with clarity and conviction about the kind of relationship we want.
Solitude allows us to become more thoughtful, considerate and content in the long run. When we reach that stage, we become whole and complete in ourselves. We start liking our own company well enough that we will not need to look to someone else to complete us.
For many, the single life is just a state they find themselves in in between relationships, as they sit on the sideline waiting for the next best thing to happen. Instead of wishing it away, why not cultivate this life, these moments, and lift yourself up by doing the following:
- Spend a few minutes each day in stillness. Show up for yourself. When was the last time you sat and did absolutely nothing for at least half an hour? Give it a try. Even if it feels uncomfortable -- perhaps even excruciating, at first. You may be overcome with anxiety, and memories of your past relationships may come flooding in. Be present with these emotions and just breathe. Acknowledge your feelings and give yourself permission to feel and process.
- Get out and be among people. It is common to feel inclined to isolate yourself, but that may only make you feel lonely. Seeking connection can be healthier. Go out with a friend or to a movie, sit at a coffee shop and read, take dance lessons, go to museums, join meet-up groups. This is your chance to practice and perfect your communication and listening skills. It will take your mind off negative thoughts and keep you occupied and interested in the outside world.
- Treat yourself well. Practice self-care, nurture yourself and do what makes you come alive and feel appreciated. Pamper yourself with spa treatments, gifts and flowers; go for nature walks or hikes. Anything that will help enhance your self-esteem, contribute to a healthy self-image and increase self-love is worth your time and attention.
- Give of yourself to others. Get involved with volunteer causes of interest to you. Surround yourself with like-minded people and those who share similar values and interests. Feeling needed and knowing that you are making a difference in the world is deeply fulfilling. Get out of your own head and focus on what you can contribute to others. It is the best cure for loneliness and will reinforce your self-worth.
Above all, love your life, and for now just focus on creating the best relationship you can with yourself. Enjoy the single life and live in the moment. This is your chance to focus on you and let go of the past and heal yourself. Rest assured that you are not alone, and that there are other people in a similar predicament who would be delighted to connect with you. Have faith that when you believe how special you are, you will meet that special someone you have been waiting for. And that, my dear ones, is bliss!
"Keep knocking, and the joy inside will eventually open a window and look out to see who's there."- Rumi
© Rani St. Pucchi, 2016
To learn more about Rani St. Pucchi visit www.ranistpucchi.com
REAL LIFE. REAL NEWS. REAL VOICES.
Help us tell more of the stories that matter from voices that too often remain unheard.