Being single is like looking for a job.
At first you're really picky.
Then you start breaking down.
You ask your friends if they know anybody hiring.
Then you'll take a part-time job doing anything.
You just want something with benefits.
Doesn't it feel like that sometimes?
I have a lot of great qualities for a single guy so it's a complete mystery why I'm STILL single.
I'm clean, have a job, and I still live with my mom.
Actually, I work for my mom and she cleans the house...
Which is why I'm clean and can work from home.
Dating is exponentially harder after 30 - why is that?
I think thirty-something men and women are a lot more serious about finding the
"one" and feel more pressure when dating. The pressure comes from having to
"get it right" because there's a lot at stake.
You could end up marrying the wrong person and getting a divorce.
You ever try to take back a mail-order bride?
My parents like to pressure me about getting married and they're genuinely concerned.
"So, you're not married. Matin, what is wrong with you?"
And now, I am at the age where my friends try and set me up with the only single people they know, no matter how bad of a fit it is.
"Hey Matin, I want to set you up with my single friend Quasimodo, she has beautiful hunchback, 3rd eye, and just broke out of jail. What do you think?"
Even my Middle Eastern dad has advice...
"Matin, your problem is you have to try harder. I have NEVER had a girl turn me down back when I was dating", he likes to say in his thick Middle Eastern accent.
"Dad, you had an arranged marriage."
"I know, I asked out one girl. She said Yes. That is 100% success ratio. You suck."
My dad is really good at math.
I find myself living vicariously through the love relationships in movies and TV because I genuinely believe love exists. Yes, cheesy is my middle name.
Isn't that why we romanticize vulnerability and go out on dates?
Vulnerability is not easy.
Anyways, I find the dating scene quite difficult to navigate through as a thirty-something man.
I know we have online dating, social circles, and impromptu Starbucks pickup lines like, "I see you are drinking your coffee black, how would you like some "baklava" in your coffee?"
Which, in my personal experience, has never worked and always results in cops and handcuffs...
But where else can you go to meet single WOMEN?
Half the profiles I read online go into waaaaay too much detail about preferring "circumcised" men or how God helped clean up your life from drugs and prostitution.
I wish I could just outsource my dating life to India and have them cold call women in the United States...
"Hello, this is Magesh. Are you interested in circumcised men who still live with their parents? Oh, no, this is not a joke ma'am. Ma'am, please calm down..."
"...What about solar installation?"
When I do go out with women, their expectations are ridiculously high.
The last girl I dated was like,
"Why don't you buy me flowers?"
"Why are you sleeping with my mom?"
All joking aside, for us single people, I do believe there is someone out there for everyone.
And that someone could be anywhere, at any time, or any place waiting for us.
They could be at Starbucks, in a Fast Pass line at Disneyland, or maybe even reading this article...
Ahem, I mean writing this article.
But what I realized is that I have been very selfish in my search for love by holding it in and keeping it to myself.
Like I am somehow hoarding it to give to that one special person who deserves it.
I couldn't be more wrong.
The purpose of love is to give as much of it away as possible, whether you're in a relationship or not.
So I am caring as much as possible, helping as much as possible, loving as much possible.
Because I know that the person I am looking for is doing the same thing and one day,
we will find each other...
...but I sure wish she would hurry.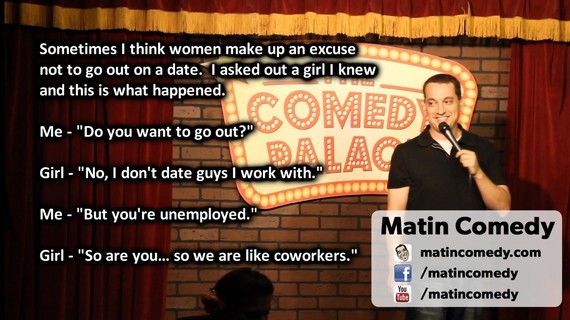 REAL LIFE. REAL NEWS. REAL VOICES.
Help us tell more of the stories that matter from voices that too often remain unheard.