PR guy becomes the subject of his client's services
The Challenge: Two years ago, despite not playing much golf, I somehow managed a runner-up finish in my club's championship golf tournament. Last year, however, I barely cracked the top-15. From one year to the next my body had fallen apart like a jet hit by a missile, pulling my game down with the rubble, all at the tender age of 46. It started with my wrists and my hands. Suddenly they just hurt, and got more hurt doing menial chores around the house. Calf tendons would blow pulling an ollie on a skateboard or at take off during a 'running long jump on the beach contest' with my kids. I tore my left rotator cuff pulling a crab pot. And finally, an ill advised launch off a sizable rock to a too-flat landing at Mission Ridge impaled my left knee - nothing torn, just old man impaled. On top of all of this, I had been trying to stay in shape by running as part of my commute, encouraging more injuries (as you can see in the above photo) than I care to discuss.
Needless to say, I was feeling pretty broken. Pretty sad. Pretty humbled. Especially on the golf course where my driver had become my mortal enemy, throwing balls all over the course and pitifully short in terms of distance. It got so bad that I resorted to hitting a Taylor Made Mini-Driver off-the-deck (eg. no tee), simply to keep the ball in the fairway. A trip home to Colorado last Fall to visit family and friends and involving a round of golf sealed the deal - friends who I had abused on the golf course for decades abused me. They were hitting the big draw from the tee just like I used to, and which I could no longer perform. From a golfer's standpoint, this was rock bottom. I had lost my way, and vowed to get back to my what I thought was my normal self that very afternoon.
Yet, my efforts to repair myself failed. I had purchased hand and forearm strengthening tools last winter, because I felt like my hands and forearms were major cracks in the foundation. And I worked those tools, but not on the type of rigorous schedule it takes to make a big impact. Then a tree fell behind our home - three weekends of hard-core labor (including the time honored tradition of log splitting in the Pacific Northwest) later, my hands were crippled. The exercise tools I had been working with had done little to improve my strength. It felt like going back to square one. The PT I did to repair my shoulder gave me free motion to swing, but at the end of the day I could still only throw a ball about 20 yards. Not good. Add to that the fact that my workouts were not helping me much either, and suddenly I felt like perhaps I should start resigning myself to just being a 'dad' golfer - there to help my girls learn the game, but basically put out to pasture from a competitive perspective.
The Solution: I was introduced to BodyByImpulse and the concept of EMS about six weeks ago by my sister-in-law and encouraged to check it out, as she was experiencing some amazing results. According to its owner, Michka Mirzanejad, BodyByImpulse, "uses electrical muscle stimulation (EMS) as an extraordinarily efficient method for high-intensity workouts of short duration." Essentially, users put on a wireless suit that is charged and able to contract different muscles as they work out based on the trainer's guidance. Before committing to my first session, Merzanejad claimed a 20 minute workout would equal one of my 5-mile runs, with no impact. How could I pass it up?
I thought, if EMS actually works as described and if the results are as powerful as those using it claimed, I might have a chance to become competitive on the golf course again. And quickly! Thus, I engaged in an eight-week case study that started four weeks ago and ends on the week of Vashon Country Club's Club Championship. In order to keep myself focused, I broke my goals down into two sections:
Fitness/Injuries: for the first four weeks of the eight-week period I would conduct two EMS workouts per week, supplemented by at least three other workouts that week. Those other workouts include two runs per week, plus a stand-up paddle board, or kayak session once a week. After the four week period, we continue to push for two EMS workouts per week, but with one of those sessions focused specifically on golf, where I literally swing a golf club while wearing the suit. Is there another way to get that specific in terms of a program designed to build muscle? You can't mimic a golf swing in a gym.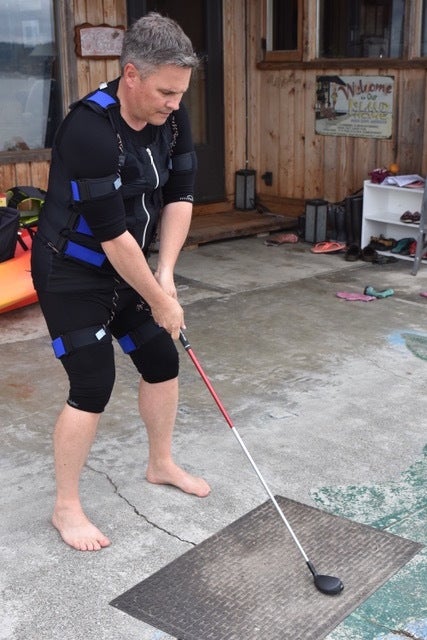 Golf: while I would not advise taking this route, I chose not to engage a PGA professional in terms of revamping my golf swing. Why? I have been to so many teachers over the years and what I've learned from them I'll remember forever, but for the most part it is information I would just assume forget. I'm going by the philosophy that my natural swing, the one I grew up honing, is the best swing for me. It's mine. And in order to bring it back to life, I committed to at least one practice session on a driving range per week during the eight-week period.
Results: After the four week mark, here are the results.
Fitness/Injuries: after six sessions (it's hard to do two per week!), I feel stronger than I have in years. I've lost eight pounds of fat and replaced it with muscle. My workouts have become much easier and best of all, most of my injuries have disappeared. In addition, my metabolism has increased and I just feel better overall. Is all of this a result of EMS? I would have to say yes, simply because it is helping improve my other workouts - the other benefits are what EMS proponents claim, but since there is no real science to back it up, I can't give it 100% credit.
Golf: in terms of my golf game, EMS has helped me tap into a fountain of what I thought was lost youth. My distance is back, and therefore my confidence. In the past four weeks I have added 25-40 yards to my driver distance, and 10-15 yards of distance on my irons. In addition, my once a week practice sessions on the driving range have helped me 'find' my old swing, and it is just as solid (albeit a bit past parallel for most) as I remember it. As part of the golf test during the eight-week period, I signed up for our country club's annual match play tournament in order to get some live action under my belt prior to the club championship.
And last night during a stunning twilight round took out the #1 ranked player in the field, winning 1-up on the 18th hole. What's amazing isn't the fact that I won, as I had expected nothing less, but rather how it happened. The match was scheduled for 5:00 pm, and so I spent the entire day at the pool with my wife and kids, after having done an EMS workout that morning. I had made the wrong assumption that there were going to be electric carts available so I wouldn't have to walk 18 hilly holes (my first full 18 holes of the year) on exhausted legs. I also neglected to each lunch, as the kitchen was an hour-plus behind and I failed to adjust. Walking up to the 1st tee I wolfed down a banana, hoping I wouldn't find myself in a perfect storm an hour later. That's exactly what happened - a storm impacted by the fact that every water jug on the golf course was empty.
By the 14th I was running on fumes. Cresting the hill on the 15th burned my legs to ash. I even had to take a 'moment' when I reached my ball before hitting. And then again, up the hill on the 17th. Fortunately, my mind was clear and my body had just enough reserves to make a tough par on 18. Had this perfect storm hit me a year ago I would have lost the match on the 12th hole.
Stay tuned for part 2, wrapping up the case study, in four weeks!
Related
Popular in the Community