Alexander McNabb outdid himself in his second novel, Beirut, An Explosive Thriller, another adventure-filled story loaded with intrigue, espionage, love, murder, international hoods and plenty of violence.
The book traces in meticulous (and sometimes gruesome) detail the adventures of a British intelligence operative in the Lebanese capital, and beyond, describing his antics, brushes with death, hangouts, and people with whom he associates -- often to their fatal ends.
Lynch flicked the newspaper on the floor with his foot: The Beirut Times, 22nd March. Five days old. He reached towards the piece of expensive-looking paper folded on the bed, halted by the sound of Palmer puking. Lynch wheeled, the rebuke dying on his lips as he took in the opened cupboard and the thing, once human, slumped inside. Pulling the paper tissue over his face, he shoved the retching man's bulk aside and stared into the cupboard. The corpse stank, even through the scented tissue. Fat bluebottles crawled over sightless eyes. Dark rivulets crazed the marble white flesh. The slashed throat, an obscene second mouth, grinned blackly at them.
As expected in such a story, Beirut is dotted with the requisite spook-type four-letter words, uttered with abandon by hard-drinking hero Gerald Lynch.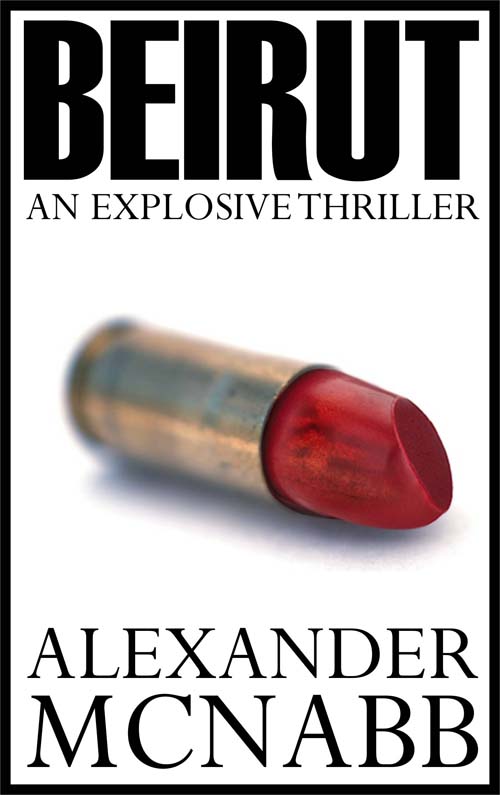 Beirut cover (courtesy McNabb)
The author has an uncanny understanding of the country's dynamics and power plays between the belligerent factions, post-civil war of 1975-1990.
McNabb seems to have amazing insight into Lebanon's convoluted, sectarian political system.
He masterfully merges people from the Maronite Christian community to confuse readers, with snippets of character descriptions that would fit any or all of the current leaders and former/remaining warlords.
His very expressive narrative has an eerie resemblance to the current status quo with all of Lebanon's dysfunctional problems.
Michel Freij, the ambitious villain with slicked back hair, is out to blow up Iranian reactors to kingdom come at the U.S.' and Israel's instigation.
He also has presidential aspirations and forms One Lebanon, a political party supposedly meant to unify the country, but whose thugs revert to type during a rally in Beirut's appropriately named Martyrs' Square.
His weapon: a couple of Cold War detachable nuclear warheads seized from what was once an underground Soviet military bunker in a former East German forest, and for which he uses his outsize, super-luxurious Arabian Princess yacht flying the Monaco flag to transport them to Lebanon.
Freij is very fittingly the ruthless head of Falcon Dynamics, the largest defense technology firm in the Arab world, which resembles an octopus with its multinational interests in various industries, affording him and his Shiite Muslim partner a very comfortable lifestyle.
Freij wore a Crombie. Underneath the heavy jacket, his striped tie was held in place with a golden pin that reflected like a little buttercup on his crisp shirt. Droplets from the grass glistened on his black shoes. He smiled and held out his hand as Lynch strode up. "Mr. Lynch. How pleasant to see you."
No wonder he made a habit of snuffing out detractors, competitors and potential threats, like Lynch's Lebanese girlfriend, and very deftly transferred $80 million in a series of micro-transactions, while bypassing conventional financial controls and regulations.
McNabb also demonstrates detailed knowledge of Beirut neighborhoods from trendy bar-filled Gemmayze and Monnot streets to the capital's Hezbollah-controlled southern suburbs.
He takes readers on a bumpy ride through Lebanese regions in search of Freij's northern mountain lair and militia hideout at Deir Na'ee in a drug runner's old chopper.
Soaring above Beirut, they left the city behind. The great mountain, Sannine, loomed to their right as they banked away from the sea and flew over the foothills. Nimr's helicopter, an ex-army Alouette II, was registered as a crop sprayer. It wasn't carrying any tanks or spray rig.

Other dramatis personae include German co-conspirators, a widowed French intelligence officer (once married to a Lebanese cohort) who lived in Beirut during the civil war, his daughter, also in her country's secret service and out to catch the bad guys with her technical know-how, some CIA operatives for good measure with an Israeli passing himself off as an American, a vintage Lebanese spook, a shady Lebanese "madame" and her loyal driver, and, a pusher/professor from the American University of Beirut.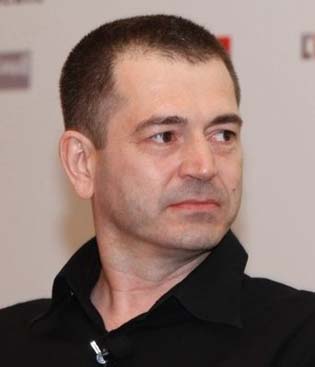 Alexander McNabb (Photo credit: Omar Christidis)
The 331-page book is available online through Amazon but will soon be published in hard copy.
It comes on the heels of McNabb's first attempt at exposing a pile of intrigue in the Middle East in a very moving novel entitled Olives -- A Violent Romance.
It also seems to be the second in a trilogy that will be crowned by his upcoming novel, Shemlan, a village in the mountains overlooking Beirut made famous by what was once known as "The Spy School," where mainly British intelligence operatives went to learn Arabic and other tricks of the trade.
Beirut is a gripping, fast-paced exciting book that may well jar Lebanese and others familiar with the city and its heavy legacy. But it's a must read.
Related
Popular in the Community