The recently opened crypt museum at the St. George Greek Orthodox Cathedral in downtown Beirut is relatively small but packs a powerful punch by revealing layers of Christian heritage in a land rocked by sectarian differences.
The cathedral, the seventh in a series of churches dating some 2,000 years, endured the ravages of man and nature, but was repeatedly rebuilt through sheer determination and solid faith.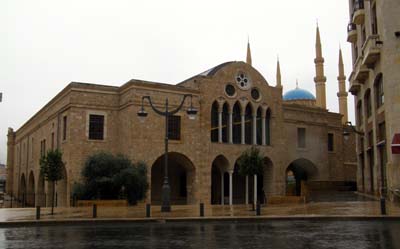 St. George Greek Orthodox Cathedral embraced by Al Amin
Mosque (Abu-Fadil)
It is one of the oldest cathedrals in Beirut - a testament that Christianity has been rooted in the region, and in Lebanon, since the religion's debut.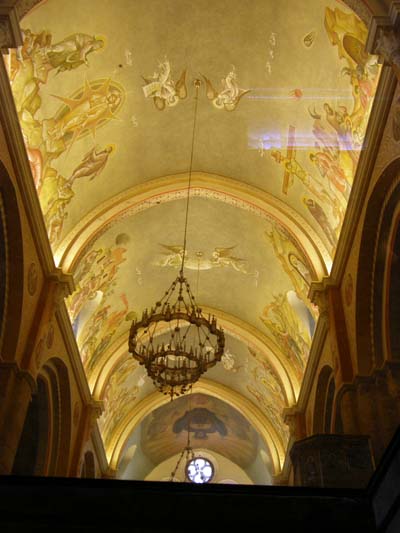 Cupola through the crypt (Abu-Fadil)
The current cathedral stands on layers of relics where at every stage of its existence, the faithful attempted to enlarge and beautify it, and added murals and icons.
The museum is a crypt underneath the cathedral where oil lamps, pipes, clay and terra cotta pots, miniature statues, and crosses found in various digs are displayed.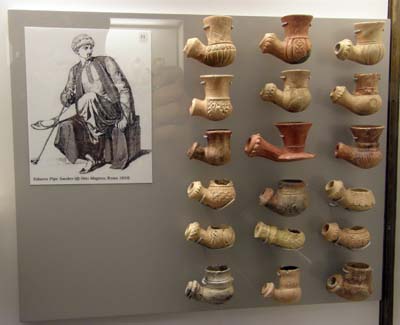 Ancient pipes at St. George Cathedral Museum (Abu-Fadil)
One of the crosses reflects local influence and was used by Metropolitan Elias Audi, Beirut's Greek Orthodox patriarch, during a mass to bless the church after the restoration.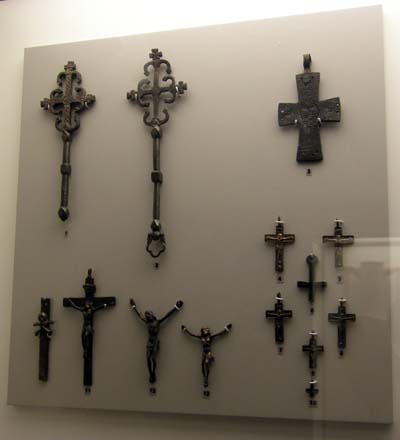 Crypt crosses (Abu-Fadil)
Glass panels cover some of the crypt's relics and a glass partition separates the crypt from the church's altar directly above it.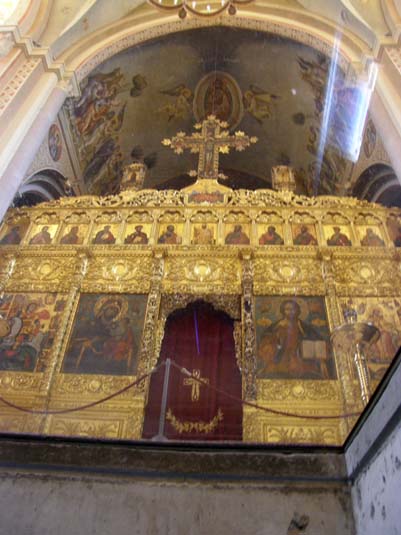 Altar seen through the crypt (Abu-Fadil)
Visitors can meander along a narrow metal walkway to 12 stops to view mosaics, burial chambers, engravings on stones and columns, and tombstones.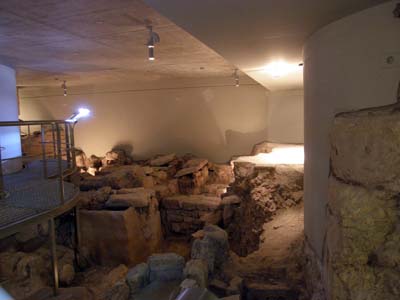 St. George Cathedral crypt museum (Abu-Fadil)
Lebanese archeologists sought to excavate under the cathedral before it underwent restoration and to investigate the historical sequence and continuous use of the location as a religious site.
They also aimed to locate the Byzantine church Anastasis, which, according to ancient texts, was said to be near Beirut's famous law school before being leveled by an earthquake in 551 AD.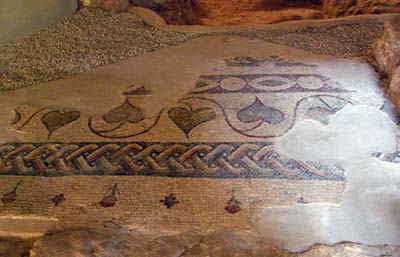 Crypt mosaics (Abu-Fadil)
Also found was evidence of a 12th-13th Century church that was severely damaged by an earthquake in 1759, and rebuilt in 1764.
A fourth church was built like a cross in 1772, to be followed by the fifth in 1783. The sixth cathedral was built in 1910 and restored following Lebanon's 1975-90 civil war, on orders from Metropolitan Audi.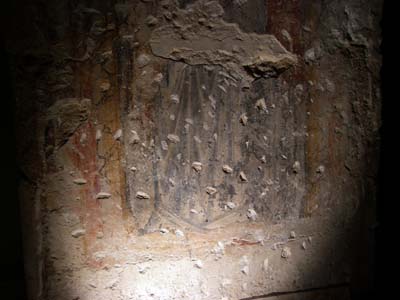 Column marred by civil war bullets and graffiti (Abu-Fadil)
During the civil war, the cathedral took direct hits from warring factions and most of its icons were either stolen or burned. Today it stands as a testament to the faithful's and the country's resilience.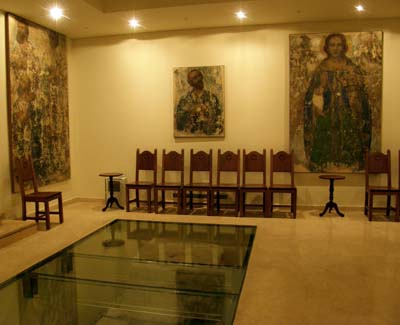 Museum fresco gallery (Abu-Fadil)
The seven churches, including the present one, reside across from Lebanon's parliament building on Nijmeh Square, and cover the Hellenistic, Roman, Byzantine, Medieval and Ottoman periods.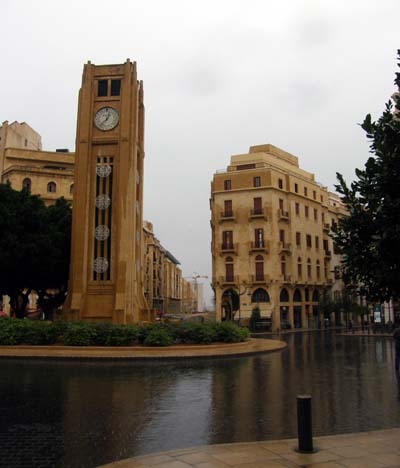 Beirut's Nijmeh Square (Abu-Fadil)
Quartus, one of the Holy Disciples of the 70, is said to have endured much suffering for his piety and converted many pagans to Christianity, dying peacefully as bishop of Beirut, the capital of modern-day Lebanon.
Herastos, Sosipater, Quartus and Tercias were disciples of the Apostle Paul.
Paul speaks of them in the Epistle to the Romans: "Jason and Sosipater, my kinsmen, do greet you..." (Rom 16:21); "And also do I, Tercias, who wrote down this epistle, greet you" (Rom 16:22); "And Herastos, the city treasurer, doth greet you, and brother Quartus" (Rom. 16: 23).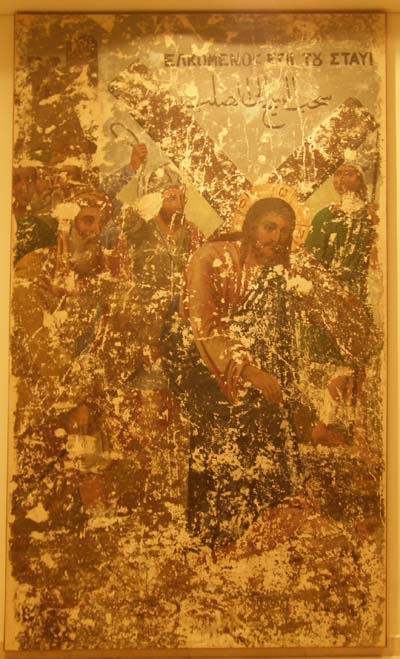 Fresco of Jesus carrying His cross (Abu-Fadil)
Some 25 burials in the medieval necropolis were found in the excavated area. They consist of tombs built with one course of sandstone covered with large slabs.
According to museum experts, a large quantity of iron nails scattered around that area suggests the deceased were probably placed in wooden coffins. Skeletons were found lying W-E, with their heads facing west.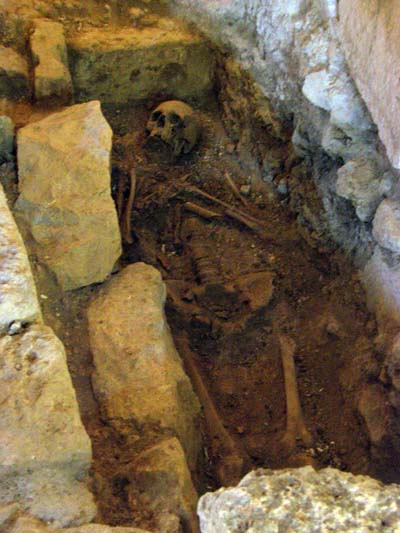 Crypt burial space (Abu-Fadil)
One of the tombs contained a well-preserved male skeleton wearing a bronze tiara on his head and an iron arrowhead with three bronze charms placed over his chest.
In 1516 the Ottomans took Lebanon from the Mamelukes, and with the exception of appointing a governor, the former continued with the previous administration.
In the early 17th century, Emir Fakhreddin II Maan moved his residence from the southern port city of Sidon to Beirut where he built himself a great palace. Under his rule, urban development flourished in the city.
A covered canal and part of a paved road from that period were found in the crypt museum, as was a burial chamber and an epitaph in Arabic, inscribed on the stone found at the door that reads: "Youssef ibn Abdullah el-Berberi renovated this tomb in the Christian year 1761."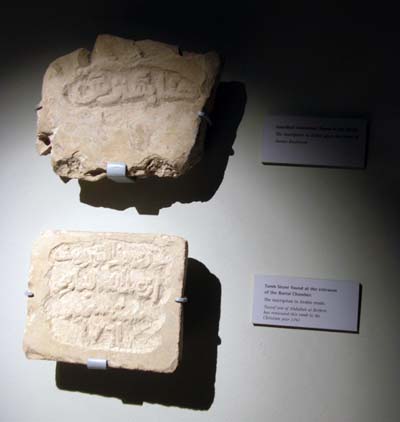 Tombstones (Abu-Fadil)
Lebanon's Directorate General of Antiquities had authority over the excavations but the Greek Orthodox Archdiocese of Beirut financed the project thanks to a generous donation from the Jacques and Naila Saade Foundation.
Leila Badre, director of the American University of Beirut Museum, directed the archeological excavations, oversaw the fundraising, and created the museum from concept to scenography.
The excavations were carried out over 17 months in 1994-95 and covered 316 square meters (3,401 square feet), or ¼ of the cathedral's total surface.
Christians may be threatened in the Middle East, from where their religion originated, but Christianity is there to stay and its presence is being recorded anew in countries where the disciples left their mark and established their churches.
In Lebanon - home to 18 religious sects officially recognized by the government -- Christians' numbers may have decreased in recent years, but churches representing the various denominations are still a refuge in times of need and trouble.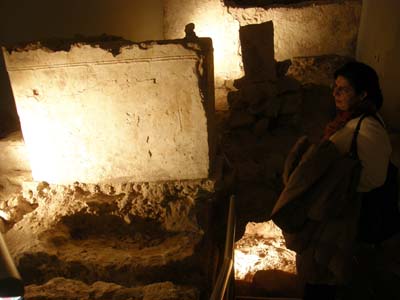 Visitor admires centuries of civilizations (Abu-Fadil)
The museum is open daily from 10:00 a.m. to 6:00 p.m. A seven-minute visual presentation on the history of the cathedral is available in English, Arabic and French.
Admission is L.L.5000 ($3.31) for adults and L.L.1000 ($.66) for children.