A former "Bachelor" contestant is accusing one of this year's "Bachelorette" cast members of sexual harassment.
On Wednesday, Bekah Martinez (known as Bekah M. on Arie Luyendyk's season) took to Instagram for a series of posts in which she accused Leandro "Leo" Dottavio of sexually harassing several women she knows.
Martinez' Instagram story included screenshots she said came from women who felt victimized by him.
She admitted that she has never met Dottavio but said, "Hearing first hand from other cast members about his behavior definitely did not lend to his character," according to The New York Post.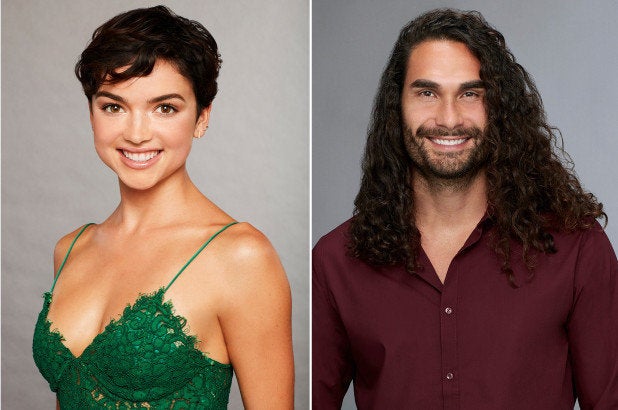 Martinez, 23, said that she was browsing "Bachelor" and "Bachelorette" Reddit pages when she discovered one screenshot of a message allegedly from Dottavio from about five years ago, reading, "You need my big dick."
The 31-year-old Dottavio told the Post that the screenshot was Photoshopped and that he is asking his lawyer to investigate.
Martinez's response to the paper was that it's no coincidence "multiple women would be saying similar things about the same person."
She added, "There's no way these women happen to be lying about the same thing before seeing what other women are saying."
Dottavio released this statement on Friday:
There have been some recent stories about me that have garnered attention and I want to address them. I want to start by saying no one has ever directly accused me of sexual harassment.

No one has ever come to me in any way shape or form and told me I made them feel uncomfortable.

Now with that being said I am NOT A PERFECT person nor have I ever claimed to be. Did I do things in college that I would be embarrassed about now? Absolutely. Was I a victim of my culture, the times, movies? Yes. I have grown as a person since college! I am not the man I was 2 years ago let alone 14 years ago.

It's important for women to speak out if they felt harassed. I welcome that. If there was anyone I made feel uncomfortable why not come to me? I would love an opportunity to right my wrongs and speak to any woman that wants to tell me how and when I made them feel uncomfortable. I want to take this as an opportunity to better myself and the treatment of women in my life.
ABC has not commented on the accusations.
Martinez said on her Instagram story that Dottavio's lawyer said she would be sued for defamation unless she removed the posts and issued a public apology.
She doesn't seem worried, based on the photo she posted in her story that was captioned, "please, take me to court," with a crying-laughing emoji.
Dottavio is the latest member of this season's "Bachelorette" cast who has come under fire.
REAL LIFE. REAL NEWS. REAL VOICES.
Help us tell more of the stories that matter from voices that too often remain unheard.