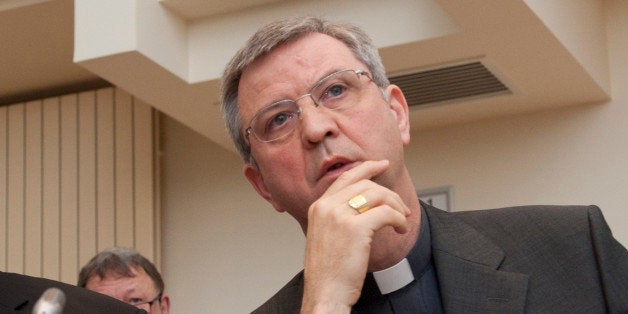 A Belgian bishop is bravely standing up for love.
Bishop Johan Bonny of Antwerp, Belgium has called on the Catholic Church to recognize the caring and committed relationships of gay and lesbian couples around the world.
Bonny made the remarks in a December 27 interview with the Belgian newspaper De Morgen. He pointed out that just as civil society recognizes that there are several different ways that people can be partnered for life, the church should also recognize that relationships come in a "diversity of forms."
"We have to look inside the church for a formal recognition of the kind of interpersonal relationship that is also present in many gay couples," the bishop said, according to a translation provided by the National Catholic Reporter. "The intrinsic values are more important to me than the institutional question. The Christian ethic is based on lasting relationships where exclusivity, loyalty, and care are central to each other."
Bonny said that heterosexual relationships still hold a "particular sacramental character" within the church. But he doesn't think that the conversation should end there.
"This particularity does not have to be exclusive nor does it have to close the door on a diversity of relationships whose inner qualities the church can acknowledge," he said.
"Personally, I find that in the church more space must be given to acknowledge the actual quality of gay and lesbian couples; and such a form of shared-life should meet the same criteria as found in an ecclesiastical marriage," he said. "…And we have to acknowledge that such criteria can be found in a diversity of relationships and one needs to search for various models to give form to those relationships."
Rev. James Martin, a Jesuit priest and editor at large of America magazine, cautioned that Bonny is not calling for the Catholic church to start performing same-sex marriages. Rather, he seems to be inviting the church to realize that gay unions have positive qualities that the church can recognize and perhaps even bless.
His comments recall the initial report from the Synod on the Family, which said that committed gay relationships have "gifts and talents" to offer the Christian community. (That language was removed from the final report.) So we shouldn't overemphasize what Bishop Bonny is saying: after all, he's only one bishop. On the other hand, we shouldn't underemphasize it either: it's quite revolutionary.
This isn't the first time Bonny has expressed a desire for a more openness towards same-sex couples. Prior to the October's Synod of the Bishops, Bonny penned a letter to the Vatican urging the church to come to terms with the reality on the ground -- that modern believers are "no longer able to agree with the dogmatic texts and moral statements coming from Rome." He insisted that this discord on matters like relationships, sexuality, marriage, and the family has grown over time. As a solution, he put forward the examples given by Jesus and his disciples.
They were close to people . . . They were free and they brought joy; they welcomed the lost and the condemned back into the centre of the circle; they called for compassion and forgiveness; they rejected every use of power and violence; they preferred to take the last place and they believed in the power of love, a love that does not count on reward.
Pope Francis' willingness to engage with previously taboo topics has given him courage to speak up, NCR reports.
New Ways Ministry, an organization that seeks to build bridges between the LGBT community and the Catholic Church, strongly applauded Bonny's call for the ecclesiastical recognition of same-gender couples.
"Bishop Bonny's statements will have a profound effect on this discussion because he is raising an idea which has too long been suppressed, but which many in the Church have desired. He gives voice to a major segment of Catholicism which has previously been voiceless," executive director Francis DeBernardo said in a statement. "Courage breeds courage. Let's pray that other bishops will follow Bishop Bonny's example and speak out for recognizing the holiness in the committed relationships of lesbian and gay couples."
REAL LIFE. REAL NEWS. REAL VOICES.
Help us tell more of the stories that matter from voices that too often remain unheard.
BEFORE YOU GO
PHOTO GALLERY
13 Things The Bible Forbids (That You're Probably Guilty Of Doing)