"Would you like a little bling with that?" was the last thing I expected to hear when ordering a waffle on Centre Street in Manhattan, but it was a welcome question that resulted in a snowy deluge of powdered sugar on a piping hot Liege waffle. Here in New York, one of the city's greatest perks is the plethora of street food at your fingertips. Without having to ever leave the city, one can travel the world through meals. One of the city's favorite award-winning vendors, Wafels & Dinges, has brought a little taste of Belgium in the form of waffles -- in their original, glorious form.
Ask a random person on the street where Belgium is, and chances are they cannot tell you that it is a country in Europe nestled between France, Germany and The Netherlands. However, many people will know little of this small country's culinary gift to the world -- crisp fries, well-crafted beers and fine chocolates, to name just a few. The one thing most do know is that Belgium makes waffles.
The irony of the Belgian waffle's popularity in the U.S. -- and it being a representation of the country's cuisine -- is that the large, heavily loaded breakfast item that graces so many of our morning menus has little resemblance to the original waffle that hails from Belgium. Actually, the American breakfast version pales in comparison to the waffle sold all over Belgium, where it is a traditional street food eaten with your hands (not a calorie-laden meal served with gallons of syrup). In Belgium, the treat is the waffle itself because they're so well made; they aren't just a vehicle for toppings. We're going to show you exactly how they're suppose to be cooked and eaten. But first, a little history.

Top: A Brussels waffle, served as it would have been at the 1964-65 World's Fair, from Wafels & Dinges brick and mortar shop in the Lower East Side. Bottom photos: A step-by-step look at the making of the Brussels waffle, from batter to bling.
The Belgian waffle made its first American appearance at the 1962 World's Fair in Seattle. But it was at the 1964-65 World's Fair hosted in Queens, N.Y that Belgian native Maurice Vermersch and his family made the waffle's popularity skyrocket. Originally known as the Brussels waffle, named for the capital city from which it comes, the crisp-on-the-outside, airy-on-the-inside waffle was served two ways: the traditional fashion (plain) and with a slight embellishment of freshly whipped cream and just-sliced strawberries (as shown above, minus the bling). The demand was so great that the family had to hire a team of 10 people just to slice strawberries — this doesn't account for those whipping the cream, piping that whipped cream or cooking up the waffles on the 24 machines they had running.
The Vermersch family were no fools -- they understood how little the rest of the world knew about Belgium and decided that calling them Brussels waffles would hinder its popularity. And so the Belgian waffle was born. They may have been flexible with the name, but the Vermersch family was adamant about maintaining the proper way to eat them. MariePaule Vermersch, the daughter of Maurice, recounts the tale of her mother refusing forks and knifes to paying customers at the Fair because that's not how you eat them on the streets of Belgium. The Brussels is only one of the waffles loved in Belgium. Some would even say it's the inferior of the two. The one that's lesser known outside of its home country is the aforementioned Liege waffle.

Top: A freshly-cooked Liege waffle from the Wafels & Dinges cart next to the Brooklyn Bridge in Manhattan. Bottom, left to right: Liege dough, proofed and ready to be cooked. A big, hot pot of Nutella. Liege waffles golden and ready. Steve Lipschutz, General Manager, enjoying a hot Liege waffle, ensuring quality control.
If the Brussels waffle is the crowd-pleaser, the Leige waffle is its tougher, younger sibling. It doesn't wow you at first glance with its deep wells, perfect rectangular shape, and lighter-than-air texture like the Brussels. Rather, it grows on you with each bite revealing its dense, sweet characteristic over time. Aside from the fact that these two waffles are both, well, waffles, they couldn't be more different.
The Brussels starts off as a yeast-leavened batter. It's often times fueled with a special ingredient that we doubt gets used in many Belgian waffles at the IHOPs across America. MariePaule Vermersch alluded to one in her family's original recipe; we suspect it might be beer, because it's Belgian after all, but hers is a well-guarded secret. Made in a hot cast iron machine, this waffle is crisp, light, and nearly melts in your mouth. In Belgium, this waffle is often bought on the street and eaten with your hands, but it is also found in tea rooms, commonly known as gauferies. No matter which way you eat it, the Brussels is never served with maple syrup. The waffle doesn't need it, it tastes like pure happiness all on its own.
The name isn't the only thing that changed when this waffle moved to America. For one, it went from being a street food to a common diner breakfast option. And with that came the change in batter. These days, Belgian waffles in the States are more like pancakes that have been cooked in a waffle iron. They're not made from the delicately-balanced batter that ensures a crisp, airy waffle. And since the Americanized Belgian waffle is sub-par in flavor, it's been garnished and embellished to compensate.
The Liege waffle is nothing like either version of the Brussels. It comes from the city of Liege in the Wallonia region of Belgium and is made with a dough similar to that of brioche. Pearl sugar, which basically looks like regular sugar on steroids, is mixed into the dough; when cooked on the iron, the pearls melt and caramelize forming big bites of crisp, browned sugar. It's a denser, sweeter, chewier waffle that can make the world feel right again on the dreariest of days. (Belgium being a country with an unusual amount of gray, rainy days, it's no wonder they came up with a waffle to help them get through it.) These waffles are predominately sold on the street -- everywhere and anywhere... outside of train stations, in grocery store parking lots, at fairs, and so on. They're eaten with your hands and nothing else. Belgians prefer not to mask the sweet flavor and beloved texture of the waffle with toppings. It'd also be harder to eat them on the go.
We wouldn't dare say one waffle is better than the other -- the two possess their own irresistible qualities. It's important that they both exist. But there is something decidedly unique about the Liege waffle. It's not something you see everyday, probably because the dough is hard to make and the essential ingredient, pearl sugar, is expensive and not readily available. That's why we're so lucky that Thomas DeGeest gave up his corporate job at IBM to share them with New Yorkers when he started his now-booming business, Wafels & Dinges.

Top left: In the factory where the waffles dough is made to be sent to all the carts, trucks and shops, a giant funnel of pearl sugar is ready to make Liege magic. Bottom left: The Liege dough has just been mixed with pearl sugar. Top right: The dough has been cut and is being packaged for freezing. Bottom right: Slinging Liege dough, heavy with butter and sugar.
If you live in New York City, chances are you're familiar with the warm, sweet waffles served from the many carts and trucks (and even brick and mortar shops) of Wafels & Dinges. If you're not a native, but love the Food Network, you may have seem them slam Bobby Flay with their far superior waffles on his show, "Throwdown! with Bobby Flay." But if you don't fit into either one of those categories, we should warn you, they alone are a reason to visit NYC -- that is, if you're not up for a trip to Belgium for a taste of the OG.
Wafels & Dinges sells authentic Belgian waffles, both the Liege and Brussels, from their many carts and trucks all over Manhattan; they can sometimes be found in Brooklyn and Queens, too. Their waffles are cooked up fresh on the street, enticing passersby with the sweet smell of sugar. The waffles are most commonly sold in traditional fashion, plain in a paper carrier to be eaten by hand, but owner Thomas DeGeest has added embellishments as well. Keeping in line with authentic Belgian flavors, one can order Wafels & Dinges house-made Speculoos spread (read, cookie butter) smeared on a waffle. American twists are available too (and the option of a fork and knife). They sell a chicken and gravy waffle that would make Maurice Vermersch roll over in his grave, but it's a favorite with customers. These waffles are loved -- in a typical summer weekend they can sell up to 10,000 of them.

Top: Opening the cart at the Brooklyn Bridge. Bottom, left to right: One of the carts parked at the factory in Brooklyn. Burt, Belgian waffle extraordinaire slinging Liege's at the Brooklyn Bridge. A close up of Wafels & Dinges -- which means things in Flemish -- branding on their carts. Burt and Steve getting the cart ready.
The story of Wafels & Dinges is one that every aspiring restauranteur assigns their hopes to. Without a background in food, DeGeest was able to successfully sell enough of his waffles to grow from a one-truck operation into a five-cart, two-truck, two brick and mortar shop "waffle empire." It helps that he was one of the first gourmet food trucks on the streets of New York when he started in 2007 -- there are now more gourmet trucks than spots to park them in, creating a "wild west" situation for street vendors in the city. It also helps that he has native Belgians manning the waffle irons, promising the ability to maintain the "Belgian-ness of the food." Not to mention he's selling a product that many have heard of, but few have tried in its original, glorious form.
But we think there's more to it than that. Aside from the ridiculously awesome size of the pearl sugar that goes into DeGeest's waffles -- seriously, did you see the size of them above? -- it's the sharing of a true and authentic experience of a culture's street food that makes Wafels & Dinges so well received. That, and the bling.

Related
Before You Go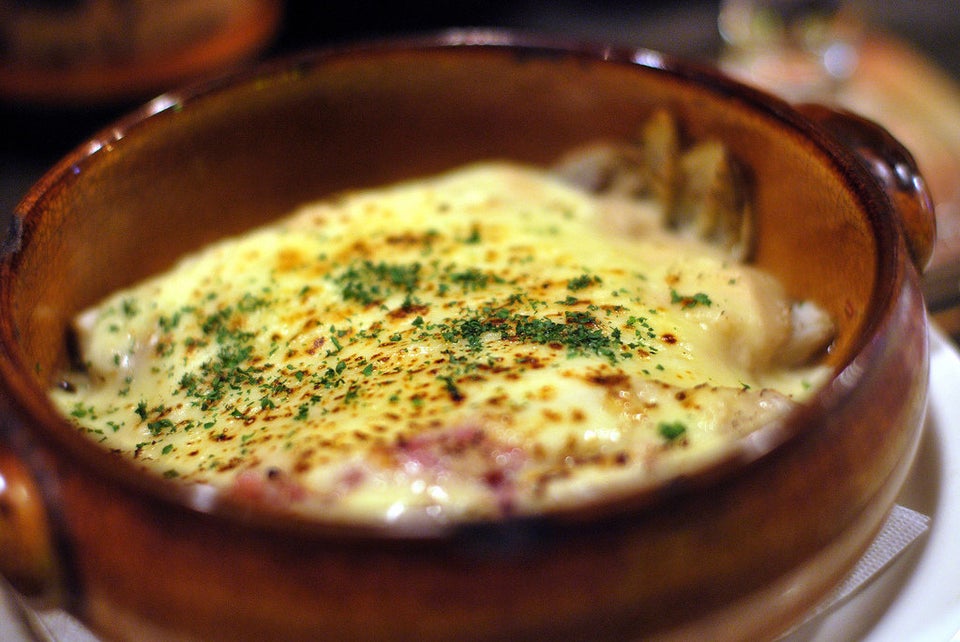 The Best Of Belgian Food