BRUSSELS, Nov 19 (Reuters) - Belgium will introduce laws to jail jihadists returning from Syria and shut unregistered mosques, Prime Minister Charles Michel said on Thursday, launching a crackdown in response to the role of militants based in his country in the Paris attacks.
Michel pledged to spend an extra 400 million euros ($430 million) on security measures to fight Islamist violence, while rejecting criticism of Belgium's security services in the wake of the attacks, which killed 129 people in the French capital.
Mobile phone cards will no longer be sold to anonymous buyers, and police will be allowed to conduct nighttime searches of homes, now banned between 9:00 pm and 5:00 am. Laws would make it easier to ban, convict or expel hate preachers.
The Paris attacks have turned a harsh spotlight on security in Belgium, where several of the assailants were based.
The suspected mastermind was a Belgian Islamic State militant, Abdelhamid Abaaoud, who French authorities said on Thursday had been killed the previous day in a raid north of Paris.
French President Francois Hollande said the coordinated suicide bombings and shootings were planned in Belgium. French media quoted a former senior French intelligence official as saying: "The Belgians just aren't up to it."
Michel stopped short of acknowledging the attacks had been organized from Belgium, blaming "Franco-Belgian cells."
"Also I don't accept the criticism seeking to disparage our security services, who do a difficult and tough job," Michel said. The French raid in which Abaaoud was killed was the result of a tip-off from Belgium, he said.
The poor Brussels district of Molenbeek has been at the center of investigations after it emerged that at least two of the attackers had been living there. One ran a bar that was shut for drug dealing.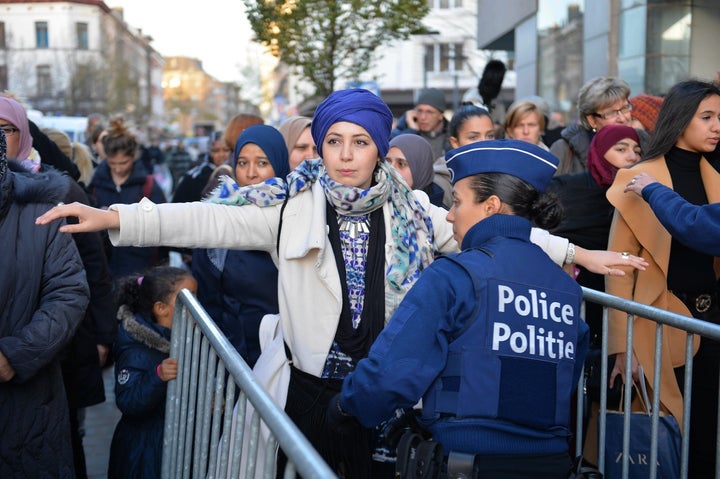 As Michel spoke, Belgian police were carrying out fresh raids in Molenbeek and elsewhere in Brussels related to the Paris attacks, prosecutors said.
A total of nine people were arrested during searches of nine addresses. Seven of those were held related to an investigation opened at the start of the year into the departure to Syria of Belgium-based Bilal Hadfi. Hadfi blew himself up near the Stade de France last Friday.
Critics of Belgium's security policies have pointed to a group Sharia4Belgium which was able to speak out in public for years until the country's largest terrorism trial, which began last year and resulted in conviction of members for recruiting fighters to go to Syria.
"Religious freedom is guaranteed by the constitution but places of worship cannot become places to spread jihadism," Michel said.
Ahead of an emergency meeting of justice and interior ministers in Brussels on Friday, Michel said it was vital for the European Union to reinforce its external borders.
France is set to call for the rapid adoption of an EU database of airline passengers - long-stalled in the European Parliament due to privacy concerns.
Michel said Belgium was looking at introducing registers of passenger names flying or taking high-speed trains into and out of the country. Belgium would support French military efforts by sending a vessel to escort French aircraft carrier Charles de Gaulle.
Michel also said he had spoken to British Prime Minister David Cameron and suggested an exchange of intelligence information.
(Reporting by Robert-Jan Bartunek, Philip Blenkinsop; Editing by Gabriela Baczynska, Paul Taylor and Giles Elgood)
PHOTO GALLERY
Paris Attacks
Calling all HuffPost superfans!
Sign up for membership to become a founding member and help shape HuffPost's next chapter