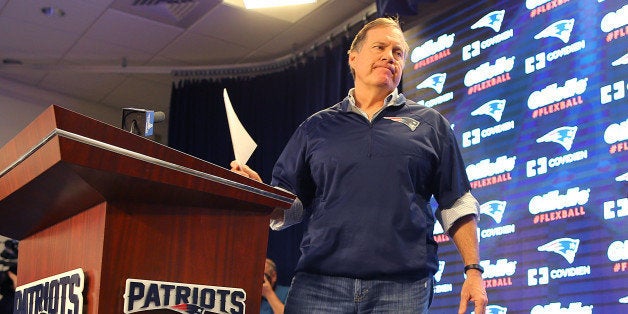 Perhaps the line that could be most contested from Bill Belichick's surreal and hastily called press conference on Saturday was, "I'm not a scientist." But the New England Patriots head coach used as much complexity and detail in describing the physics of football inflation as Walter White used to explain cooking crystal meth. Without the Patriots logo on his jacket, he sure could have passed for an 8th grade science teacher. And he snarled at the media like a bunch of numskulls who had all just failed the midterm.
Reading between the X's and O's of the actual press conference, here's what the Patriots were clearly trying to accomplish with regards to media strategy:
Make the preparation of a football sound so complex that anyone without a Ph.D could have screwed up.
Create the impression that the team was so distressed by this mysterious development that they launched their own exhaustive recreation (notice he didn't call it an investigation) of their pre-game football handling routine. This was something both Brady and Belichick were criticized for earlier in the week -- that they seemed disinterested in finding out how it happened or who really did it (remember O.J. Simpson's indifference in finding his wife's real killer? Big mistake when all you've got is a hard-to-believe denial.)
Assert the team's work ethic, dedication to winning and commitment to playing by the rules, a laughable strategy after they admitted to a spying scandal in the past.
Make it clear prior to Super Bowl Media Day that the news conference represents everything you know and have to say on the matter and that you will not be discussing it any further, so don't ask me. Good luck with that one Bill. Super Bowl reporters aren't about to abide by your wishes, especially when you engage them with all the charm of Michael Vick's attack dogs.
Although Belichick stated that he was "embarrassed" by all the time he has devoted to this issue (translation: I'm pissed as hell you media people are making a big deal out of this), it's clear the Patriots are nervous. Why else would Belichick opt for a real collared dress shirt over that ubiquitous hoodie that's desperately in need of a laundering? Also, this is the third press conference in as many days to try to explain the controversy -- a show of concern that is so inconsistent with Belichick's "be damned with what everyone thinks" attitude.
Belichick may be a genius on the gridiron, devising offensive and defensive schemes no one has ever thought of before, but in handling controversy, he is tearing pages out of the flawed playbooks of Richard Nixon and Gary Hart. What's so Nixonian about him is that in the face of achieving an overwhelming and lopsided victory over your opponent, (Belichick vs. the Colts -- Nixon vs. McGovern) you still feel compelled to cheat (Deflategate - Watergate) in order to obtain an even greater edge. And at Saturday's news conference, he pulled a Gary Hart by daring the media to conduct the same experiments he did on football inflation to show they wouldn't be able to detect an under-inflated ball. You may remember that when the media started to ask then Presidential hopeful Hart about rumors of his philandering, he dared them to follow him around. It was a miscalculation that gave the story "legs" (namely in a photo of Donna Rice's bare ones draped over Hart's lap.) The take-home assignment science teacher Belichick gave to Saturday's's class may also backfire, putting yet some more air in the "Deflategate" story.
Calling all HuffPost superfans!
Sign up for membership to become a founding member and help shape HuffPost's next chapter