This Week in Daily Giving is all about believing in people.
As my organization, The Pollination Project gets ready to make our 1000th grant, I am proud of how much we have grown in just two and a half years. Beyond the grants we make- which now reach 56 countries and almost every state- we have expanded our network because of donors who believe in us, just as we believe in our grantees.
This past week we celebrated a second round of "Impact Grants" to some of our most successful grantee projects. This was possible because of a donor partnership with the innovative Fox Family. These Impact Grants of up to $5000 each, were targeted to projects that focus on youth and compassion. "We were interested startup funding for small or volunteer-run nonprofits," said Connie Lorick, the Director of Philanthropy for the Fox Family. "Because the Pollination Project already vetted the grantees, we knew we could provide the next level of funding to help these projects take the next step."
With a donation from the Fox Family, we set out to identify our best grantees who were working with youth and expanding compassion in the world. Alan Fox explained, "Compassion and youth are important to me because without compassion we are alone, and without children we are a dead end."
I am proud to announce our Spring, 2015 Impact Grant winners. Thanks to the Fox Family, yet another round of Impact Grants will be available to more grantees in Fall, 2015!
Shalita O'Neal is Creating a Network of Foster Alumni in Baltimore, MD. Shalita O'Neale is the founder of the Fostering Change Network LLC (FCN), a membership-based organization that provides business or organizational support, networking and training opportunities to alumni of the foster care system. FCN strives to provide its members with skills workshops and financial counseling, as well as micro-loans and grants. Shalita originally received a Pollination Project seed grant in launch the network. She just received a $2,500 Impact Grant for organizing the first of its kind Alumni Powerhouse Networking Conference (APNC) in Baltimore, Maryland. The Conference hosted nearly 200 people who shared stories, successes and networking opportunities. Shalita hopes to leverage the Conference into new Fostering Change Network chapters throughout the U.S., develop peer mentoring programs, and host webinars on topics concerning alumni participants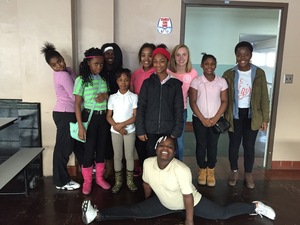 Shelby Kretz and 1Girl are Expanding in Los Angeles, CA. Shelby Kretz is the founder of 1girl, a non-profit organization that works with underprivileged middle school girls to help them become successful leaders through hands-on projects and professional development. 1girl programs aim to teach students life skills like creative problem solving, goal setting, public speaking, critical thinking, and conflict resolution. Since the organization's launch, 1girl has expanded to include 8 project sites throughout Michigan and Ohio. Now, with the help of our $3,000 impact grant, Shelby and several university student volunteers are spearheading the creation of the first 1girl chapter in the Los Angeles, CA area!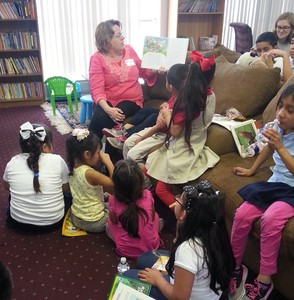 Trish Schappell is Promoting Literacy Among Underprivileged Youth in Houston, TX.Trish Schappell is a Houston-based teacher who received a Pollination Project seed grant for her fledgling literacy program, The Kids' Reading Room for elementary-school aged children in Houston, Texas. Initially the program targeted one particular low-income area apartment complex where Trish and other volunteers built a reading room for residents' children in order to provide them with open-access to books. However, since receiving her seed grant, The Kid's Reading Room has become a 501c(3) nonprofit organization and has built three more Reading Rooms, placing hundreds of books in the hands of kids hungry to learn. We gave Trish and the Kid's Reading Room another $3,800 Impact Grant to underwrite the costs of new reading rooms in 2015.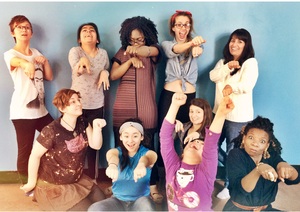 Jessica London Shields and Meredith Montgomery are Empowering Young Women in Chicago, IL. Jessica London-Shields and Meredith Montgomery originally received a seed grant from The Pollination Project for their She Crew program, a multi-disciplinary journaling workshop where writing and performing skills are used to cultivate positive self-image for young women in Chicago. In addition to year round activities, SheCrew provides a 6-week summer program for young women where participants perform work on topics such as womanhood and identity, family/community relationships, careers, and even the physical body. She Crew recently solidified a partnership with the Jane Addams Hull-House Museum where they will be holding their 2015 Summer Intensive course and their $2,500 Impact Grant will be used to support that course.
It is notable that these projects represent four risks we took early on. We believed in these grantees, and we were some of their first funders. Jessica London Shields said:
"The Pollination Project Seed Grant was the first grant we received, and was the first glimpse we had into believing our dream organization could be a reality. There are so many opportunities to be shut down before you even start a grassroots project. The Seed Grant communicated to us that our project was worthy."
In 2012, I set out to create a foundation that would bring me more joy, and expand my sense of goodness in myself and in the world. Two and a half years later, I'm proud that The Pollination Project is becoming a platform for other donors to do the same.
Extra special thank you to Alan Fox and Family, Kevin Prior and Raegan Hillman, Levi Strauss & Co., and the Lakeshore Foundation for believing in The Pollination Project and our global network of early stage social change-makers. Our work has become so much more impactful because of you.
Popular in the Community