After a childhood and undergraduate program furthering her passion for technology, Electine Joyce Malloh met the turning point in her young adult life. She finally felt confident in her role as a female IT professional.
"In a nutshell, my internship experience with ActionAid was one-of-a-kind, and it played a big role in boosting my confidence as a professional," said Electine, who was placed in this internship as part of the 'real-world IT experience' portion of her NetHope Academy studies.
After her NetHope Academy graduation, Electine was hired to a fulltime IT position at ActionAid and continued developing her career by participating in the NetHope Women's TechConnect, which pairs young female IT professionals with successful female mentors online to help build on their confidence and ambitions.
"[My mentor] inspires me and it is from her that I have learned that nothing is ever too hard for us to achieve if we believe in ourselves," Electine said. "With hard work, we will always achieve our dreams."
Electine's story is a great example of how equipping a girl with ICT skills improves her life, but her success positively impacts far more people than just herself; empowering women and girls can benefit everyone: boys, girls, men, women, communities, nations, the world.
According to the Council on Foreign Affairs, when 10 percent more girls go to school, a country's GDP increases by three percent. Expose those same educated girls to technology in school and inspire them to develop in-demand technology skills and they can tap into the half a trillion dollar global IT-enable services market -- which is expected to treble to between US$1.5 and 1.6 trillion by 2020, according to the World Bank.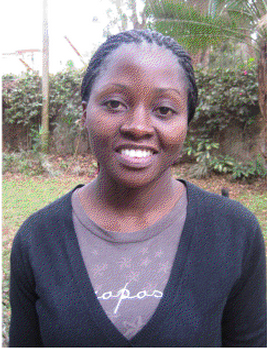 Electine
Beyond the national benefit possible with an investment in girls' educations and futures, women also tend to reinvest money that they earn back into their families and communities. When women and girls in the developing world earn income, they reinvest 90 percent of it into their families, as compared to only 30 to 40 percent for a man. A female IT professional in Kenya averages an annual salary that is five times the yearly income of a general laborer working at minimum wage in Nairobi.
"My involvement in the NetHope Women's TechConnect and my job in IT has changed my life," said Electine. "I hunger to get more involved in programs that will give opportunities to more girls. Growing up, I counseled and mentored people but I feel like I can better coach others by modeling how my mentor has mentored me. I believe I am a role model to young people in my community because if I can make it, they can too."
As seen with Electine, ICT skills building is just half of the equation; non-technical skills and mentorship are equally important to a girl's development and success.
Take the Anudip Foundation and its for-profit partner iMerit Technology Services as examples: their core mission is to empower marginalized youth and women by teaching them market-aligned skills in rural locations. Beyond training on IT and applications, the organization counsels students to ensure they are comfortable and confident in a work environment. After completing the market-aligned skill training (MAST) program, graduates work in partnering iMerit centers that handle large IT projects. This has had a particular impact on women in iMerit's Metiabruz center where over 100 Muslim women from this semi-urban community have learned IT skills and developed individual professional goals. iMerit works to identify leadership potential among the women and help them rise to their full potential through education and opportunity. Many of the girls said that the increased confidence they have cultivated in their work environment has extended into their own homes and communities.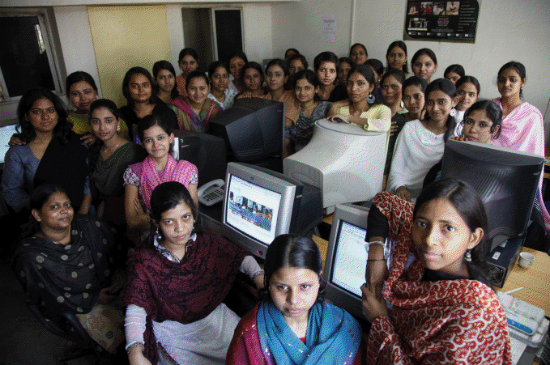 Metiabruz Girls
As we start to proactively offer women in the developing world technical and practical education, we simultaneously improve their livelihoods and the overall growth and prosperity for the world. As former Secretary of State Hillary Rodham Clinton said, "When we liberate the economic potential of women, we elevate the economic performance of communities, nations and the world." Now we must build confidence within the young female technical leaders of the future, and also build their confidence in our commitment to breaking down the digital gender divide.