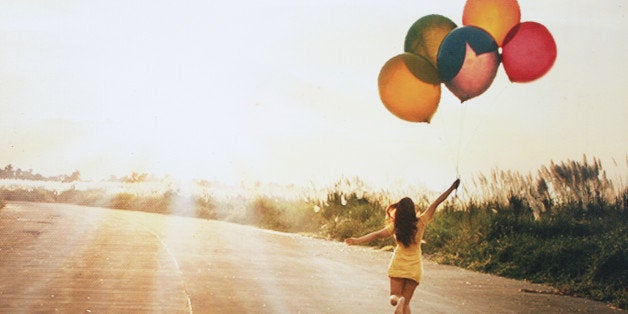 Cancer has been a specter in my family. My grandmother, Granny Lu, a strong, petite woman, the daughter of AC Gilbert, an inventor and Olympic gold medal-winner and owner of The Toy Barn, a former toy store in Hamden, Connecticut, was diagnosed with cancer when I was a teenager. She had breast cancer and then bone cancer and, never wanting to become what she thought was a burden to her family, kept most of her illness a secret. She wanted us to remember her as the healthy, vivacious woman she had been. Weeks before she died my parents, sister and I had a chance to bring her one of her favorites -- Pepe's Pizza, the famous New Haven pizza. Our family had a particular affinity for the clam pizza. She was dressed in an elegant emerald green pant suit and gold shoes. That was the last time I saw her alive. It was also the first time I knew someone to die of cancer.
Four years later, in 1988, the same summer I graduated from college, my mom was diagnosed with late stage three colorectal cancer at the age of 44. I had already moved to New York City and was looking for a job while traveling to visit her at the Lahey Clinic or at home in Connecticut. In order to beat her cancer my mom went through extensive chemo and radiation. Cancer had become an unwanted evil in my family's legacy. It scared me; it scared all of us. At the time there were two things I knew. My mom needed to reach that five-year benchmark to be cancer-free and I would have to be screened regularly ten years before the onset of my mom's cancer.
Colonoscopies became part of my life by the time I was 34 years old. Now at the age of 50 I have gone through four of them and only once were precancerous polyps removed. As a long distance runner, I ran more. I ran to beat cancer. I was not going to let the cancer chase me down.
Life took on a greater sense of preciousness. I felt an urgent need to take advantage of opportunities. I started setting goals: to get married and have kids while I was still young and healthy and live what I thought would be a fairy tale life. I set one of the biggest goals ever: to try to qualify for the Olympic marathon trials. I trained and trained in between caring for two young children -- aged three and 18 months.
Less than a month from my planned attempt at the California International Marathon, in December 1998, my mother had been bleeding unexpectedly, even though she had already gone through menopause. Emergency surgery was scheduled with two surgeons--a gynecological surgeon and her cancer surgeon. I flew back to Hartford and, to this day, I remember the gynecological surgeon coming into her hospital room and saying, "Someone should have caught this. The cancer has spread beyond the uterine wall." I put my head on her chest and cried. I was sure that my mother had just received her death sentence. She was only 54 years old.
I helped my dad get my mom situated at home with food and all her medical paraphernalia. My life was in shambles. I didn't know what to do. I had trained with a coach to be one of the 150 or so women to break the 2:50 marathon barrier. (The current qualifying time for women is now 2:43 --two hours and 43 minutes.) With my former husband's support, we decided to go to the race in California despite the lack of training I'd been able to fit in during the month leading up to the marathon.
I will never forget seeing the clock at each mile marker. I was hitting a 6:24-6:25 (six minute, 24-25 second) pace for each mile! I was on fire! Then it happened. Mile 20 came and I hit the wall. I could feel my body faltering but the thought of my mom, weak in bed at home, gave me the strength to finish with temperatures that had dropped into the 30s. I crossed the finish line at 2:56. To this day, it remains my personal best.
Two years later, I tried again to qualify for the Olympics during the Chicago Marathon. The same year my last remaining grandparent, my Nanabanana, died unexpectedly after a very brief five-month diagnosis of lung cancer. Then my father-in-law died of esophageal cancer. I was more determined than ever to run from cancer, to live my life to the fullest. Instead of running for competition, I ran for camaraderie. I drew hope and inspiration by volunteering for the Dream Foundation, which grants wishes to adults with terminal illnesses, and the Teddy Bear Cancer Foundation, which supports families dealing with financial burdens while their children are going through cancer.
Then my own life was hit by trials and tribulations, including the end of my marriage and the loss of our family home and virtually all of our possessions in the Santa Barbara Tea Fire. I could no longer find time to volunteer as I focused on recreating my own life -- as the founder of a publishing company and a single mother of two active boys.
Now that Lucky Penny Publishing is four years old and my sons have gone off to college, I have time to volunteer again and it made sense to pick a nonprofit related to cancer. I started to volunteer as a running coach for the Huntsman Cancer Foundation in Salt Lake City and encourage other runners to raise money for people going through cancer.
Late last fall I met an amazing woman and her husband, Carri and Edwin Lyons. They were coaches for the bicyclists raising money for Huntsman. At a fundraising dinner for the Huntsman Cancer Foundation, I was seated at the same table as the Lyons and soon learned about Carri's unbelievable journey from losing a child during pregnancy, then being diagnosed with endometrial cancer, to their own personal fundraising efforts to adopt a child from Ethiopia by bicycling from Salt Lake City to Omaha, Nebraska.
Carri wanted to write a book; she wanted to tell her story. Lucky Penny Publishing had just added Silver Dollar Press -- eBooks with a focus on memoirs, non-fiction and autobiographies. Carri was overjoyed with the possibilities. We became fast friends and she started writing furiously. In less than six months she had a draft of her 21-chapter memoir, Along Came Hope.
Carri exudes optimism despite what she has been through. Her energy and smile are addicting. With a little help from her friends at Lucky Penny Publishing, her dream became a reality. When we first met, we were only publishing eBooks, but with her encouragement we moved into the print world. Along Came Hope is now available in color and in black and white on Amazon and as an eBook on Silver Dollar Press. I now consider cancer an old friend and Carri Lyons a vibrant, positive new friend, who believed in hope and with that hope she is living her dream.
Calling all HuffPost superfans!
Sign up for membership to become a founding member and help shape HuffPost's next chapter