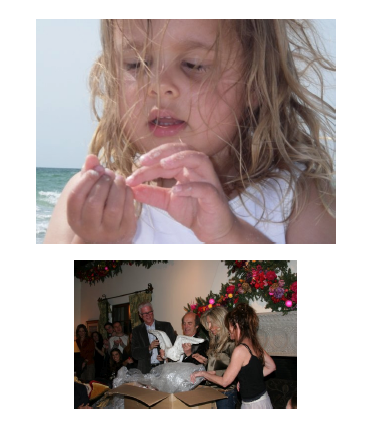 Joy to the world, deck the halls, light the candles, say every kind of prayer, attend our churches, synagogues, and all of our sacred places of worship, and on top of it all, give thanks that America was founded. Finally a new year is ushered in with celebrations as great, colorful and network saturated, as the fourth of July. Happy New Year, best wishes, big resolutions and promises. Boom -- at midnight the ball drops, from east coast to west coast, the biggest starting at Times Square. The ball drops and confetti flies, explodes and floats.
Merry Christmas, Happy Thanksgiving and Happy Hanukkah. Also, 2014 is born.
It is a time of celebration, jubilee, love, family, and a time when we look to find miracles, and to find the finest present of all -- to be with each other; me and you.
We believe in these miracles and we say them out loud. We also keep some of them secret, because daring to believe might be just way too hard and sometimes what is too hard is the miracle of me and you.
When I think of where it all began, I think of being born into a really big family in a very small town. The happiest times for me were always Christmas, Easter and lots of family trips that we took traveling on the road, because we were all together. From the twinkling Christmas lights and the Santa filled stockings, to the ribbon framed Easter baskets with jellybeans included. What I wanted more than anything else was love, communication and a connection to my parents. The problem was I don't think that was something that they ever knew.
According to Suzie Kim from Crime Prevention at The Santa Monica Police Department, "There is absolutely an increase in unsupervised time for adolescents during the holidays".
During this time of year when there are so many celebratory festivities, parties, gatherings and hoopla's, there are so many special occasions. Kids from all ages in all their vulnerability, lackadaisicalness, innocence and feelings get lost, get sided-tracked, make a wrong turn and easily get hurt. A lot of times it's because they drink.
The great game changer and the thing that I believe the most, the part that we all see at Angels at Risk, is that when parents are watching out for their kids, they are in fact watching out for themselves. It is the true story and the greatest reward and genius. Kids are the messengers and they are the keepers of our dreams. Nobody tells parents that when the spotlight is on protecting their kids, it in turn reminds them not just of their responsibilities, but also to keep a spotlight on themselves. The spotlight becomes the spotlight of the heart; it is one of the classic truths.
All of our lives can be miracles everyday. They don't have to be big. Sometimes the smallest things that happen can be miracles. Sometimes the smallest moments are miraculous. The point is that we believe.
Believing is almost everything.
"Not all of us can do great things. But we can do small things with great love."
― Mother Teresa
REAL LIFE. REAL NEWS. REAL VOICES.
Help us tell more of the stories that matter from voices that too often remain unheard.