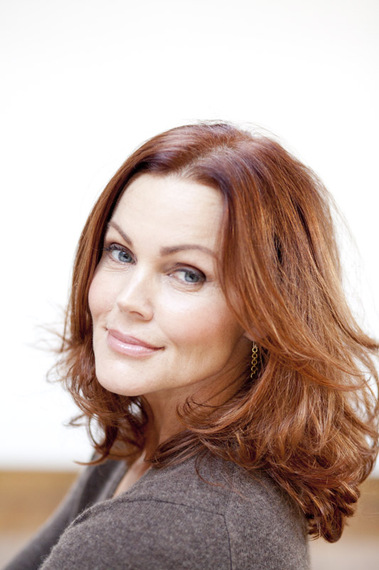 Heaven, as Belinda Carlisle knows, is not always a place on earth, but the girl group goddess is determined to bring its halo down a notch.
The solo star and lead singer of the Go-Go's, the perennial Valley Girl with an infectious speaking voice that reminds you of sipping an Orange Julius at the Mall, the mother whose support of gay rights has thrilled her fans, the writer who's spoken frankly about addiction and its fame enabler, and the chick who can still rock it like the best of 'em live, is starting an admitted new chapter in her deliciously promiscuous career -- India animal rights innovator.
Carlisle, a longtime traveler to India, who's also a 30-year animal rights activist, from her work with PETA to her vegetarian beliefs ("It's more about not supporting factory farming" than the taste of the food," she says), has cofounded the Animal People Alliance, a non-profit organization based in Calcutta that has combined forces with Made by Survivors, an organization that enables women in impoverished countries to achieve skills that help them avoid becoming victims of human rights abuses, including human trafficking, poverty, and abuse.
"Many of these people were rescued from the sex trade," says Carlisle on the phone, driving around L.A. -- can I get a Go-Go's song cue here? "[Made by Survivors] teaches them to be silversmiths or goldsmiths. They can make as much money as lawyers."
After a Bangkok meeting with an activist friend who was working on a collaboration of helping women in need and helping animals, "I called him a couple of months later and said I wanted to do this. That was nine months ago."
The idea behind Animal People Alliance is to train women in Made by Survivors to help animals in need, in such positions as vet assistants and dog handlers.
"The caste system is alive and thriving [in India]," says Carlisle. "A lot of the women are considered untouchable. We are trying to change that."
Based on the principles of Animal Aid Unlimited in North India, which Carlisle praises and says is a blueprint, APA is determined to change the way people in India view our four-legged friends.
"We are teaching people that animals have feelings," says Carlisle. "How to recognize a street animal in distress. There is a middle class developing and they still don't have proper vet care, so a lot of what we do will be educational. We're partnering with a hospital in Calcutta to teach about adoption and to get access to emergency rooms."
Carlisle reminds me that, unlike the United States, animals aren't exactly viewed as pets in other parts of the world. "Animals are generally looked at, that they just happen to be there," she says of India culture. "They are regarded as beings that don't have feelings. Dogs are considered pariahs, with disease and rabies."
"I would say that eighty percent of people there don't look at a beast of burden as having pain or suffering. They have enough to worry about."
The Animal People Alliance is in the organizational stage, and Carlisle's gathering up a publicity and fundraiser storm with her Animal People Rickshaw Ride on March 1.
"I had to get a motorcycle license to legally drive a rickshaw," says Carlisle, whose leading the 1,135-mile trek from West Bengal to Animal Aid Unlimited in Rajasthan, in a three-person three-wheel auto.
"Yeah, we're going to cover about 130 miles a day; doesn't sound like much, but when you're in dirt roads it's a lot!" If you're wondering how Carlisle is going to accomplish trekking across India and still keep up the band--or how I resisted making a "Skidmarks on My Heart" pun--the bad news is that the Go-Go's won't be touring until 2016; Carlisle was injured last year. On the flip side, she's embarking on a different kind of journey, one that strikes a personal chord.
"I don't want to be touring non-stop, slugging it out," says Carlisle, adding that she'll be commuting a lot to India after she moves to the Far East in October. "I think the next part of my life is going to be more about this project than anything else."
Even off the record she wants to keep the world upbeat.
For more about the Animal People Alliance, click here.
For more about the Animal People Rickshaw ride, click here.
Calling all HuffPost superfans!
Sign up for membership to become a founding member and help shape HuffPost's next chapter