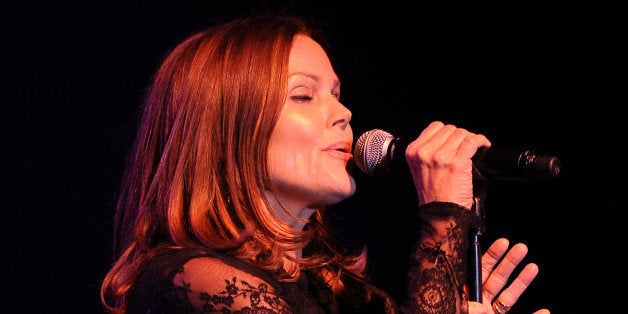 When the Go-Go's made their debut in 1978, lead singer Belinda Carlisle was a twenty-year-old free spirit who soon became the face of that pioneering all-girl band. But Carlisle never dreamed she would be a trendsetter on several fronts as her vocal career evolved.
Now 56, Carlisle continues to record solo albums and performs both alone and with the Go-Go's. Last week, as she prepared to leave for India -- one of her frequent destinations -- the rock star spoke to me about her artistic and spiritual growth, her animal activism, and her triumph over severe menopausal symptoms which, a few years ago, threatened her health and productivity.
When you and your colleagues formed the Go-Go's, the first all-female rock band, did you ever think you'd be a lifelong role model for women who want to perform rock music?
No, no, no. It was only until about ten years ago that I was finally able to accept that this must be my calling in life. And I don't know why that is. It's almost like a dream and it's gone by really, really fast. When we formed the band in 1978, it was a girls' club. When we hit the punk-rock scene in L.A. it was about meeting boys--we even had female roadies and female management. But never in our wildest dreams did we think that almost 40 years later--37 years, actually--the Go-Go's would be considered a really influential band in pop history, and not just a 'female band.' [She laughs.] And it's still going on even though we're in our 'twilight years.'
The Go-Go's grew over time. How did you morph into serious musicians?
I think our motivation was more to become great songwriters and for us to evolve into good singers or interpreters. To this day, we know we're not great musicians but we don't really care, and I think the audience loves that. Going to a Go-Go's show is like watching a runaway train. You know it could crash any minute. And you know something? Sometimes it does, and that's what makes a Go-Go's show really special. It has an element of danger because you don't know what will happen--and all sorts of things have happened through the years. But it's a very special little band.
Was there an "aha" moment when you began to take yourself seriously as a singer? I know you began voice lessons. Who was your teacher?
Early on we played at the Rock Corporation in the Valley, and I thought I sounded like a million bucks. But when I got offstage and listened to what I really sounded like, I was mortified. I was screaming and it was awful, although there was an unusual color to my voice. But I needed to do a lot of work.
I went through quite a few teachers through the years. The one who was most helpful was a vocal coach named Nathan (Nate) Lam. He was [and still is] a cantor at the Stephen S. Wise Temple in West L.A. He was great! He actually taught me how to sing. Before that I went to different people, but I didn't get serious until the Go-Go's third album. On the first album, I thought I sounded like a 'chipmunk' because it was sped up. On the second, I was having major issues in my personal life. On the third album the songs were more challenging and I needed to sing well.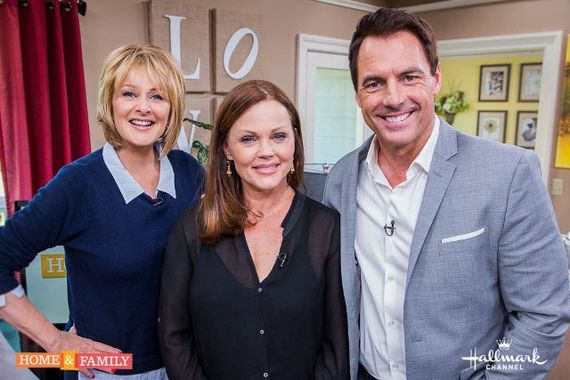 Belinda Carlisle (center) with Cristina Ferrare and Mark Steines, hosts of Hallmark Channel's Home & Family show.
What was the highest point for the Go-Go's?
There were two highest points that happened recently. The first one--August 11, 2011--was getting a star on the Hollywood Walk of Fame. That was pretty emotional. The other one was last August when we were inducted into the Hollywood Bowl Hall of Fame. When we walked onstage, there was a standing ovation and we'd never gotten that before. It was overwhelming. We were playing to a hometown crowd and we felt inspired. It was a big highlight.
You launched a solo career in 1985 and married Morgan Mason in 1986. You and he became the parents of James Duke Mason in 1992, and your family moved to France. How did these shifts affect your music?
If I hadn't moved to France, I never would've made a French album [Voila], that's for sure. My solo career has mostly been in Europe and the Far East, so moving made my work easier. In France I discovered musical icons such as Edith Piaf and other amazing singers, so I got interested in French music. It has a melancholy undertone that American music lacks and that I love. And moving opened me up not only to French music but also Arabic and Egyptian music, and Hindu devotional music.
What kind of music do you listen to? Any pop music?

When I'm at home I could care less about pop music. Right now I'm listening to Nirinjan Kaur, a Kundalini artist. Or I'll listen to Henry Mancini, or Norma with Maria Callas. I discovered Callas fifteen years ago. She's all heart, and after I discovered her I read Arianna Huffington's book on Callas, which is amazing. I'm also into yoga music and I'm doing a mantra album myself now.
Can you hear "heart" in your singing?
I hear it in Runaway Horses and Real and Voila. In other albums, not so much.
In 1990 you and your bandmates posed naked for PETA's "Rather Go Naked Than Wear Fur" campaign. Was that your first social activism?

It may have been the first, but I'm still an animal rights activist and have been for 30 years. I hate fur. It's kind of shocking [that people wear fur]. I have an animal project in Calcutta called the Animal-People Alliance which I co-founded, and on March 1st I'm doing a rickshaw ride across India to raise awareness for the street animals of India. The project will create a veterinary network because they need more vet services and will educate people that animals have feelings. That's my passion now.
Your memoir Lips Unsealed was published in 2010. It's incredibly honest about the prevalence of drugs and alcohol in the rock world. When did you decide to quit drugs and alcohol? What motivated this change?
I read a book called The Art of Happiness by the Dalai Lama. I was 40 and had just been dropped by my record company. So I asked myself 'Who am I?' and began a period of soul-searching so I could learn where my life was going to go. Then I found a book called The Buddha in Your Mirror, which is about Nichiren Buddhism, a practical school of Buddhism for the person who has to work. I became involved in an organization called Soka Gakkai and began chanting 'Nam-myoho-renge-kyo.' When I became sober in 2005, I was chanting two to four hours a day to get through the upheaval of it all. It definitely makes you look at yourself, because chanting is a mirror.
These days you are the spokesperson for Lady Care, a natural device that allows menopausal women to combat their hot flashes and other symptoms. What made you seek out this method?
What happened is that five years ago, I began getting the symptoms of menopause. I'm 56 now so I was about 51 when they came on, and my hot flashes were so severe, I would get up to 40 a day. I'd count them because that was so ridiculous. I saw my doctor and he tested my hormone levels and he found I had very little estrogen. He said that before he gave me bio-identical hormones, he wanted me to try a non-drug approach. He said LadyCare was a natural, drug-free alternative that you clip to your underwear. Well, I took it home and tried it, and for me I got relief in two days. I went from day sweats and night sweats and hot flashes to no symptoms, and I've been symptom-free for five years. Honestly, LadyCare saved my life. It doesn't change your hormonal levels, but works on the autonomic nervous system.
After 37 years since the Go-Go's made their debut, you remain an active presence on the rock scene. Do you feel your songs are deeper now?
People are always asking me to do another pop album. Last year I had a pop single hit in the UK. But I feel that now, because I've had so much experience, I can't sing 'Oh, he broke my heart...' Lyrics have always been important to me...When I did the French album, I found the chanteuse inside me while singing romantic, melancholy French songs, and that album felt real and authentic whereas a pop album wouldn't. And now I'm in the middle of recording a Kundalini mantra album which has taken me years to be able to do. It's not just singing it. I had to be able to experience the mantras, too.
Tell me about the musical Head Over Heels at the Oregon Shakespeare Festival this June.
Five years ago a friend of mine had an idea about using Go-Go's music for a musical, and we thought, at the beginning, that it would be biographical, a Dream Girls kind of thing. But as time went on, we attracted different people and we finally we got an amazing writer, Jeff Whitty, who has incorporated our Go-Go's music in Philip Sidney's play, Arcadia, written not in the 1980s but the 1680s. So it's pretty much 'out there' and the show opens on June 15. And I'd much rather have that than another biographical show!
What's next for Belinda Carlisle?
Well, I have the mantra album coming out. I have a bunch of solo dates coming up at the end of the summer, then more Go-Go's touring in 2016. And my rickshaw ride for animals in India on March 1st, and my ongoing work with LadyCare.
What advice would you give to a singer starting out in your business?
Popular in the Community