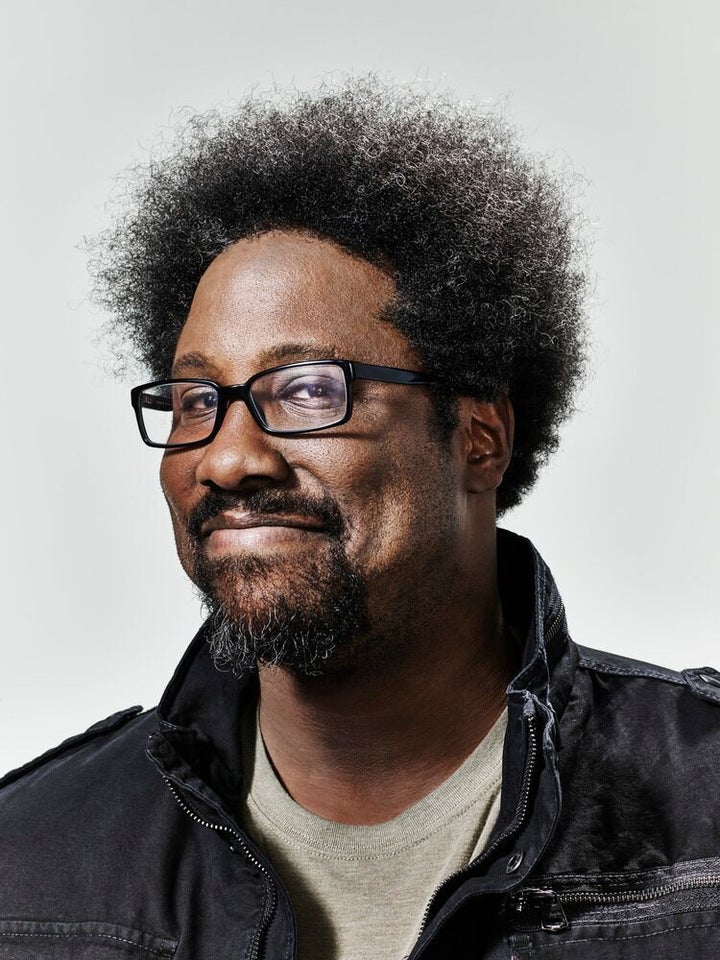 W. Kamau Bell called his first standup comedy TV special Semi-Prominent Negro, but that tongue-in-cheek appellation is no longer remotely accurate. Yes, Bell is still African-American, but his profile has soared since he began hosting CNN's weekly original docu-series United Shades of America last year. The 44-year-old sociopolitical comedian, podcaster, and author grew up in Alabama, Massachusetts, and Illinois, and now lives in the San Francisco Bay Area with his wife and two young daughters.
Bell's incisive, thought-provoking comedy will be on view at Montreal's prestigious Just For Laughs festival in four shows from July 26th – 29th.
He'll also appear in Toronto's JFL42 festival in September. Bell spoke about his unique brand of humor in this conversation with The Huffington Post.
SN: Comedians usually exaggerate things for a laugh. In the age of Trump, is it even possible to come up with political material more extreme than what we're witnessing in real life?
WKB: It's like the gold rush, but there's too much gold to put into your pocket! Every comedian in America got a little bit funnier when Trump was elected.
If they didn't get funnier, it's because they were afraid to get funnier. Even if you voted for Trump and you support him, you have to admit that this is ridiculous. If you're a comedian and you don't use it, you're just leaving gold on the table.
The challenge is finding things that will last longer than a day. You can write a joke at 7 in the morning; by noon, everyone else has written that joke, and by that night, it's dead.
SN: We hear so much about the deep, seemingly intractable political divide in the U.S. Should a comedian ever worry about alienating or offending anyone in the audience?
WKB: It all depends on what kind of comedian you define yourself as. There are comedians who try to get as many people as possible to laugh, and there are comedians who want to get the people they want to laugh, to laugh. In music terms, there's pop music, and then there's Pope music! Pope music is not necessarily trying to be as big as pop music, but it doesn't make it lesser music.
I try to write a very specific style of comedy, and I just hope to find enough people to support my lifestyle and my family. I just want to have all the cable channels, and a nice laptop. That's all I care about!
SN: Have you been to "Just For Laughs" in Montreal before?
WKB: I did the New Faces of Comedy in 2005, and I bombed horribly. I thought I would never, ever return to Montreal again. But then I came back a few years later to do the Funny As Hell show, and that one went fine. I just keep working on my career, and they invite me back when they think "You're doing better now!" So this is my third time.
SN: I assume you're aware of the new law that mandates all standup routines be performed in French only.
WKB: (laughs) Maybe that's what I did wrong in 2005; I should have done it in French! I did take three years of French in elementary school, so it'll be fine.
SN: OK, no French… that was a joke… but what can audiences actually expect when they come to your shows?
WKB: My last special was a year and a half ago, so I'm working on a new hour of material, encapsulating what has happened to the world under the Trump administration, how I see it. But it's also about having kids, which made me funnier than I ever thought I could be, and how do I translate this new world to these kids.
SN: On your CNN show, "United Shades of America", you profile diverse groups of people. Why do you think you manage to get along so well with folks ranging from hate-filled racists to cold-blooded killers?
WKB: (laughs) It's how I was raised! I was raised to be polite and respectful. My dad will out-respect and out-polite you, and he will hate you to your face, but you won't realize it at first, because he's so nice! That's the Southern part of my roots coming through, just a part of my Southern DNA.
But the other part is, I'm very curious. I'm an only child, so I grew up in my head a lot. I'm curious about everything in the world. Also, when I speak to KKK members, for example, in the process they're seeing me as a fully-developed person, which they might not see if I just came in there and yelled at them.
SN: You have said that "creating awkward conversations" can lead to change. How so?
WKB: It's a scary thing for people to say "I don't understand"; everybody wants to look smart and seem like they know everything. But if you can say, I don't understand, or this is making me uncomfortable, by the end of the conversation you may come to a new understanding. It doesn't mean you'll agree on everything. It just means you'll come to a new understanding.
SN: I think we've covered everything, except: is it true you had secret meetings last year with officials of the Russian government?
WKB: (laughs) Look, we were just talking about adoption. I don't see what the big deal is!
Calling all HuffPost superfans!
Sign up for membership to become a founding member and help shape HuffPost's next chapter