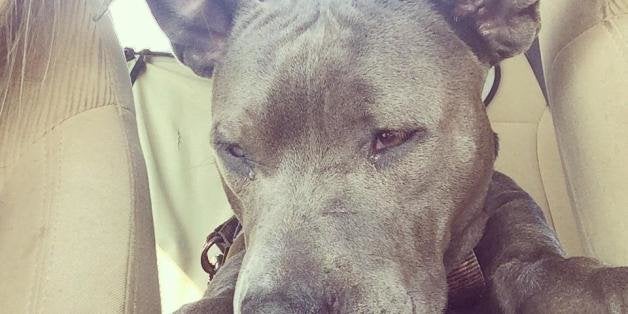 Bella the pit bull's early life could have been a horror movie. Now it's a love story.
"The bullet in her chest was almost impossible to get out. It was lodged under her jugular and took time to be removed. It was also discovered that Bella had been beaten so badly that she was rendered blind in her right eye," says Sarah Spier, a makeup artist who worked on "No Country For Old Men," and who has been fostering Bella for about a month and a half. "To top all of this off, she had recently given birth to a litter of puppies, which were never found."
Things started looking up for Bella when she was brought home by "a wonderful man who has dedicated his life to dogs," Spier says. But Bella did not get along with the man's other dogs, and she was dispatched back to Spier's home, which she shares with her boyfriend and a big pit named Bubba, who isn't always happy sharing his human mom's attention.
Despite all she's been through, this half-blind gray pup is "the sweetest little thing," says Spier. "She knows only love when it comes to her humans."
Spier, who lives in Washington, got involved with dog rescue a decade ago. She told HuffPost that Bubba came into her life about five years ago.
"He saved my life," Spier says. "I went through a really rough period in my life when I first got him. I started to spiral downwards and was in a horribly abusive relationship and an equally bad situation. Bubba was the only reason I wanted to live during those times. I escaped that part of my life four years ago, and since then Bubba has helped me heal and become whole again. He is my superhero!"
Spier says she sees parallels between Bella's life and what she herself went through. Now she wants to do for Bella what Bubba did for her.
"I feel blessed that I have been able to participate in helping Bella have a second chance at life. I was given one, and believe we all deserve one," she says.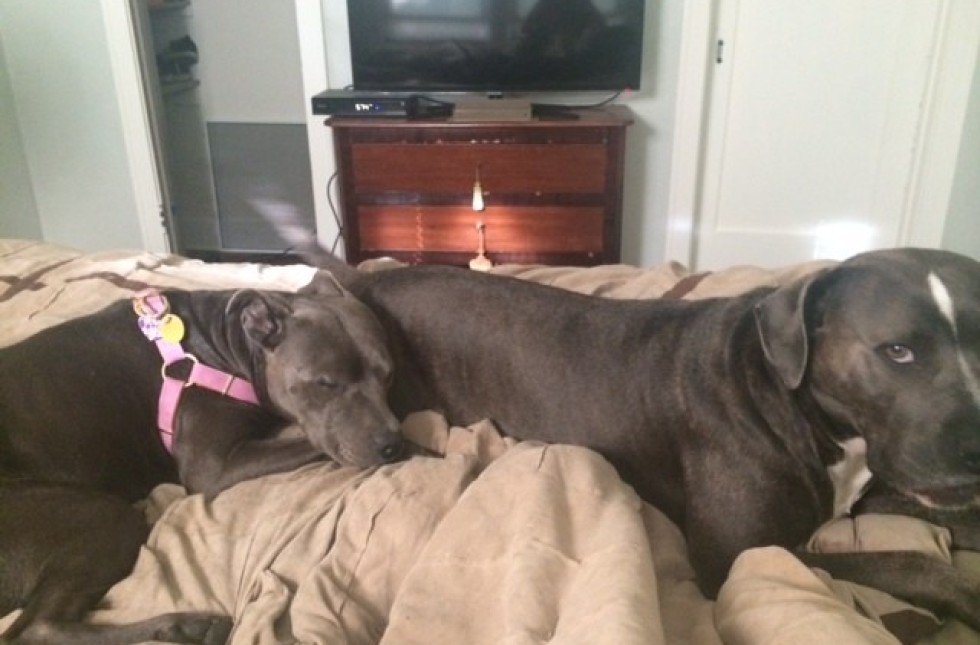 Bubba and Bella canoodling.
Spier thought Bella would make a great pet for the right family. She is already house trained and has a long list of cutie-pie hobbies like cuddling, sunbathing, taking naps in bed and going for long car rides (perfect for driving off into the sunset).
"She also makes the cutest little noises when she wants your attention and will come up to you and simply put her head on your lap just to say hi," says Spier.
But when Bella recently went off for a test run at a new home -- a seemingly perfect place, with no other dogs and a big, fenced yard -- Bella "screamed for almost 24 hours and cried. She sat at the door looking for me for almost the entire time," Spier says.
And so, like the end of a romantic comedy, where the two leads realize they were meant to be together all along, Spier -- who says her background as a makeup artist helps her see "Bella's unique beauty" -- has decided to keep the doggie for herself.
"She needs some work, but I am up for the challenge! Bella deserves her second chance and it's become obvious that she has chosen us to give it to her," she says.
Even Bubba is getting used to the changes in his world. He and Bella are already "sleeping in bed together, going on walks and even kissing each other," adds Spier.
"I would like for people to understand what a survivor Bella is. Her story is one of strength, hope and determination. I would love for Bella's story to also help open people's minds and hearts to the breed," she says. "I will do everything in my power to give this little girl the best life! She came into mine for a reason."