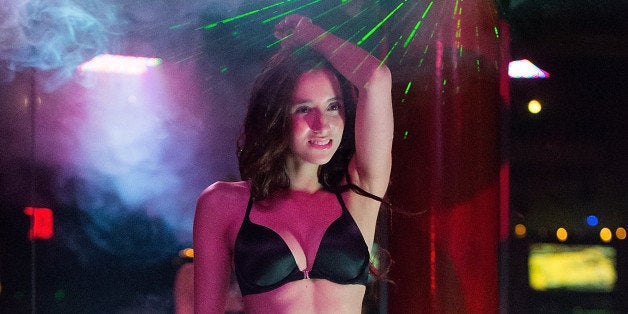 I didn't know strip clubs had coat checks.
Mind you, I've never actually been to a strip club. But I had imagined a dark, dingy place where men slink in and out with their eyes averted, afraid they might run into their wives' Pilates instructor (or something like that). Armed with two female friends and more than a few whiskey gingers, I walked into Headquarters Gentlemen's Club to watch Belle Knox's debut stripping performance on Tuesday night with a tote bag full of gym clothes and a grandpa sweater on. Let's just say the bouncers seemed more than a bit perplexed.
When Belle Knox, sex worker and all-around badass feminist, came out as the Duke porn star last month, I immediately went into full-support mode. Knox is refreshingly articulate and steadfast about her beliefs -- especially impressive given that she's only 18. As a sex-positive feminist, I support Belle's choice to work in porn and completely respect her ambition to succeed in her career. So when I got the chance to attend her stripping debut at a New York City gentlemen's club I decided to take it, because frankly, I was curious.
After bee-lining to the bar, my coworkers and I found prime viewing spots directly in front of the stage. There was a swarm of journalists in the club and some poor, unsuspecting (non-journalist) men huddled away from the flashing camera lights. And while we may not have been getting the truest strip club experience, given the bizarre media circus, there was no ignoring the naked and gyrating women strutting around the room.
Our small entourage slowly acclimated to our surroundings as we gossiped and watched Knox's many opening acts come and go from the stage. During the three-hour show (I swear, this was for work), our conversation slowly evolved. We started out nervously giggling, quickly realized this was disrespectful, and attempted to pay attention to the dancers onstage.
Staring at these women exposing themselves for the pleasure of the audience, me and my two heterosexual female companions began to pick apart each performer's body: "Oh my gosh, she is absolutely gorgeous!" "Her boobs are totally fake." "C'mon, I could do a better job than her."
After two hours of standing next to flashing lenses, eager reporters and a dude who actually asked if I worked there, Belle took the stage. With a small army of cameras trailing her, the 18-year-old star made her entrance to none other than Joan Jett's "Bad Reputation."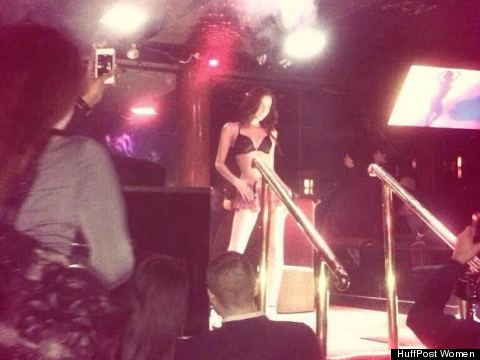 As she peeled off layer after layer, I looked across the room at the different faces surrounding me. We were sharing a gaze that is usually reserved for isolated moments -- found behind locked bedroom doors and under the covers of couples' beds. And despite my vehement support for Knox, her career and her right to make whatever choices she deems empowering and necessary, the overwhelming emotion I felt was discomfort.
It was the least sexy sexual experience I've ever had.
Watching porn in the comfort of your own home is far different from sharing such a similar experience with 40 strangers. I prefer my fantasies to live in my bedroom, rather than a grimy room which exists explicitly for the purpose of refilling middle-aged men's spank banks.
Frankly, Knox killed it onstage. She blew kisses and strutted around like she owned the place. But being in the audience pushed me to dissect my visceral discomfort with something I so ardently support.
On my cab ride home, I felt like crying. Belle Knox made an empowering choice to perform at a gentlemen's club. Belle Knox was unquestionably objectified because of that choice. These conflicting narratives are nothing new, but to witness them simultaneously was more confusing than I had anticipated.
Knox is a much braver woman than I. She is doing something I can't -- and for that I respect her immensely and will continue to support her.
When the cab dropped me off at my doorstep I quietly tip-toed back into my apartment, happy to return to my ivory tower devoid of bodies for hire and triple X's and gawking men. It may be less exciting, but the view is much better from here.
Popular in the Community