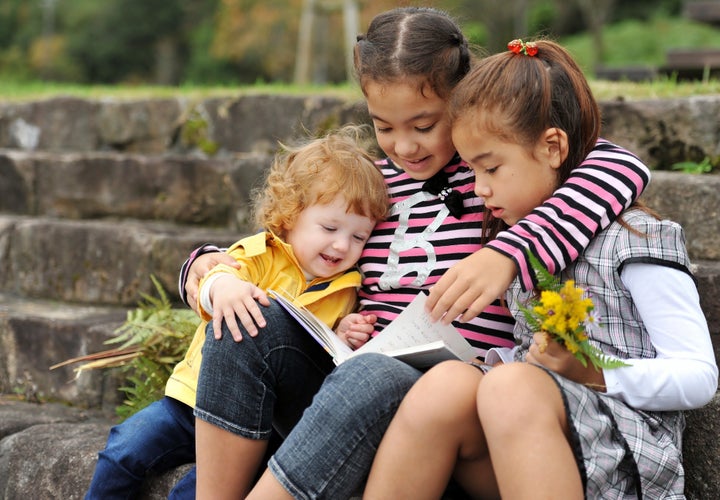 Hurricane Sandy caused many layers of destruction across New York, some too brutally seen under the harsh spotlight of loss, others more hidden, their own kinds of sadnesses becoming more visible as the weeks went on.
One of these sadnesses was the total destruction of the Bellevue Hospital's Children's Library. Due to severe flooding, a lovingly and painstakingly collected library of books was destroyed. When our friends at Bellevue let us know about this devastating loss it struck us at LitWorld to the core. We know how long it takes to build a library, and how much the child in the most vulnerable circumstances treasures the stories she loves. Those things are sorely missed when they are gone.
As the Executive Director of LitWorld, I frequently visit our international Innovation Hubs which serve the most fragile and resource-poor communities. I hear from program leaders, children, parents and community members every day that what they long for in turbulent times of transition is a chance to learn, to be comforted by stories, and to build the literacy skills they need to put their own stories on record.
During a recent LitWorld visit to Haiti I visited a large tent community that still exists three years after the earthquake. I met a mother and her daughter, GiveLord, who live in a makeshift shelter the size of a standard two person tent. There are no solid walls and a gravel floor. It is an incomprehensible scene and yet this fierce and fearless woman told me she had hope because GiveLord is able to attend a nearby school. It is her greatest wish and hope and joy that GiveLord goes to this school and that tomorrow she will go again, for GiveLord loves the power of stories.
Access to stories and equitable learning opportunities matter so much and the absence of them after a catastrophe can cause years of further damage. Stories nourish resilience, provide solace and reassurance. They let us know that someone else has faced similar challenges and survived. This mental release provided by the reading of stories and the hearing of them is profoundly therapeutic and strengthening.
Now let us return to the story of the Bellevue Hospital's Children's library. I knew I needed to tell this story to LitWorld's friends, and to enroll these friends to help us change its outcome.
Reach Out and Read is the organization that operates Bellevue Hospital's Children's Library. They share early literacy interventions for 11,000 children from low income families every year. Bellevue Hospital is the one place that even the most at-risk children visit regularly, and when they do, Reach Out and Read is on hand to make sure this visit is paired with access to books and an engaging read aloud.
I connected Reach Out and Read with The Pearson Foundation's We Give Books, an extraordinary online platform which invites anyone with access to the internet to read a book online, for free. For each book read, a book is donated. A simple and ingenious model. The We Give Books folks said: Yes. We want to help. And they rallied their community of readers to read 7,000 books to give 7,000 books to our community. And so now, today, the Reach Out and Read team can get back there to do the work they so beautifully do.
Today at Bellevue Hospital there will be a joyful celebration when the ReadMobile will deliver the books to the children and restore the much loved library to its original abundance. When the families will read their much loved books together and the children will smile, even in spite of whatever pain they are suffering.
But let's not let the triumph for the children of Bellevue Hospital be the end of the story. For there are many sadnesses reverberating around the world, where so many children live without the access to books that means access to learning and lifelong readership and the power of story.
Let us use a model of partnership and collaboration to give literacy the same kind of urgent attention as all other human rights. With the power of coming together as everyone did here, those 7,000 books are back in the right hands. With the power of coming together, we can bring thousands more stories to thousands more children by building partnerships and celebrations. Let's make it happen, together.
REAL LIFE. REAL NEWS. REAL VOICES.
Help us tell more of the stories that matter from voices that too often remain unheard.