We are very fortunate to know the Italian hillside town of Montalcino in Tuscany through our dear friend, Rachael Ray, the cook, TV host, and writer. She was married there in a castle on a hillside overlooking the town. As many of you who follow her show and magazine know, Rachael and John take their families and a group of friends back there every year to celebrate their anniversary. We are among those fortunate friends. You visit, walk, talk, eat, dance and drink the best wine in the world, the noble Brunello di Montalcino.

Perched on a hilltop in Tuscany, the ancient stone village of Montalcino was founded in Etruscan times. A large fort that now houses a wine shop (enoteca) towers above the town and the rolling hills covered with the vineyards of the precious Sangiovese grosso grapes that produce the Brunello and other local wines. There are wines shops on every street because this is the heart of the Brunello region. Narrow cobblestone streets and steep paths rimmed by flowers connect one level to another in this delightful village. You walk across stone ramparts and everywhere there are breathtaking views of the Tuscan countryside. Remnants of the ancient stone walls remain around the town center. Cypress trees dot the hills as the vineyards drape the hollows. The sun bathes everything in a light no painter could match. It's heaven.

Wine is one of the most civilized things in the world and one of the most natural things of the world that has been brought to the greatest perfection, and it offers a greater range for enjoyment and appreciation than, possibly, any other purely sensory thing.
-- Ernest Hemingway, Death in the Afternoon
Every vintage of Brunello di Montalcino is aged for five years before it is released. "There is no other region that waits five years to do this," explained David Sokolin, president of Sokolin Wine, to me. On Thursday, May 10th, Sokolin is hosting two wine tastings of the much acclaimed Brunello 2006 Riserva and a sampling of the newly released 2007 Brunello di Montalcino Vintage wines at City Winery in New York City from 5:30 to 9 PM. "Thirty different producers from the Montalcino region will be there to present their wines and talk about them," said David. And well-known wine writer and critic James Suckling will also be there to talk and rub elbows with the guests.
As those of you who follow this post know, I lived in Paris for a few years, working in film, where I fell in love with the wines of Burgundy. There is a beautiful little town named Vezelay about an hour and a half from Paris where you must all try to go some day. There is a stunning Romanesque Cathedral of the Madeleine, a starting point for the Crusades in the 12th century, and you can sample the fabulous reds and whites of Burgundy in the area. Unfortunately, these wines have now become insanely expensive.
"This is another big advantage of the Brunellos," pointed out David Sokolin. "Most of the best Brunellos are between $40 and $70 and rarely over $100." This is great to hear. And then there's the thing I love best about Brunello. You feel like you can taste the sun in every swallow. The quality of the single grape wine made in the traditional centuries old method gives Brunello its distinctive taste of the land and the region.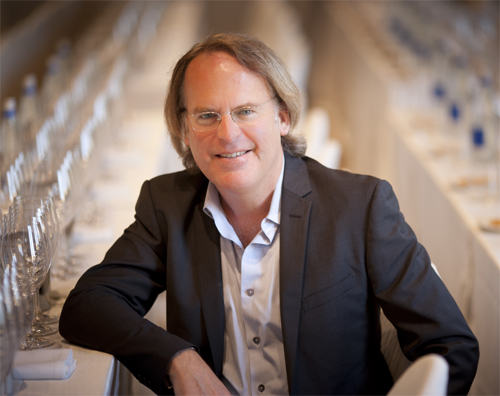 photo www.jamessuckling.com
James Suckling, who has a home in Tuscany and loves these wines said that he finds that "the 2006 has a little more acidity, is more tannic, and has more structure." He finds "the 2007 more fruity,voluptuous, and ready to drink." He attributes this to the difference in the weather for those two years. "There were hot weather spikes in August," said James. "For the 2007 vintage causing the wine to be more fruity."
Both are excellent wines that will age beautifully but James has a slight preference for the more classic Brunello character of the 2006. James also added that "it is extraordinary to have two such outstanding vintages one year after another." The wines are very comparable in price and as James says, "the best value in fine wine today." For more information about the event at City Winery in New York, May 10, go to www.sokolin.com/bellissimo.
Wine is sunlight, held together by water.
-- Galileo Galilei
And Brunello is also the perfect complement to food, turning every meal into a special feast. Here is a pasta recipe for what I've come to call Montalcino Red Sauce. It's from our favorite restaurant in Montalcino, a place called Taverna Il Grappola Blu. It couldn't be more simple. There the chef/owner makes it with handmade pasta and crushed cherry tomatoes, garlic, olive oil, and fresh basil. In my recipe, I have substituted San Marzano tomatoes unless you are in the heart of summer and can actually find garden fresh cherry tomatoes similar to what you could find in Tuscany. It's couldn't be more simple but it's just delicious. The recipe is below and there is a video on our site where I make it for you. Enjoy!
MONTALCINO RED SAUCE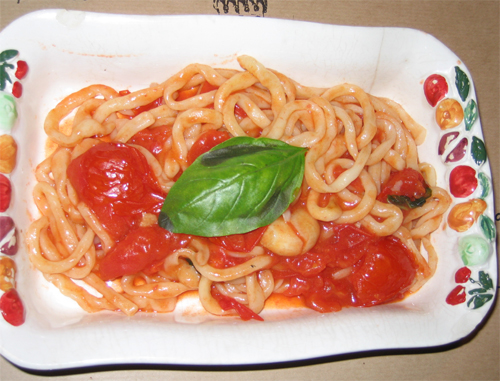 Photo by John McCally
Ingredients:
2 28-oz Cans Italian San Marzano whole peeled tomatoes
12 whole cloves garlic, peeled
1 medium onion, diced
Red pepper flakes to taste
Salt to taste
Fresh Ground Black Pepper to taste
Extra Virgin olive oil: enough to generously cover the bottom of your sauce pan
12 fresh basil leaves, washed
1 pound long fusilli pasta
Fresh Basil leaf
Fresh Parmigiano-Reggiano cheese for grating
Fresh Pepper
Preparation:
This recipe can be made in under a half hour if you cook the pasta while the sauce is simmering. Start by putting a large pot of water on high heat. Salt the water by measuring a little mound into the palm of your hand. Put an oven safe pasta serving bowl into the oven on warm so it will be ready for serving.

Next, pour the tomatoes into a large mixing bowl, keeping all the juice from the cans. Break the tomatoes by hand, until the larger chunks are about the size of grapes. Heat the oil in a 6 quart or larger sauce pan. When hot, add the pepper flakes, a pinch of salt, and the diced onions. When the onions are translucent, add the whole cloves of garlic. As the onions turn golden brown, add the tomatoes to the pan. Cook on medium for about 15 minutes.

At this point, you can add the pasta to the water, and cook as/per the package directions until al dente (probably about 14 minutes, but be sure to test a few minutes before the cooking time marked on the package so it doesn't get soft).

While the pasta cooks, gently tear the basil leaf into large pieces, and stir into the sauce pot. Salt to taste, but remember not to overdo it because you'll be adding grated cheese when you serve. Grind in fresh pepper from the pepper mill to taste. Cook on low for another 5 minutes. Remove from heat, and put about a third of the sauce in the bottom of the warm serving bowl. Drain the pasta into a colander, and put it into the bowl with the sauce while piping hot. Toss the sauce in the bowl with the pasta, and then add most of the remaining sauce, keeping a cup or two for the table.

Serve hot into individual bowls. Add basil leaf for garnish, and top with fresh grated Parmigiano-Reggiano cheese. Mangia!
Recommended side dishes are an Insalata Tricolore, (see Tip for Making Salad Dressing in a Bowl) and Grilled Italian sausages or Pork Chops. And of course, you must eat all of this with a large glass of Tuscan red wine. If you're very lucky, enjoy a glass of Brunello di Montalcino, the king of Tuscan reds! But if saving for a trip to Italy, any Tuscan red would be magnifico! Buon appetito!
This recipe and many other family favorites are available on DishandDine.com. Stop by and become part of this grass roots global food community!
DishandDine -- It's All About Food
http://www.dishanddine.com
http://www.facebook.com/DishandDine
http://www.twitter.com/DishandDine
REAL LIFE. REAL NEWS. REAL VOICES.
Help us tell more of the stories that matter from voices that too often remain unheard.