Late last month, the beloved Los Angeles artist and teacher Franklyn Liegel was found unresponsive in his studio. An autopsy later confirmed the immediate cause of death was a heart attack. But "art attack" may be a more apt description of how Franklyn lived and how he died. From his very first group show at 29 (aptly titled "Art Attack") to February 29, 2012, when he died at only 61, Franklyn thought, breathed, created, and taught art. He spent his final hours on this Earth studying, painting and assembling art pieces for "Mind Game IV," an upcoming group show at AndrewShire Gallery. "Deadline dilemma" read a note on a bulletin board above the unfinished pieces in his studio -- a perennial concern for the always over-extended fine artist.
Franklyn was an accomplished Los Angeles artist with a reputation developed over more than 30 years of hard work; his art has been exhibited in more than 30 solo and group shows both domestically and internationally, including shows at the AndrewShire Gallery, Koplin Gallery, Greubaun Gallery (NYC), Taka Ishii Gallery (Tokyo), Pomona College Otis Gallery, Sam Francis Gallery at Crossroads School, Laguna Art Museum, Palm Springs Desert Museum, Meadows Art Museum (Shreveport, LA), American Embassy (Morocco), Kitakyushu Municipal Museum of Art (Kyusha, Japan), and Art Forum Berlin. He was also the recipient of fellowships from the Helene Wurlitzer Foundation (Taos, New Mexico), and Julia and David White (Cuidad Colon, Costa Rica). His pieces are a part of private and public collections across the United States and around the world.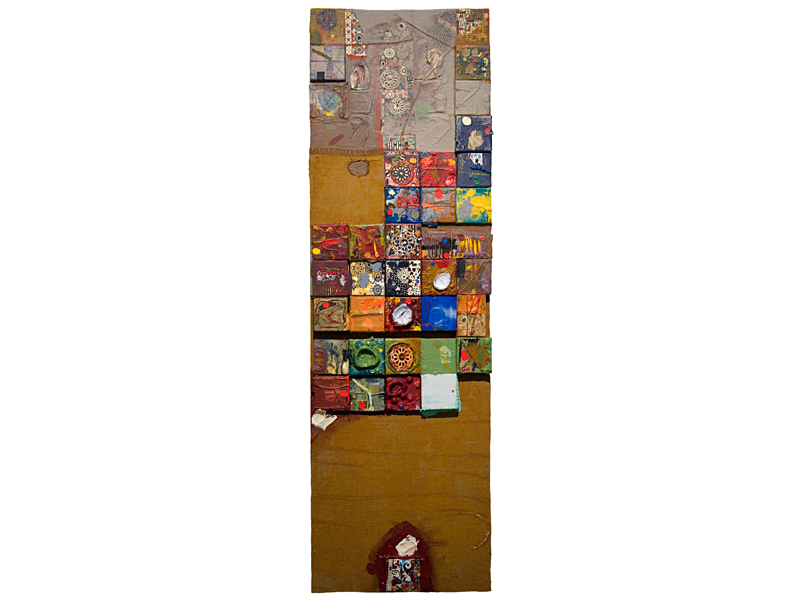 Franklyn Liegel was born in Richland Center, Wisconsin, and grew up in Plain, Wisconsin, the third oldest child of six children in a dairy farming region of rural Wisconsin. His earliest emotional trauma was the loss of his oldest sister when he was only a year old. His earliest artistic influence was the work of Frank Lloyd Wright, whose Taliesin home was just 10 miles away.
Konrad Liegel, an attorney in Seattle, Washington and youngest brother of Franklyn, remembers his brother as one-of-a-kind: "Franklyn seemed to spring into our family from nowhere. From the earliest age I can remember, he loved to construct things, tear them apart and re-assemble them. He was high energy and non-conformist, exacting in his expectations, a lover of literature and classical music, sensitive to the point of vulnerability, and almost entirely self taught. Only when he left the Midwest did he seem to truly find himself as a person and as an artist. He was the real deal."
At a 2010 lecture on art at the Bernard Milliken Jewish Community Center, Franklyn said, "I consider process for its own sake." He continued, "If anything, I am more passionate about an endless pursuit of fragmentation and process."
The Wisconsin native had an early interest in history that quickly led to interest in art history. He began making art while finding his way in education. Franklyn went on to receive his BFA from Minneapolis College of Art and Design (Minneapolis) in 1974, and, after moving out to Los Angeles in 1975, his MFA in Fine Arts from Otis College of Art and Design in 1977 (at the time known as The Otis Art Institute of Los Angeles County). He has said that he always wanted to become an artist.
As Franklyn established roots and grew as an exhibiting artist in the Los Angeles art community, he also established roots and grew as a teacher, a mentor and a muse. While never wanting to make it the mainstay of his artistic life, Franklyn taught from 1979 to the present art classes in high schools (Los Angeles County High School of the Arts and Crossroads), in continuing education (Otis College of Art and Design, Art Center College of Design and the University of Southern California), and in his own workshops, influencing hundreds of students from high school sophomores to people in their 80s. Franklyn had a dedicated following and students would repeat his classes multiple times, sometimes continuously over a decade or more and sometimes occasionally decade by decade, finding new insight and encouragement that reliably revealed new territory. In 1988, he received the first annual award for Teaching Excellence from the New School for Social Research in New York City.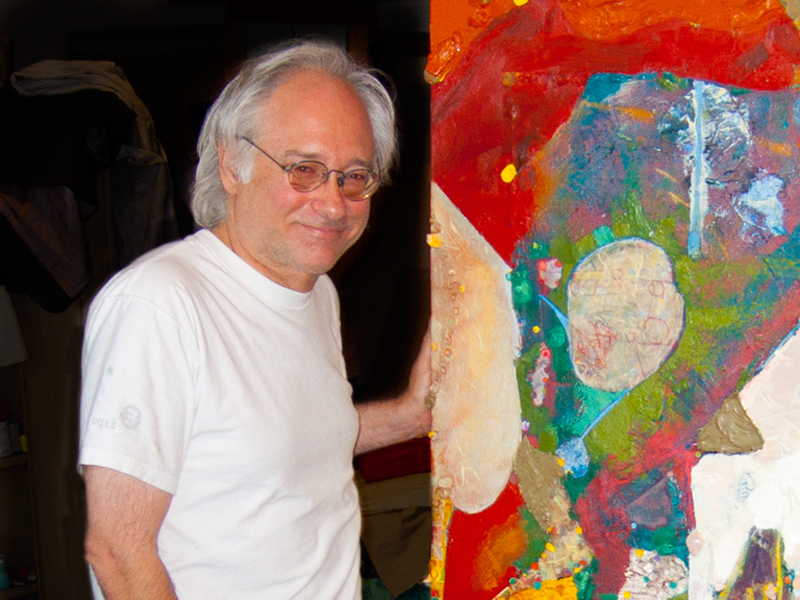 Here's what some artists and critics had to say about Liegel's legacy:
Michael Kurcfeld, a long-time print journalist and former Arts Editor of the LA Weekly, wrote of Franklyn's work in New West Magazine back in 1980: "Franklyn Liegel's lush, teeming collage paintings are built up and out with layers of thread, scrim, confetti, precut strips of paint, and paper that has been scrubbed, mulched, flecked and mottled beyond recognition. These richly patterned surfaces usually come in an aquatic palette, and they suggest depth with as much playfield invention per square inch as is possible...."

Marti Koplin, former owner of Koplin Gallery, where Franklin first exhibited in the 1980s as a solo artist, remembered Franklyn as one who "certainly had his own vision as an artist, he never deviated from what he thought was right and worked his pieces over and over to get them to the point he felt the joy of completion. He was shy, reserved, but when he talked about his work he began to shine. He was a dedicated artist who was very original in his ideas. His collectors loved him and bought his work over and over again. He will truly be missed."

Katherine Chang Liu, painter and teacher, artistic colleague and close friend of Franklyn, remembers Franklyn as an authentic and rare talent, "and truly gifted" -- whose body of work, if given the chance, will inspire artists for generations to come.

Mara Thompson, a mixed-media artist living in California, says: "His energy and dedication to the individual voice is a special and unflagging quality of his teaching methods. If you were a student of his, re-read your notes! For me, the notes continue to reveal themselves over the years, as Franklyn would not tell you WHAT to do, but lead you with hints and suggestions (sometimes quite oblique) so you could open your own eyes. Working with him was always an adventure and a mystery."

James P. Scott, an artist who studied under Liegel, says: "Franklyn's work is rich, complex, layered, incredibly nuanced, exquisitely balanced and unavoidably captivating. He employed a highly individual and distinctive style. His list of materials and methods is pages long. Franklyn created gorgeous wall pieces, of mainly paper, paint and threads. He also made freestanding wood, paint and wrapped pieces with precarious physicality and organic branches. Subjects ran from dwellings and architecture to favorite artists. Everything he created had a richness akin to Gaudi. Highly decorated complex grid systems and classical compositions where a basis for abstract explorations. In a certain way Franklyn was a gardener. He lovingly tended his work while it grew, until it blossomed! At which point, he would share it with the world."

Kimberly Brooks, an artist and founding arts editor of The Huffington Post, had this to say about Liegel: "He used to walk up to me during class and convince me to break a painting open, to do something radical that I hadn't thought of, like use an incongruous color or paint a figure's hair blue just to make me see it differently. It was always a revelation, always better. He opened my eyes."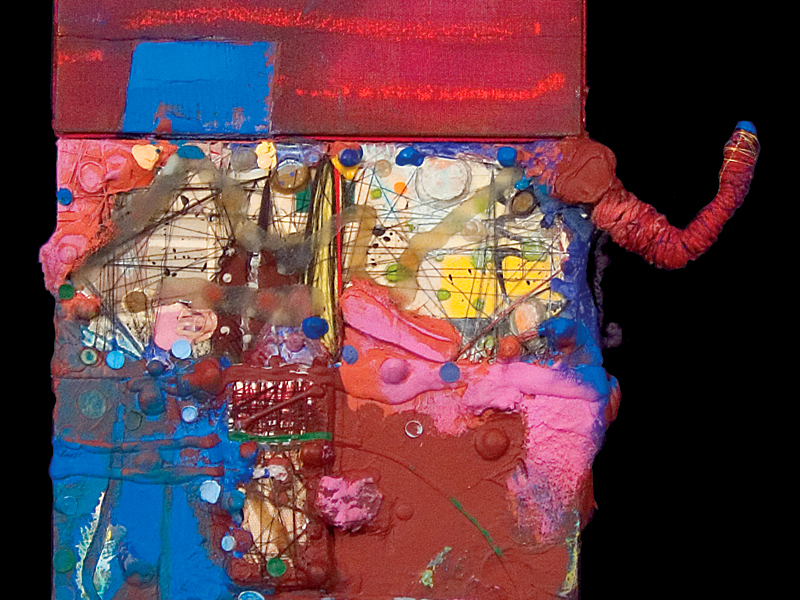 Franklyn will be remembered as a singular artist, a teacher of intuition and courage, and a man of a childlike nature with a gift to transform. He was an artist who could turn ordinary objects into extraordinarily provocative pieces in his own work, and a teacher who could open the eyes of his students, urging them to break down their inner barriers in order to reveal what their own work was meant to become. In a previous interview with artist Darlene Mellein, Liegel said: "My fear is that there will be an egg that never hatches. We're given this time, and we must use it. I am given the students, and I must teach them. I care greatly, and I want to give my students the confidence to go out into the art world. There are dream-takers and dream-makers, and I ask myself when I'm in the classroom, 'which am I'? I don't want to contribute to that egg that didn't hatch."
Impromptu memorial gatherings were held at Otis on March 6th for current students of his Painting Workshop class and at Art Center on March 8th for current and past students of his Collage and Assemblage class.
See a slideshow of Liegel's work below, and please share your impressions of the artist or his work in the comments section.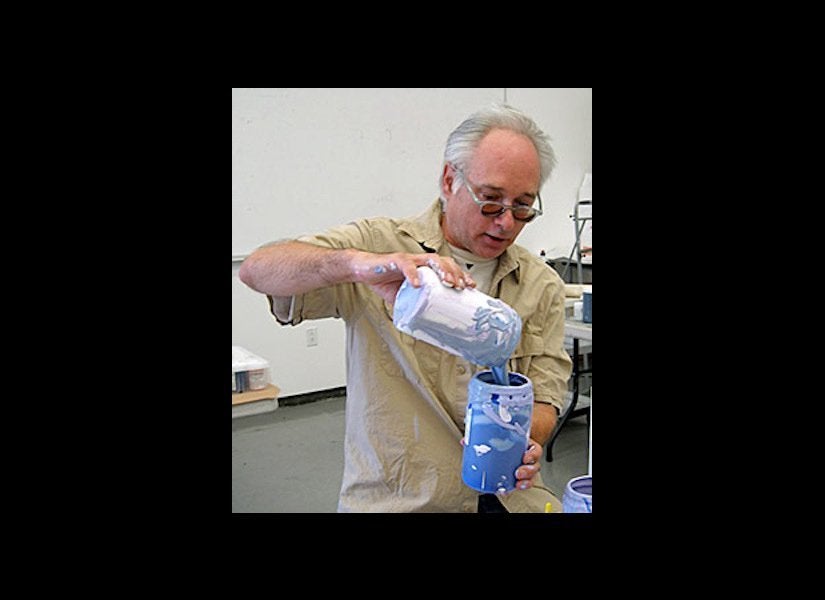 Franklyn Liegel
Related
Popular in the Community