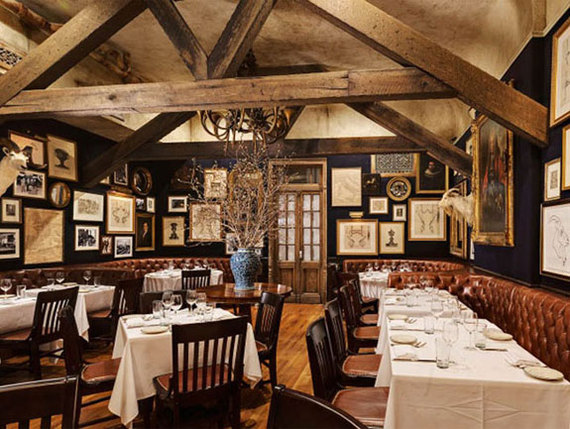 The East Side townhouse that is home to Bill's dates back to 1924 as a speakeasy, when food was not on most patrons' minds. After Prohibition loosened its mushy grip, the premises were transformed into Bill's Gay Nineties, known as much for its basic food as for its sing-along piano bar and the silver dollars imbedded in the bar's wooden floor. So there's a lot of history still in the rafters, along with vintage prints and artwork, book-lined walls, a fireplace, stuffed animal heads, sports memorabilia, hunting bugles chandeliers, ship's wheels, ceiling fans, leather banquettes, and tables set with starched linens.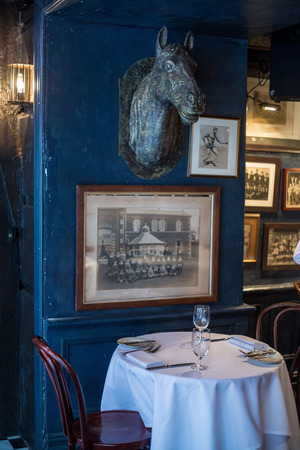 A few years back Bill's Gay Nineties closed, an event that provoked elegies from NYC's old-time newspaper wags, so its re-opening in 2013 was eyed suspiciously, especially since the awkwardly named Crown Group Hospitality made it plain they sought to attract the kind of people who wear real and knock-off Ralph Lauren, arrive in town cars, and create the deafening din of people whose voices, as Scott Fitzgerald said, "were full of money." But that ploy, along with some nasty company shake-ups and unpaid lease bills, didn't last long and, after a brief flare-up of interest, Bill's closed yet again.
Now, since April, what is now called Bill's Townhouse seems on much surer footing, thanks to veteran restaurateur Curt Huegel, whose previous involvement included Scarpetta and American Cut, and to a kitchen now far more dependable under Chef Angel Vela, previously at Pastis and Waverly Inn, while Manager Stephanie Gonzalez works hard to make everyone welcome.
It's been a while since I've heard the word "barfly"--a term that dates back to 1906 in American print--to describe a regular and committed imbiber at a saloon, but it seems worth bringing back to describe the downstairs clientele at Bill's, where the bar is mainly filled with loud men just off from work, their ties askew, bellying up to the bar for another round of Bud Light or Absolut on the rocks.
They are a raucous lot, and, although there are a couple of tables downstairs and a couple more outside for summer, anyone wishing to have a good meal and conversation with friends will find upstairs (right) fare more appealing.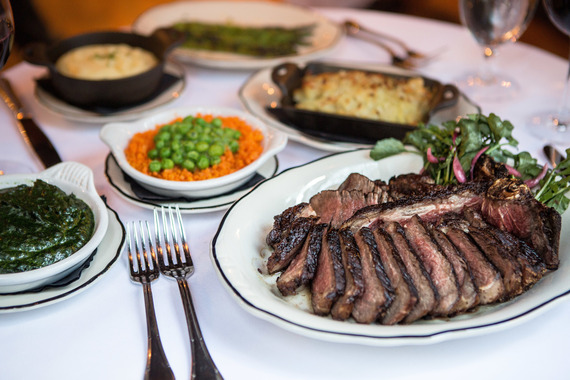 Bill's menu is what it is, though, without sounding presidential, that depends upon what the meaning of "is" is. What it is is unabashedly traditional New York-American fare of a kind that has never gone out of style, just as the menus of the classic bistros of Paris and the tavernas of Mykonos will resolutely be ever the same. So, of course, there's the requisite raw bar selections, which on the night I visited featured Wellfleet oysters ($18) and a colossal lump crabmeat cocktail ($20). There are about a dozen appetizers, along with one or two nightly specials, including lobster thermidor ($25), a 19th century Escoffier classic that went out of style in the modern foodie era. Usually this dish of lobster meat cooked with cream, butter, brandy, mustard and tarragon can be too rich when served as a main course, but at Bill's it makes a capital starter, without the lobster being overwhelmed by the sauce; it's a dish worth bringing back from the Gilded Age.
Veal and porcini meatballs with ricotta and fried sage ($18) were delicious, if not classic America, but the crabcake, with cabbage slaw and tartar sauce ($19), lacked the colossal lump crabmeat served in the raw bar cocktail, instead too firmly packed with shreds of crab. "Bill's Housemade Buttered Egg Noodles" ($12) were just that and nothing more, nice, egg-rich noodles with butter, with nightly variations, so one order is fine for a table of four as a side dish.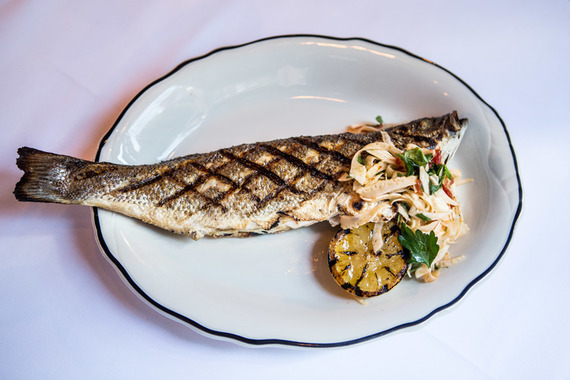 Among the entrees, a roasted half chicken ($29) was excellent, big breasted with very crisp, burnished gold skin, juicy to the bone and served with carrots, onion and a dash of lemon. We tried a veal chop ($52) special, with pesto sauce that did nothing for the superlative chop I'd rather have had without it because it was a very fine piece of meat. Indeed, wherever Bill's buys its beef, it must save special cuts for the restaurant because both the 14-ounce New York strip ($51) and the bone-in ribeye ($57) were among the very best I've had in a city manic about its steakhouse fare. Bill's were nicely charred, medium-rare as ordered, and had both the richness of fat-rich marbling and the tangy minerality a great steak should have. Were I ravenous for just a slab of beef, but not in the mood for the caterwauling ambiance of a typical NYC steakhouse, I'd head straight to the civilized and historic surroundings of Bill's and have it there. Oh, and the "cheesy potatoes" ($10) and trio of sautéed onions ($10) made good sides for such steaks.
Of the desserts I tried I'll go, as ever, for the S&S Cheesecake, almost a staple of New York chophouses and a standard for what a dense but moist slice of this cream cheese confection should be.
The wine list is not cheap, especially the wines by the glass: a Nino Franco Rustico Prosecco goes for $14 a glass, the same price as an entire bottle in a NYC wine shop; Villa Antinori Chianti Classico Riserva 2011 $17 versus $26; MacRostie Chardonnay 2012 is $17 versus $23. By the bottle, the listings shoot past $100 quickly, with mark-ups about 300% above retail, with Pio Cesare Barbaresco an eye-popping $275, which sells in a store for about$60-$65.
That famous and beloved cheesecake, which has been made in the Bronx for more than half a century, is a natural choice for a place like Bill's, which itself is a repository of NYC gastro-lore. Were Bill's only a nostalgia trip, it might be worth a burger and beer at the bar. But in its present re-incarnation, Bill's manages to add measurably to its cherished image by polishing it to a shining modernity. Bill's may not be as raffish as it once was, but it is still what it is, and now it's a whole lot more.
Lunch and Dinner Mon.-Sat.
BILL'S
57 East 54th Street (off Madison Avenue)
212-518-2727
bills54.com