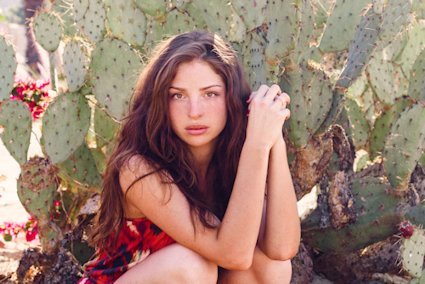 Anna Hopkins plays Jessica "Berlin" Rainer in SyFy's Defiance. You'll recognize her from guest appearances on Nikita and Arrow. Anna has two films premiering this year: After the Ball and her first French speaking role in Les Maîtres du Suspense.
Twitter: @AnnaBananaHops , Instagram AnnaBanana_Hops
Photo Credit Sabrina Lantos
Earth Republic. The final frontier. These are the voyages of Anna Hopkins.
Her friends and family call her Noonie. I call her funny and passionate. There are certain things that make people tick and let me tell you, Anna has a bunch of these "things." From loving anchovies and olives to petting every dog she sees, I mean honestly? What planet is this girl from? As long as she stays on Earth, the world will be a happier place!
You joined the cast in Season 2 of SyFy's Defiance as the fearless Earth Republic soldier, Jessica "Berlin" Rainer. What was it like coming onto a set where other actors were already acquainted from Season 1?
The cast was so inclusive right off the bat. We had a really lovely dinner altogether after our first read through, and I got to chat with everyone. Because they are all so excited and passionate about the show, they were really thrilled to welcome myself and James Murray (Niles Pottinger), because we were adding a whole new dimension to Defiance for season 2.
Your character gets involved in a love triangle. Were you given information during your audition about the love triangle or it was news to you as you read the script? As an actor, which part of your character is more exciting to you: love triangle storyline or that Berlin makes propaganda films?
I wasn't given much information about the character at all when I had auditioned. I do remember she was described as a "militarized version of Holly Hunter in Broadcast News" which really revved me up because I love that movie. I adore all aspects of Berlin's storyline. I love that she is fearless in her work and also in her relationships. I did particularly like her love of film. Every time you see her filming something , that footage is actually used in one way or another in the show. Michael Nankin (director/ex-producer) would show me specific angles Leni Riefenstahl used to create the illusion of grandeur in her films. It was like getting mini film lessons while acting. (The nickname Berlin was given to Captain Jessica Rainer because her documentaries are often considered propaganda for the Earth Republic.)
Do you consider yourself a geek or a nerd?
I don't consider myself one, but I certainly get called one all the time. Mainly because of my love of Star Trek and that I paid $100 at Comic Con to take a photo with Patrick Stewart. Which is an incredible photo by the way. Worth it.
Where did you get those gorgeous lips from?!
Hollywood! Just kidding. I woke up like dis. Just like Beyonce.
Did you know who Paul Giamatti was before you booked the role of his daughter in Barney's Version?
I certainly did know who he was when I got the part. Big fan of Sideways of course. I remember I was in the midst of call backs for the role when I saw on the front page of the Montreal Gazette that Paul Giamatti had been cast as Barney and I think I spat out my coffee right there and then. I knew nothing about the project while I was auditioning, and so it was one incredible surprise after another as the cast was brought together and announced.
You have a very exciting year with two films coming out! After The Ball, a fairytale-type film, in which you'll be playing Chris Noth's step daughter and your first French-speaking role in Les Maîtres du Suspense. Give us some behind-the-scenes insight, as an actor, about the differences on set of these two films.
Both of these films are comedies (Les Maitres being a very dark one however), and so there were times on both sets where getting through a take without laughing was excruciatingly difficult. Aside from that, no film experience is really like another, because it's all about who you are working with, and in both cases cast and crew for each film were absolutely incredible. In regards to prep, Les Maitres du Suspense did require a bit more from me because French is my second language, and so I wanted to make sure I didn't make a complete fool of myself while getting direction in French. Did I succeed at that? Half the time.
In After the Ball your character, Simone, is bitchy, catty and self-serving. How did you prepare for this role?
I had to do absolutely nothing! It came so naturally! Just kidding. But the comedic aspect of the role was such a thrill mainly because of my co-star Natalie Krill who plays my sister. Both of our characters are not the brightest bulbs on the Christmas tree (is that a saying?), and Natalie has such an incredible talent for comedy that working off of her made everything so easy. We were encouraged to improvise together, and we'd find ourselves on our days off speaking to each other in character (probably really annoying for the people sitting next to us). Through all that play we'd come up with funny scenarios that really informed our on screen chemistry.
Who schedules you for photo shoots and events? Do you wear your own wardrobe or go for fittings?
Mieka Tennant at M Public relations will schedule me for events, and I love to shooting with Sabrina Lantos and Kourosh Keshiri, two very incredible photographers. I sometimes wear my own stuff, and if I borrow it's from the wonderful StyleBox in Toronto.
At what age did you start hip-hop dancing and why'd you choose that dance over any other?
When I was about 12 years this hip hop teacher named Angelo Ameur came to my school to teach a class, and I was mesmerized. I tried it out and was so incredibly bad at first, but just wouldn't give up. Man I wish there were tapes of how bad I was. Anyways, I began dancing five times a week and after a few years I eventually joined a few professional teams and began competing and performing a ton. Dance is still one of my favorite art forms.
Calling all HuffPost superfans!
Sign up for membership to become a founding member and help shape HuffPost's next chapter