April 8 is one of the sweetest days of the year: it's Ben & Jerry's Free Cone Day. Once a year, Ben & Jerry's scoop shops hand out free cones to all their loving fans, and tomorrow is that day. It's basically a national holiday -- or at least it should be.
If getting a free ice cream cone isn't enough to make you love Ben & Jerry's, the story behind how the day originated might persuade you. Thirty-five years ago Ben & Jerry's founders Ben Cohen and Jerry Greenfield had just survived their first year of running a business. Surprised and grateful for their accomplishment, they wanted to thank the community that had supported them. The obvious choice? Giving everyone free ice cream cones to express their gratitude. Thirty-five years later they are still thanking their fans with this special day.
This year Ben & Jerry's hopes to hand out one million cones in the U.S. alone. Fans can choose any flavor they'd like, but they'll also be able to try Ben & Jerry's newest flavors, which include:
Salted Caramel Blondie: Sweet cream ice cream with blonde brownies and a salted caramel swirl
Hazed and Confused: Hazelnut and chocolate ice creams with fudge chips and a hazelnut fudge swirl
Cotton Candy: Cotton candy ice cream loaded with cotton candy pieces.
Enter your location details in the interactive map below to find the nearest participating Ben & Jerry's.
Ben & Jerry's may be showing us their gratitude with Free Cone Day, but we'll definitely be showing them our gratitude as well. We're envisioning tomorrow to go something like this: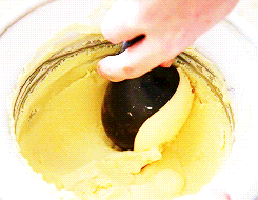 What Free Cone Day May Look LIke
Popular in the Community