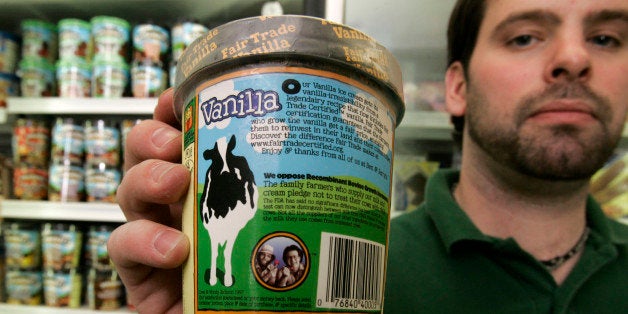 Ben & Jerry's is taking the "cream" out of ice cream.
"Our Flavor Gurus are always in the lab looking at ways we can bring the fun and indulgence of Ben & Jerry's to new fans," Ben & Jerry's spokesperson Kelly Mohr told The Huffington Post. "A nondairy dessert is something we are working on, because everyone has the right to enjoy great dessert."
Though Metro UK reported that the new vegan-friendly treat should be available in U.S. store in the spring of 2016, Mohr wouldn't commit to a release date more specific than "some point next year."
Fans of Ben & Jerry's have been asking the company to come out with a vegan version of its popular ice cream for some time. An online petition on Change.org that calls for a non-dairy option has garnered over 27,000 signatures since it was posted eight months ago.
The market for dairyless "ice cream" has been growing rapidly in recent years as more consumers have adopted diets low in animal products. Part of the consumer enthusiasm is due, no doubt, to the rise of dairyless ice cream bases other than soy, including those based on the coconut and almond that Ben & Jerry's are exploring. Many of the new vegan ice creams taste far better than the Tofutti your vegan aunt made you eat when you visited her house. And the same will likely be true of whatever Ben & Jerry's comes up with.