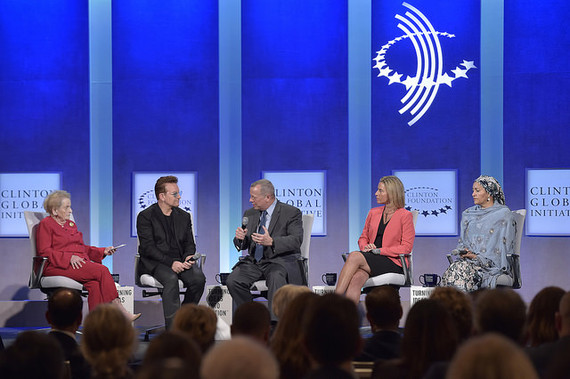 It has been 11 years since President Bill Clinton launched the Clinton Global Initiative (CGI) to inspire world leaders and civil society to make Commitments to Action to tackle problems such as extreme poverty, climate change and the refugee crisis.
This year, celebrities like U2's Bono took the stage, Sting gave a speech and Jon Bon Jovi received a Citizen Award for his foundation's work. Among the meetings 1,000 attendees, world dignitaries --the Prime Minister of Italy, the President of Colombia, the President of Serbia mingled with CEO's from Cisco, Unilever and Airbnb. In the middle, former President Bill Clinton and Chelsea Clinton hosted the sessions and welcomed all.
The theme for the 12th CGI held Sept 19-21 was Partnering for Global Prosperity. Throughout the annual meeting, CGI challenged its members to reflect on an interdependent world and the importance of equity and opportunity for all. Collaborating across public-private sectors for social impact is at the core of CGI since its inception and as Bill reiterated, is a key strategy to achieving the lofty United Nations Sustainable Development Goals (SDG's) adopted in 2015. The SDG's are a call to action and a 17 goal framework to end poverty, fight inequality, and tackle climate change by 2030. Throughout the three day meeting, links between CGI commitments and specific SDG's were reinforced.
Sounds like business as usual at CGI except this week marks its final chapter as the Clinton's wind down philanthropic activities that could pose conflicts of interest if Hillary Clinton becomes the next president. Amid questions and increased media attention, this final gathering is the Clintons' chance to show the Initiative's impact and legacy to the world.
In his opening remarks on Monday, President Clinton mentioned some impressive statistics. "As we approach the 12th and last Annual Meeting, I am very proud that our community has impacted the lives of more than 430 million people through more than 3,500 Commitments to Action," said Bill. "It has changed the landscape of modern philanthropy." Because of the CGI community he stated, more than 46 million children have access to a better education; more than 11 million girls and women have been supported through empowerment initiatives and more than $313 million in research and development funds have been spent on new vaccines, medicines, and diagnostics.
The list goes on and the former president has the data to back it up. He noted that in 2014, the Initiative partnered with the data-mining company Palantir to track progress on its first decade of commitments. The analysis found that nearly 82 percent of the pledges made at CGI were either completed or still in progress. Commitments with partnerships had seen higher success in reaching their goals. The report also found that CGI members have put girls and women at the center of every issue in efforts to make gender equality a reality.
Development experts agree that advancing the full participation of girls and women is not only a matter of human rights; it is also a strategic global imperative. On day two, Chelsea Clinton announced several new commitments that address economic gender gaps, violence against girls and women, and advancement of female leadership. The coalition of partners includes P&G, Avon and IBM. The new program, titled: Girls, Women and the Global Goals, is set to invest more than $70 million in its future goals over five years.
The week's final plenary featured Ben Affleck, actor, filmmaker and founder, Eastern Congo Initiative in a session titled- Image all the People that explored the nature and science of empathy.
In an open letter on the CGI website written by President Bill Clinton in which he announced the winding down of CGI, he credited its partnership model for changing the face of philanthropy and corporate social responsibility. "It's been one of the great honors of my life to be part of this special community, and I hope the hard work and benefits of CGI's great staff and its members' creative cooperation will keep rippling out into the world," Clinton wrote.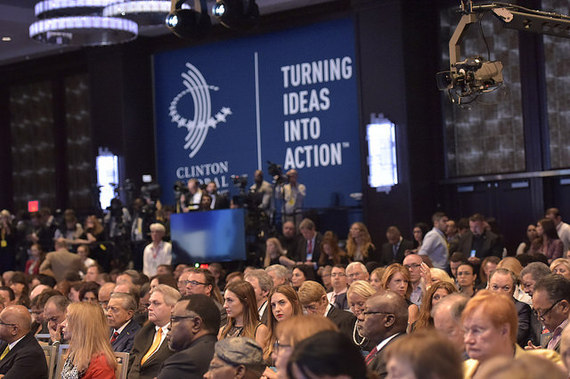 Throughout the final day of the Clinton Global Initiative, the tone was positive and the members were optimistic about the future. CGI may be ending but for the business, government and non-profits leaders who launched new initiatives in 2016, the work is just getting started.
Popular in the Community