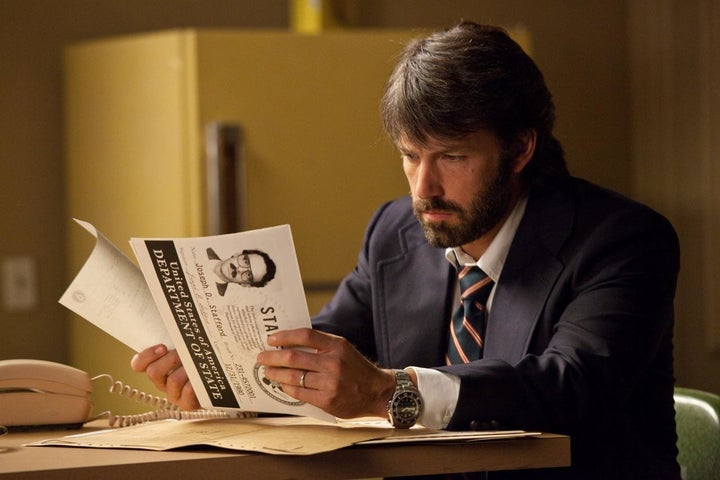 Try to wrap your head around this: A movie is being made about the story of a fake movie studio producing a fake movie with a fake crew, all concocted to spring US diplomats out of imprisonment from a hostile government. If it sounds a bit confusing, that's the point; this is real CIA business we're talking about here.
The first photo of Ben Affleck in his next directorial feature, "Argo," has been released by Warner Bros., the actual studio putting out this actual feature. The film features the story of the unusual CIA plot to free hostages taken by the Iranian government in 1979: spymaster Tony Mendez created the fake "Studio Six," with Hollywood offices and employees and the works, in order to pitch to the Iranians that the diplomats they had taken hostage were actually just Canadian film workers out on location.
The plan, Mendez wrote in his 2000 memoir, "The Master of Disguise," worked in part out of offices that had just been vacated by Michael Douglas's film "China Syndrome," which, incidentally, is a thriller about a coverup (Jack Lemon & Jane Fonda would receive a Oscar nominations for the film).
Mendez explains in his book that he and his colleague on the mission, Hollywood makeup artist and CIA assistant Jerome Calloway, went through real movie scripts to find the perfect film that their Studio Six would "make." As Mendez told and audience in LA in 2006, their fake studio ran so much like a real studio in Hollywood, with trade ads and the works, they began getting sent real scripts from real screenwriters.
"By the time we closed Studio Six Productions," he said at the event, "we had 26 scripts, one of them from [Steven] Spielberg."
Calloway eventually chose a script that Mendez said was "a little too evocative of 'The Exorcist' for his taste, but which combined mystical elements with nonspecific Middle Eastern locations."
In seeking to name the film, they ended up choosing the punchline from one of their favorite knock knock jokes, ending up on "Argo." Which means that thanks to the Affleck movie about the plot that involved a fake movie called "Argo," now "Argo" is actually the name of a real film, all these years later.
This "Argo," directed and starring Ben Affleck as Mendez, features some other big Hollywood stars, including Bryan Cranston, Alan Arkin, John Goodman and Kyle Chandler. It hits theaters in September. For more on the film, check out the official synopsis sent out when production began in September.